A scrumptious Scottish dessert, cranachan has been tantalising the taste buds of sweet-toothed Scots for many a year.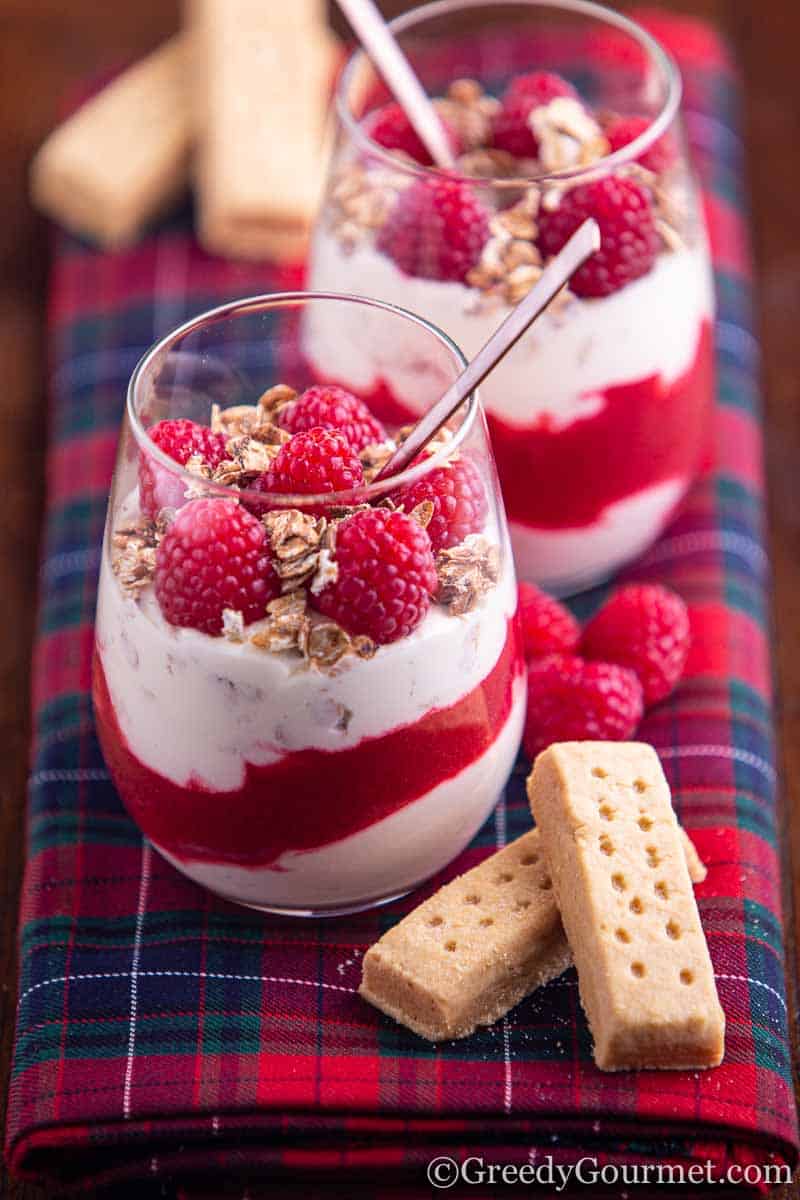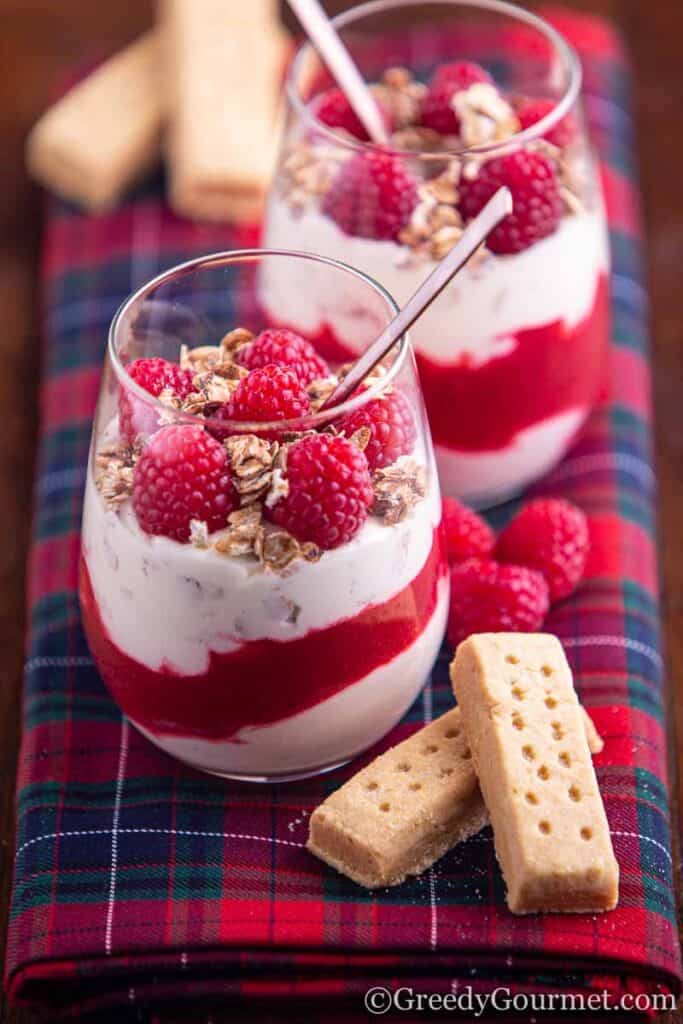 Consisting of luscious whipped cream, crunchy baked scotch porridge oats, delicious fresh raspberries and traditional Scottish whisky, this dessert couldn't be more Scottish if you served it in a tartan bowl and stuck a St Andrew's flag on top!
What whisky goes with cranachan?
This fine traditional Scottish dessert recipe deserves a fine whisky. It's the key element that can make or break the whole thing.
You want something that's made to be paired with a dessert. Something with complexity and a deep richness.
Most of all, something Scottish.
Glenmorangie is one of the finest makers of Scottish whisky. Their 'A Tale of Cake' whisky is a multi-layered masterwork, conjuring up fruity bursts of passion fruit, peach, pear and mango.
You'll also get Glenmorangie's trademark tangy orange taste, as well as a touch of apricot, peach syrup, honeycomb and white chocolate. As well as the sweet flavours, you'll notice savoury notes such as baking bread, gentle sappy oak and some mineral undertones.
With its delicate balance of sweet and savoury, this amazing whisky brings a real depth of flavour. It's tailor made for a traditional Scottish dessert like cranachan.
Its luscious fruity tones and mellow woody flavours will work in perfect harmony with Scottish raspberries, fresh cream and toasty Scottish oats.
This recipe is the perfect showcase for Glenmorangie's 'A Tale of Cake.' Buy it here and let it work its magic.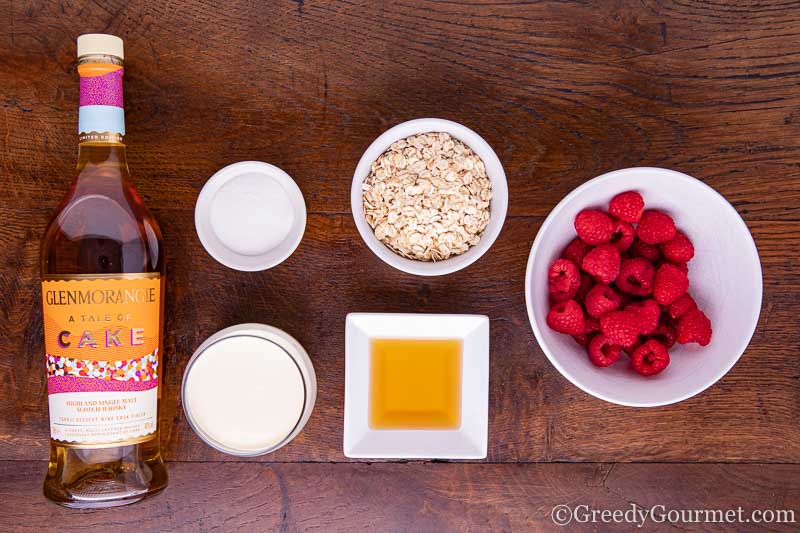 How to make cranachan
Cranachan is such a simple recipe, yet the rewards are glorious.
First of all, you need to bring a bit of crunch. Toasting the oats gives that all important texture to the dessert. This is a quick and easy process – around 5 minutes in total.
You'll just need to line a baking tray with parchment paper, evenly sprinkle the oats and toast them under a medium grill. You could even toast the oatmeal in a large frying pan.
You'll know by the smell when they're ready. That irresistible toasty oat smell will fill the air. The oats will turn golden brown, adding a perfect crunch to your dessert.
While your oats are cooling, you'll make the sauce. Fresh Scottish raspberries are some of the best in the world so, if you can, buy Scottish.
Squeeze half your raspberries through a sieve to make the sauce. You'll want to keep the other half aside, for scattering as a final flourish.
Once you've got your sauce, sweeten it with caster sugar and leave it to one side. Now it's time to make the whipped cream.
Whisk the cream until peaks start to form, It's important you don't overdo it at this point. If you over-whisk cream, it can start to turn grainy. Eventually you'll be churning it and, yep… you guessed it… you'll end up with butter.
Soft peaks are plenty. Once your cream has peaked, put down the whisk and pick up the whisky. No, it's not time for a drink. It's time to fold the Glenmorangie and the honey into your luscious cream.
Try a little bit and see if you like it. Adjust things until you're happy with the balance of cream, honey and whisky. This is the body of your dessert, so it's crucial to get these three flavours in harmony.
Now, whisk in your beautiful golden brown oats. Again, leave some aside for the topping. Next comes the fun part – assembling the dessert.
Serving this dessert in old school whisky tumblers just adds to the fun. Spoon in alternating layers of cream and raspberry sauce, then top with fresh raspberries and crunchy oats.
Sound good? Och aye!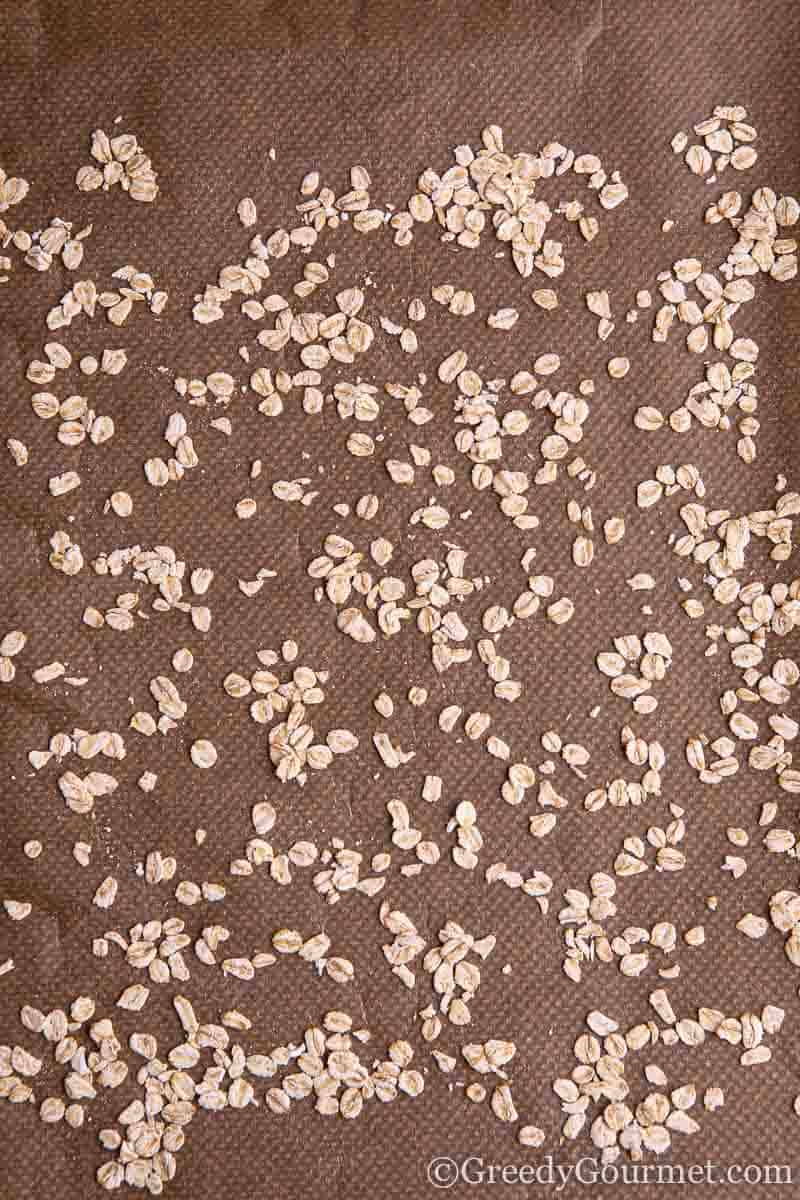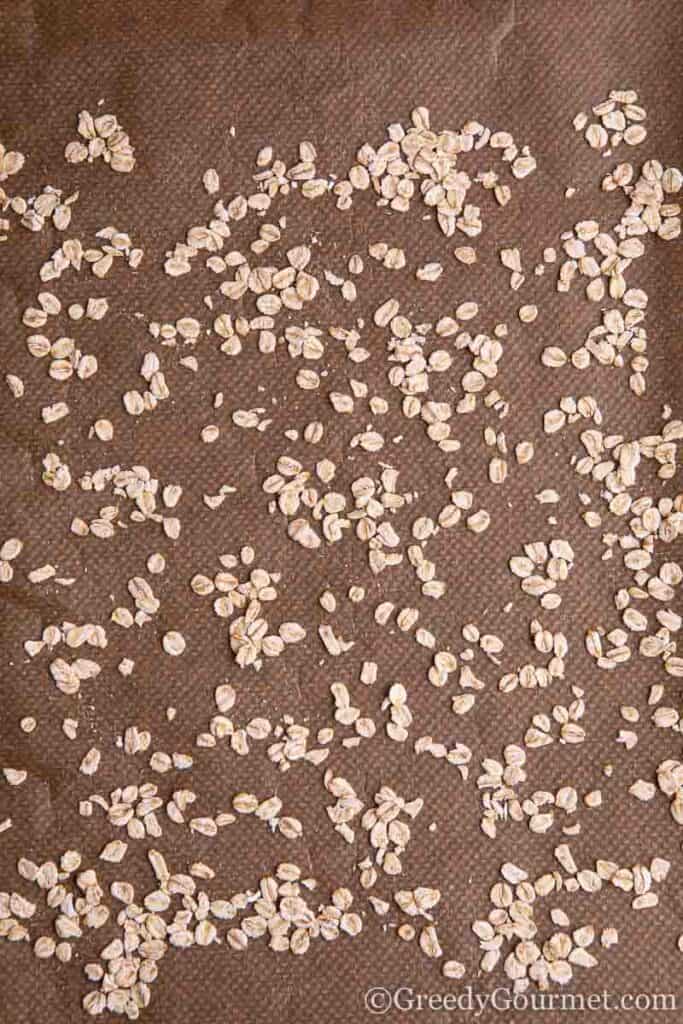 How do you pronounce cranachan?
The delicious Scottish dessert Cranachan is pronounced 'kran-e-ken.'
After a few glasses of whisky, it's pronounced 'Krrraannc…urr…krakenfmhhnnnm…a-kan.'
Where did cranachan originate?
A dessert with cream, raspberries, whisky and oats? Is there any surprise this one originated in the highlands of Scotland?
Who invented cranachan?
A recipe that stretches back hundreds of years, cranachan was originally a soft cheese recipe eaten by big burly Scotsmen for breakfast. The traditional cheese known as crowdie was used to make cranachan. 
A very flavourful cheese thought to have been brought to Scotland by the Vikings as far back as the 8th century, Crowdie is made using the milk of Highland cows. Similar in flavour to cottage cheese, it is curdled with its rennet to give it a distinct sour flavour.
The Scots would serve it with raspberries when in season. The addition of whiskey made sense – we're talking about Scots here after all – and these simple ingredients combined to form a recipe that would stand the test of time.
Over the years, crowdie made way for regular cream. Instead of being a breakfast that'll put hairs on your chest, it's become a dessert that'll satisfy your sweet tooth.
It's now devoured throughout Scotland and beyond, notably on special occasions such as Burns Night, the famous celebratory supper held every January in honour of much-loved Scottish poet Robert Burns. 
With its simple traditional ingredients, fast prep time and delicious flavour, there's no wonder cranachan remains the king of Scottish desserts.
What are the best oats for cranachan?
Toasting the oats for a few minutes under the grill brings a lovely little nutty crunch to your cranachan.
For this recipe, I've gone for rolled oats. The jumbo rolled kind will bring a big nutty texture to the dessert. If you prefer a finer grainier texture, go for pinhead oats.
If you want to go one step further, throw in a handful of pistachios or, even better, use a crunchy granola. It won't be as traditional, but it'll taste amazing!
As always, when choosing your oats, go for the Scottish kind. After all, it is a Scottish dessert.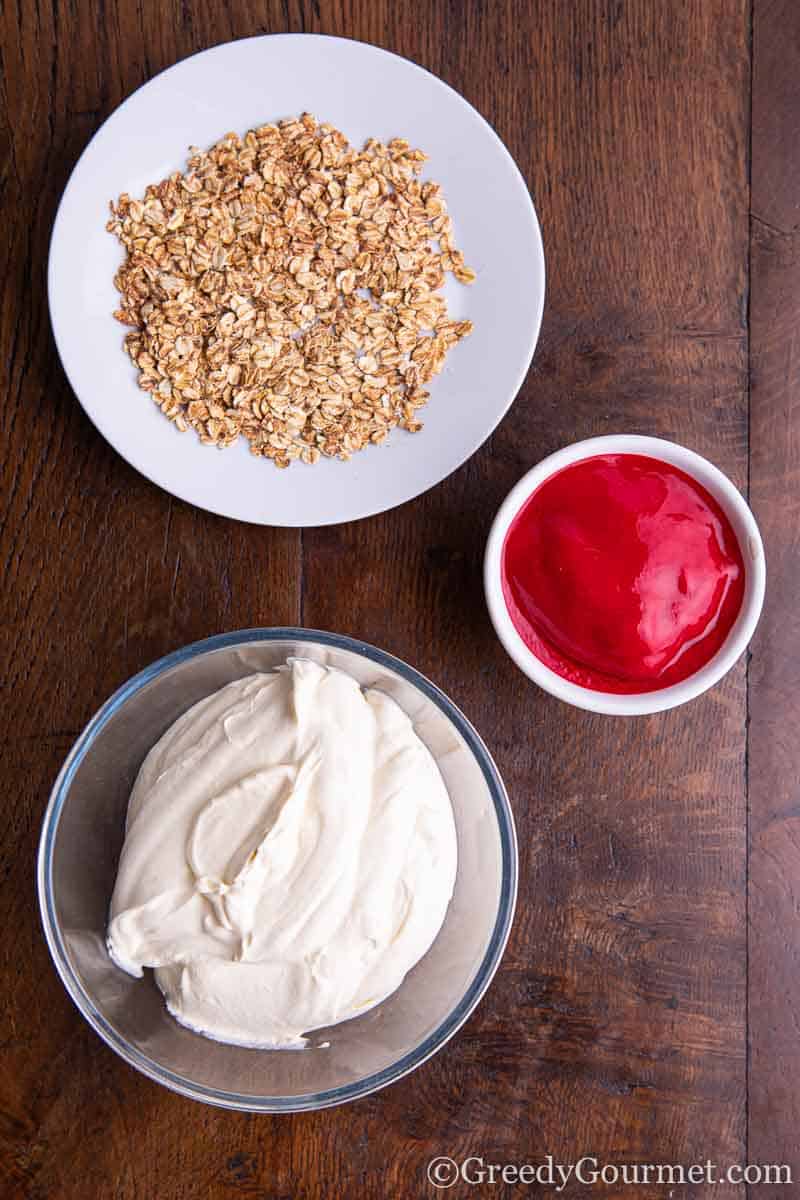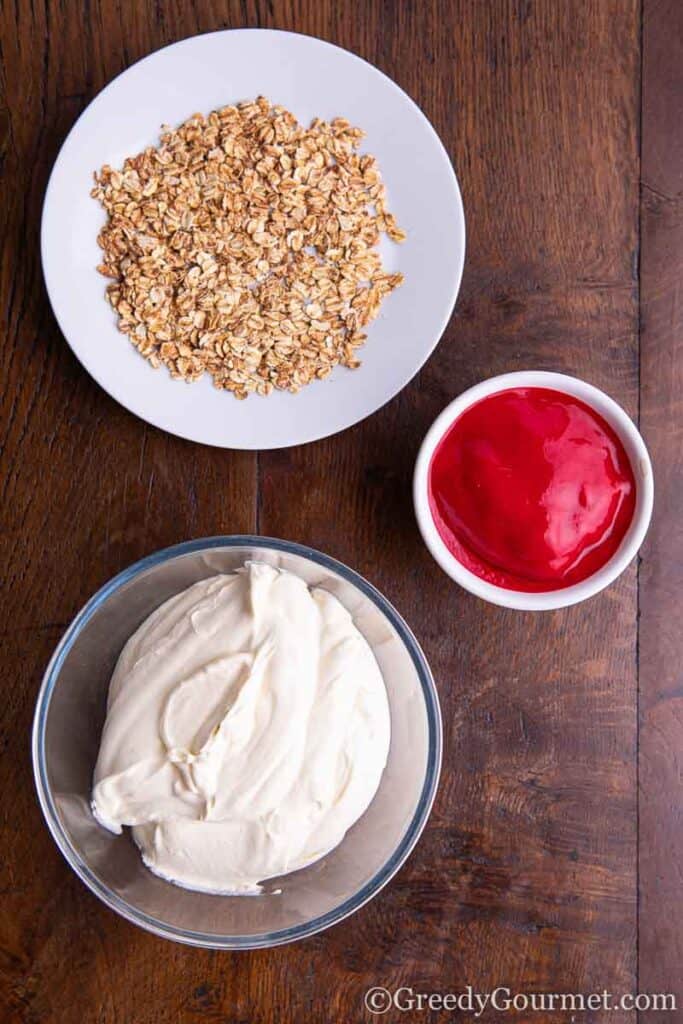 Can you have cranachan without whisky?
What makes this old-school Scottish dessert really exceptional is the addition of a fine Scottish whisky like Glenmorangie. There's something about the way a fine whisky, with its complex mix of fruity, woody, honey flavours, combines with the cream and raspberries. It's such a winning combination.
Having said that, not everyone likes a tipple. Also, if you're making cranachan for kids, you'll want to leave the booze on the shelf.
So, while it may be difficult to fully replicate the flavour of proper cranachan, you can definitely have an alcohol-free version.
If you like, you can add vanilla essence or vanilla extract to give your cranachan an extra dimension of flavour. If you want to know the difference between the two, check out my vanilla essence vs vanilla extract article. 
How long will cranachan keep?
With cranachan, the sooner you eat it the better. It's so moreish, chances are it won't be sitting around for too long.
Still, you might have whipped up more than you bargained for. In which case, you'll be wondering how to store cranachan.
You can keep any leftover cranachan in an airtight container in the fridge for 2-3 days after you've made it.
Keep in mind though, the longer you let it sit, the stiffer the cream will get and the more the raspberries will lose their flavour. The oats will also lose some of that crunch that makes them so satisfying.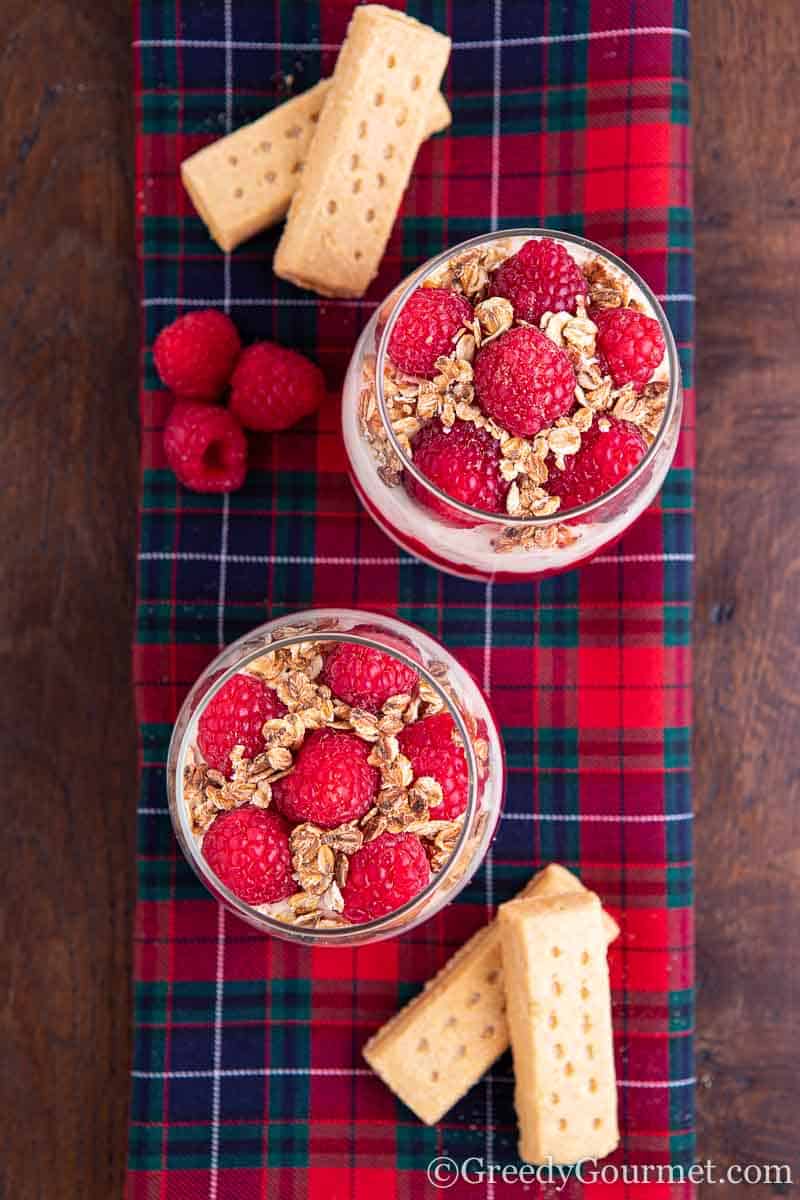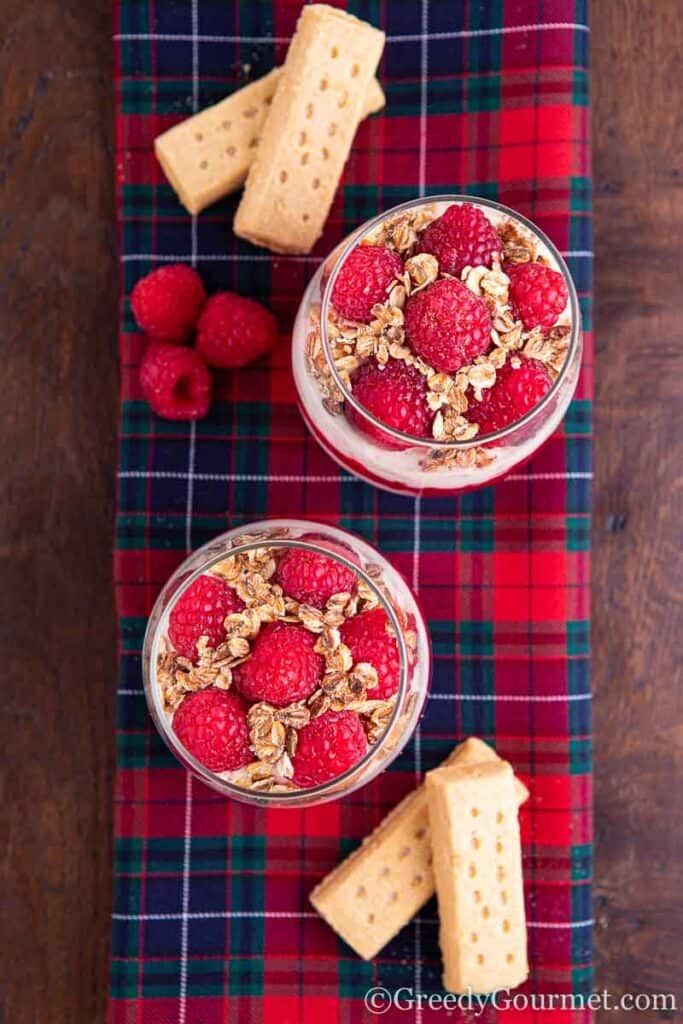 What is the best honey to use for cranachan?
The traditional recipe calls for you to add heather honey to the cream. This type really is the bee's knees (sorry, I couldn't help it). There's been a buzz around this honey for quite some time (okay, I'm going to stop now).
A unique type of honey, heather is beloved by sweet-toothed Scots who swear by its velvety texture and its deep rich toffee flavour with a certain smokiness, as well as its amazing health-boosting properties (move over Manuka!).
Unlike most honey, heather isn't pourable. It has an almost jelly-like consistency.
If you can get hold of some Scottish heather, you'll have an incredibly impressive cranachan on your hands. There's a reason it's known as the "champagne of honeys".
Can you freeze cranachan?
If you're after a refreshing ice-creamy dessert, why not try freezing your cranachan? Simply place it in an airtight container in the freezer.
It'll last for around 2 months. When you're ready to eat it, just let it soften for 10-15 minutes. Then dig in!
Can you substitute yoghurt for cream?
Traditional Scottish cranachan is all about indulgence. Luscious heavy cream, alongside summer raspberries and the unbeatable flavour of Glenmorangie, are all ingredients that play a big part in the appeal of this recipe.
If you like your desserts healthier, you can substitute yoghurt for the cream. I would recommend going for an unsweetened full fat Greek yoghurt to replace the cream, to keep some of that great creamy texture.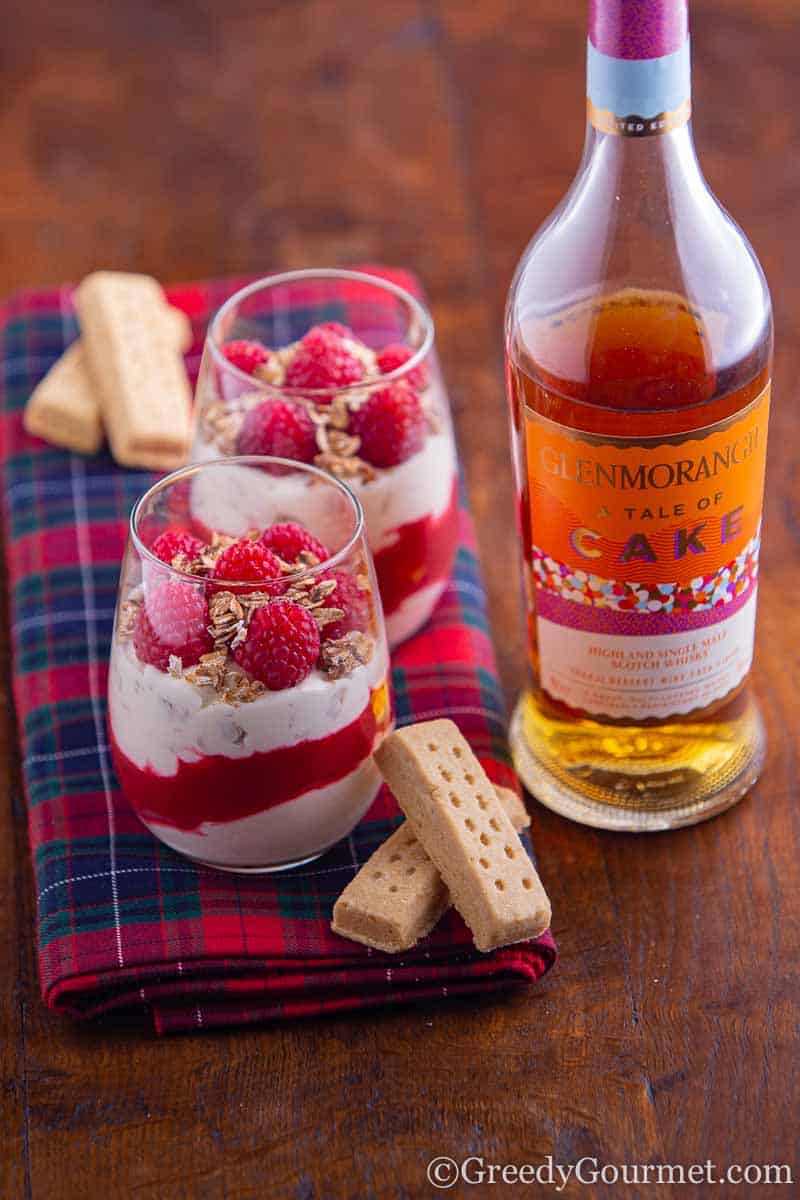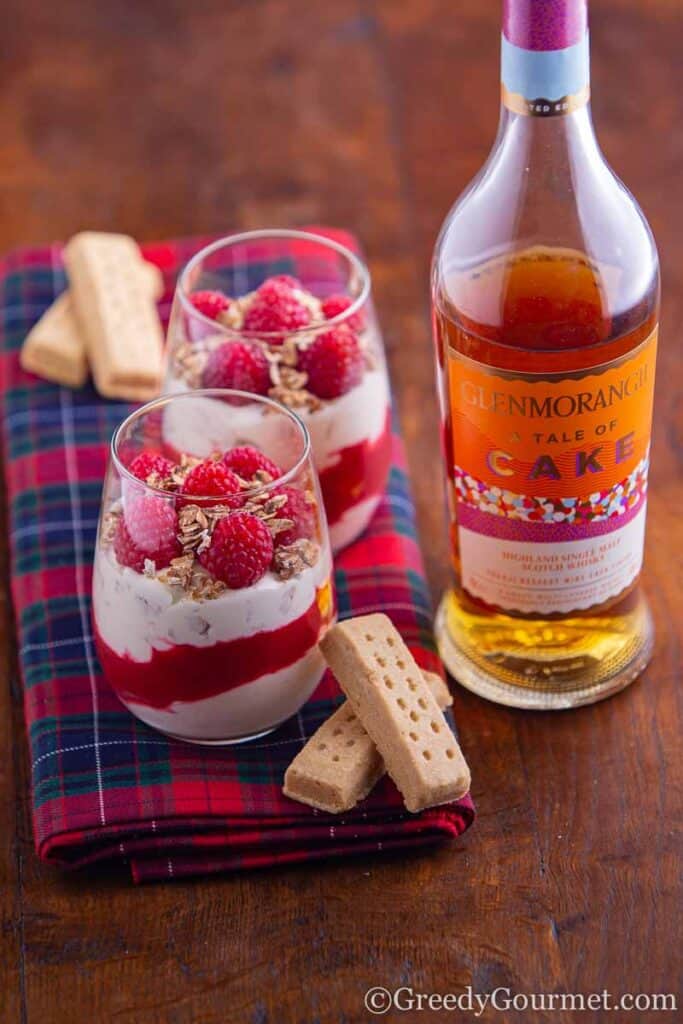 More delicious dessert recipes
Pink custard – if you find yourself with leftover raspberries, why not try and make this old school favourite? It'll make  the perfect accompaniment to any good cake recipe
Amarula berry trifle – a heavenly trifle that'll melt in your mouth, this may be a summer classic but it'll go down well just about any time of year
Blackberry compote – a fresh fruity favourite that's so simple to make, this is one of the easiest and most satisfying fruit recipes. Try it mixed into yoghurt serve it with a tasty apple pie
Chocolate flapjacks – the ultimate in moreish comfort food, these chocolatey morsels of joy are a great way to please the whole family
15 Christmas desserts – if you're on the lookout for a festive dessert to whip up for the holiday season, you're sure to find a favourite here. From mouth watering desserts to heavenly cakes, there's something here for everyone
No bake rhubarb cake – as sweet, tangy, indulgent treats go, this no bake cheesecake is as good as it gets. Pure rhubarb bliss!
Chocolate concrete – chocoholics rejoice! If you're into old school desserts, this one's for you. Add a drizzle of pink custard (see above) and you'll be grinning like a big kid
Mars Bar krispies – this recipe takes good old cheeky indulgence to the next level. You could even add some nougat and toffee and make it a Scottish Mars Bar cake
Recipes for leftover raspberries
Print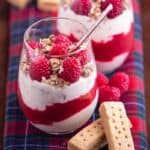 Cranachan
---
Author:

Michelle Minnaar

Prep Time:

15 minutes

Cook Time:

5 minutes

Total Time:

20 minutes

Yield:

4

servings

1

x

Diet:

Vegetarian
Description
Cranachan is a Scottish pudding recipe perfect for Burns Night. It comprises layers of whipped cream, raspberry sauce and oats.
---
---
Instructions
For the toasted oats: Line a roasting tray with baking parchment.
Sprinkle the oats in a single layer onto the lined baking tray.
Place under a medium hot grill for 3-5 minutes, or until the oats are crunchy, golden and fills the air with a nutty aroma.
Remove from heat and allow to cool.
For the raspberry sauce: Squeeze half of the raspberries through a sieve into a bowl underneath.
Sweeten with caster sugar. Set aside.
For the flavoured cream: Whisk the double cream until soft peaks form. Do not over whip! Fold in whisky and honey. Taste and adjust the quantities of honey and whisky if necessary.
Assembling the dessert: Whisk in the toasted oats, leaving a bit aside for decoration.
Layer the cream and raspberry sauce in individual glasses or containers, alternating the layers.
Top with leftover raspberries and oats. Serve immediately. Enjoy!
---
Notes
You can adjust the amount of sugar used in the raspberry sauce to your desired taste. More or less – your choice!
Keep a lookout for artisan honey from Scotland. Flavours such as heather or lavender will be good additions.
You can add more or less whisky to the cream according to your liking.
Glenmorangie's A Tale of Cake Whisky is limited edition. If you can't get hold of it you can opt for its 10 Year Old Single Malt Whisky.
Category:

Dessert

Method:

Toast

Cuisine:

Scottish
Keywords: Cranachan, Scottish pudding, Scottish desserts, burns night pudding, Scottish delicacies, oats dessert recipe, whisky dessert recipe, raspberry Cranachan
P.S. This is a sponsored post.