When I think of an apple and plum crumble, my mind goes immediately into 'comfort food' mode.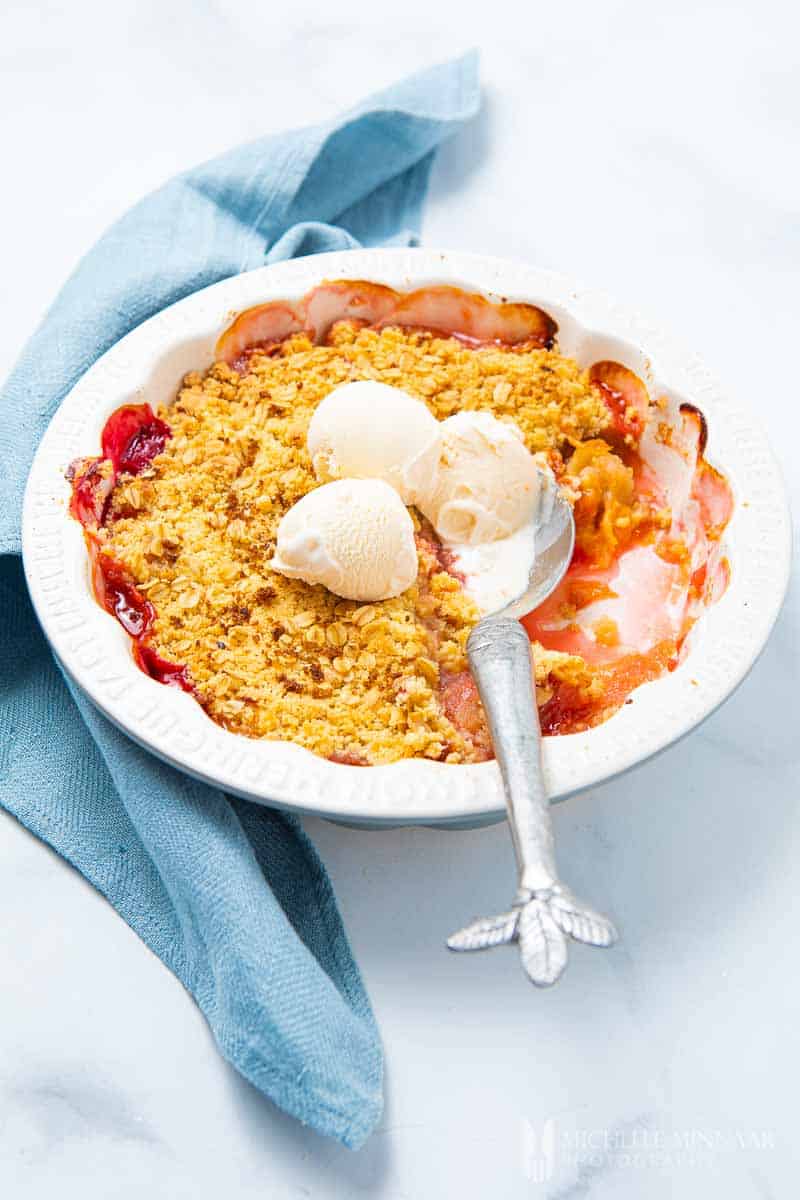 That being said, I enjoyed a warm slice of this apple and plum crumble with a scoop of ice cream with a steaming hot rooibos tea. Good memories!
Well, guess what? You can enjoy a slice of this insanely delicious crumble in the comfort of your own home. Put your feet up and treat yourself to a slice of this fruity apple and plum crumble.
You can easily prepare this crumble recipe in no time at all. Best of all, if you have these ingredients growing in your garden, don't be afraid to use them up.
I always say, the best way to use up fresh fruit is to make a delicious pie or a fruity crumble like this apple and plum crumble. The apples provide a lovely tart flavour while the plums add a sweet and intense flavour.
You can serve this crumble straight out of the oven or you can wait until it cools down. Serve it with vanilla custard, pink custard, ice cream or whipped cream.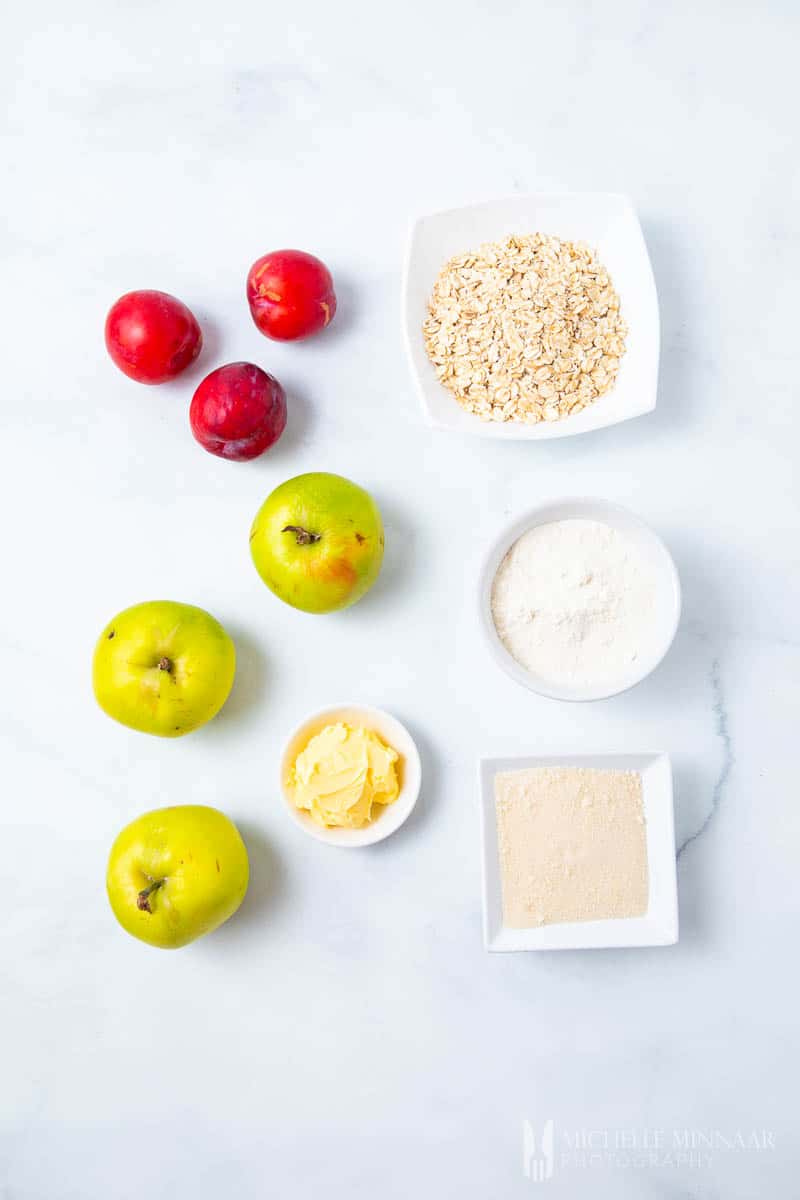 apple and plum crumble recipe
Apple and plum are not an everyday combo of fruits. That's why this apple and plum crumble is somewhat unusual. As mentioned above, the apples will provide a tart flavour due to their level of acidity.
In addition, the plums will add a lovely rich flavour which will make every spoonful of this apple and plum crumble melt in your mouth. A bit like this amazing apple and blackberry crumble. 
Actually, the textures of this recipe will be very reminiscent of this apple and rhubarb crumble recipe. However, the flavours do differ, but rhubarb also has a very tart taste. In that case, I suggested to pair the rhubarb with sweeter and juicier apples than Bramleys.
how to make a crumble?
You need the following equipment and ingredients to make this crumble possible.
which apples to use in a crumble?
In contrast, I find that it best to use very acidic apples for this recipe. The plums require the tartness to cut through the intense flavours. Therefore, you should consider purchasing these variety of apples:
Granny Smith – very acidic, tart and firm which makes it excellent for pies and crumbles
Crisp Pink – quite tart and less sweet, excellent for a baked apple recipe and also freezes well
Golden Delicious – mellow sweetness and crisp, excellent for baking recipes
If you would like to use sweet apples and make this apple and plum crumble much sweeter, you can. Although, I recommend reducing the amount of sugar, as these apples will provide the recipe with enough sweetness:
Gala apples – they are sweeter and still crisp, excellent for baking as they retain their shape
Fuji apples – very sweet and crunchy, also perfect for baking or for sauce-making
Do you have a favourite variety of apples that you would like to use for this apple and plum tart?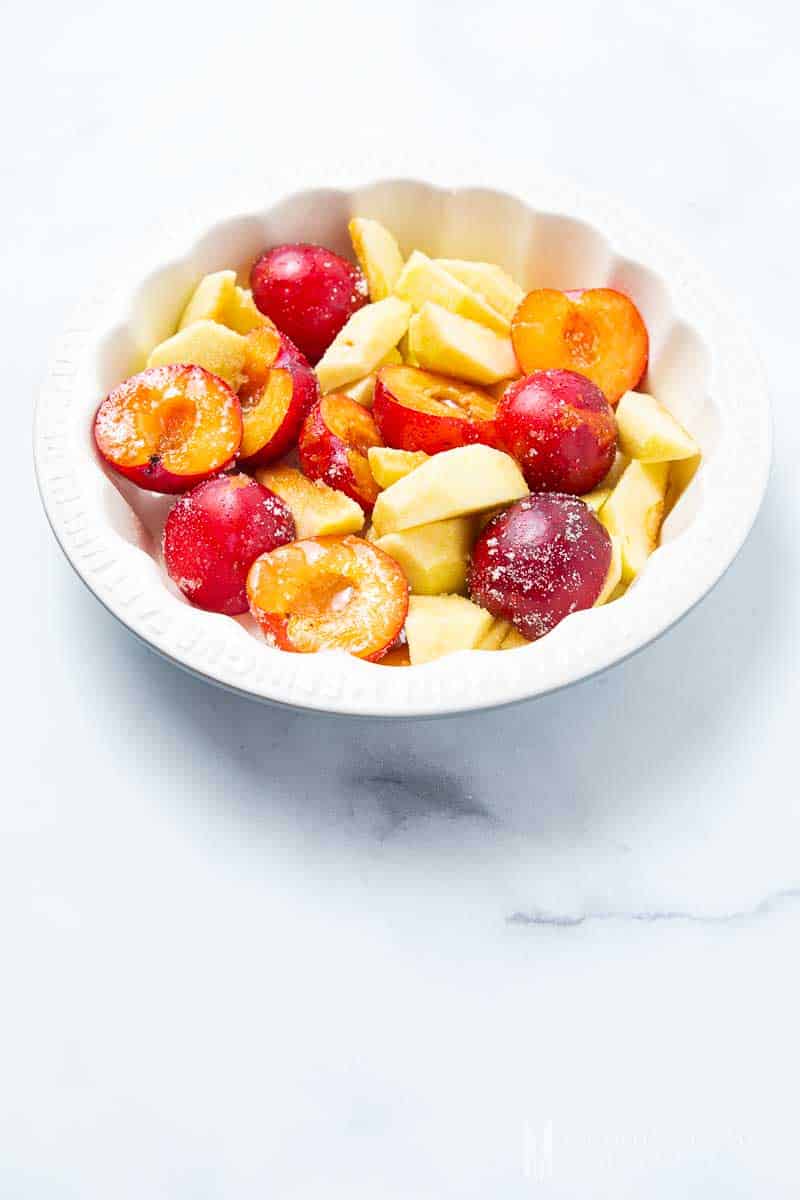 apple plum crumble
You can use any type of plums for this apple and plum crumble recipe. However, there are a few varieties which stand out for a crumble recipe. For example:
Mirabelle plums – small and sweet excellent for a jam or a fruity compote recipe
Red plums – sweet and also excellent for this easy plum and port crumble
European plums – sweet flavour with purplish colour, also great with this apple and plum crumble
Black plums – sweet and mild flavour, excellent for baking
Greengages – although they look green, they are ripe with a honey flavour
Yellow plums – also an excellent choice for baking tarts
Pluots – a hybrid between plum and apricot, not suitable for baking pies
On the whole, I recommend opting for red plums, European plums, black plums or yellow plums. All of these plums are very suitable for this apple and plum crumble recipe.
apple and plum crumble without oats
Although, my apple and plum crumble calls for oats for consistency purposes, you don't necessarily have to include them. The reason behind adding oats is to absorb any excess juices from the fruit. They also look pretty as a topping.
This way the apple and plum crumble is not runny, but just juicy enough. In order to make an apple and plum crumble without oats and manage its consistency, you need to add apples which are not so juicy.
Therefore, the tart ones, which hold their structure well are the perfect ones. This will solve your problem. 
Otherwise, you can also toss the apples and plums into a bit of flour. Whether it be normal flour (with wheat) or a different sort. You can also add semolina to absorb some of the moisture or other types of gluten-free flour. For example: coconut flour, almond flour and more.
The good news is that the oats can easily be omitted in this recipe, no substitutions needed!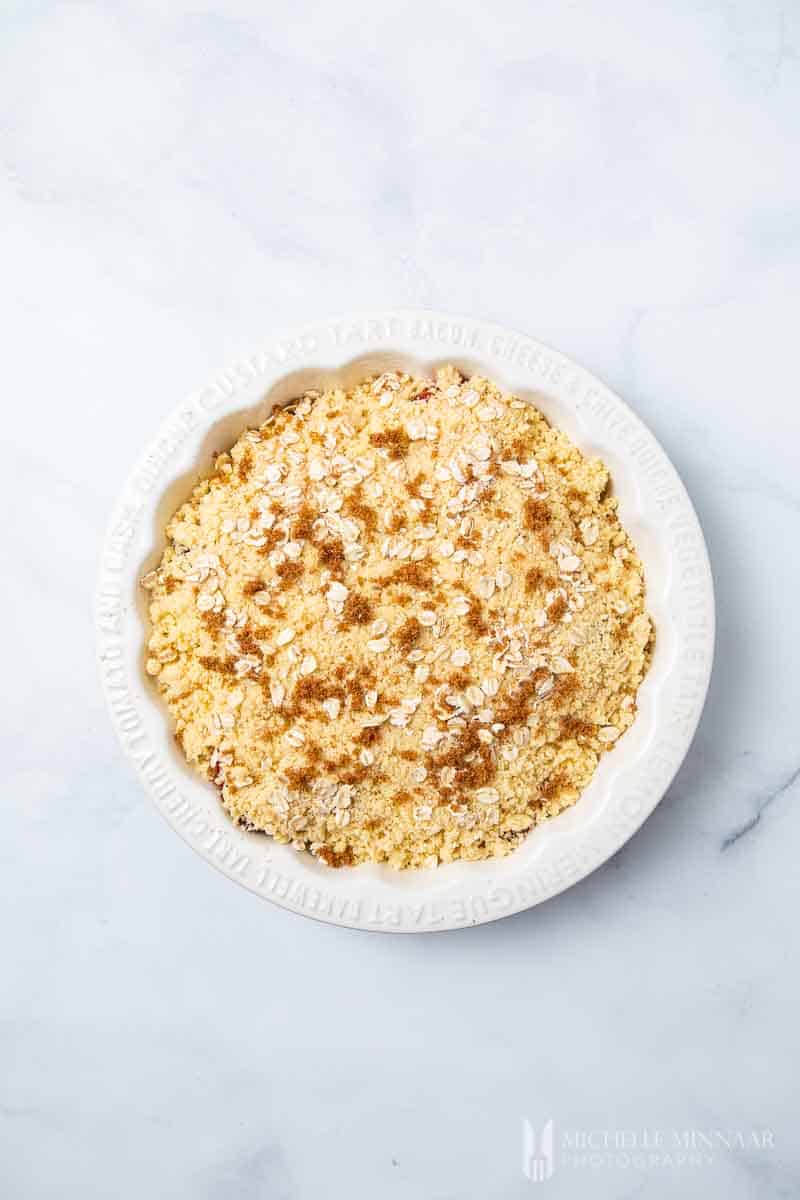 apple, pear and plum crumble
There are multiple ways for you to make this crumble recipe your own. For example, you can easily add any other type of fruit such as pears, rhubarbs, apricots, cherries, you name it. In short, you can take inspiration from this cherry crumble pie or this rhubarb dump cake.
In addition, you can also manipulate this recipe into containing a bit of chocolate. For instance, add chocolate chips to your crumble and see just how amazing everything works together.
plum and apple jam
If you've bought a really large pack of apples and plums, you can use them for other fruity recipes. Similarly, if you have too many apples and plums in your garden, the same can be said!
In addition to the apple and plum crumble, why don't you try making an apple and plum jam? Jam-making is quite easy, and you don't need to be a Masterchef to make one. For instance, look at this easy homemade seedless blackberry jam.
what to serve with a crumble?
This is the best part! Serve your crumble with a scoop of vanilla ice cream, vanilla custard or whipped cream. For example, I think this hokey pokey ice cream would pair very well with the apple and plum crumble.
What types of apple and plums would you put into this apple and plum crumble recipe? Let me know!
Print
Apple and Plum Crumble
---
Description
This British dessert, apple and plum crumble, is easy and quick to prepare. Use tart apples and ripe plums. Learn how to perfect any fruit crumble recipe.
---
225g

(½lb) apples, peeled, cored and cut into 1cm (½in) slices

450g

(1lb) plums, washed, stoned and halved

30

ml (2 tbsp) caster sugar

175g

(

8oz

) plain flour, sieved

120g

(

4oz

) golden caster sugar

120g

(

4oz

) butter

15

ml (1 tbsp) oats
---
Instructions
Heat the oven to 190°C/170°C/gas mark 5.
Toss the apples and plums with caster sugar and place them in a 23cm (10in) round baking dish. Flatten the mixture.
Place the flour and golden caster sugar in a bowl and slice in the butter.
Rub mixture with your fingertips until a breadcrumb consistency is achieved.
Pour the crumbs over the fruit evenly and flatten the mixture.
Sprinkle with oats.
Bake in the oven for 35 minutes or until the top is golden and the apples are soft.
Leave to cool for 10 minutes before serving with cream, custard or ice cream.
Notes
If you don't want to get your hands dirty, you can use a food processor to process the crumb mixture.
Prep Time:

15 minutes

Cook Time:

40 minutes

Category:

Dessert

Method:

Bake

Cuisine:

English
Keywords: apple and plum crumble, crumble recipe, autumn dessert, British dessert recipe