In the throes of winter, Cauliflower and Potato Soup is always welcome. Here is something different.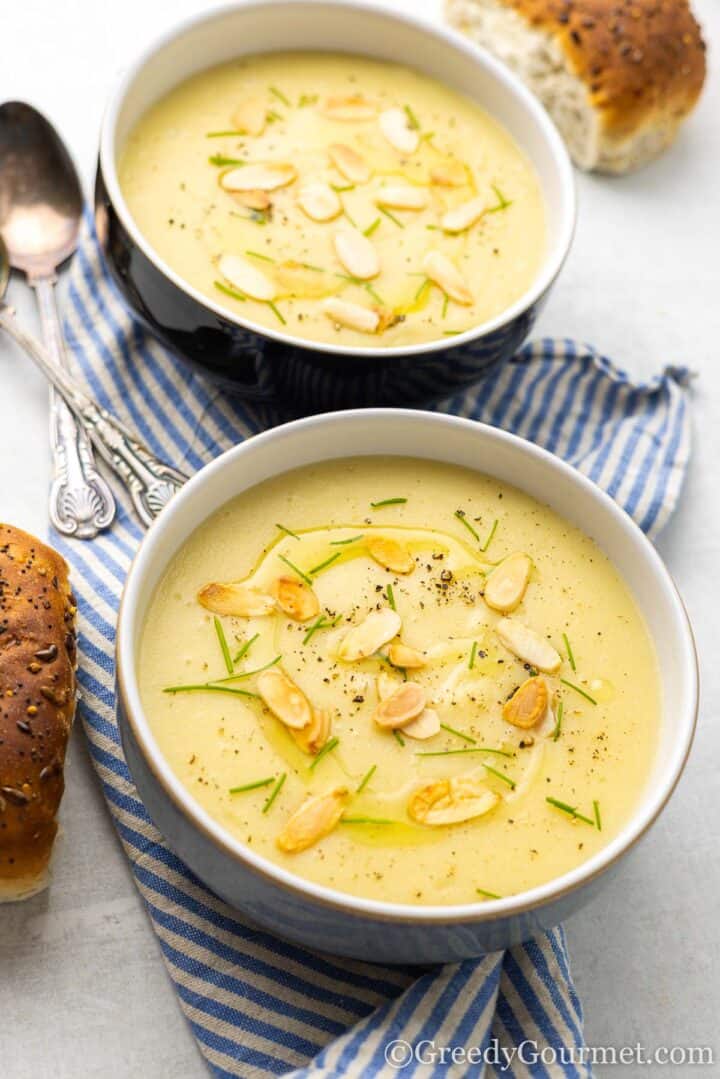 When it comes to pure satisfaction in a bowl, this cauliflower and potato soup is right up there with the best of them – particularly in the colder months of the year when you need something warming and comforting.
This delicious soup is extremely easy to make, is made up of healthy natural ingredients and contains a special ingredient to give it a boost of flavor that sets it apart from standard vegetable soups.
Why You'll Love This Recipe
It's a wonderful winter warmer
There's so much flavour from just a handful of ingredients
It's really easy to make
It takes a little over 30 minutes to make from start to finish
The truffle oil elevates the thing to a whole new level
Equipment Needed To Make This Recipe
There are a few essential items you'll need to make this cauliflower potato soup recipe:
Large saucepan – you'll need a good quality saucepan to make your soup
Blender – make sure you use a quality blender to get that beautiful silky smooth soup texture. You can also go with an immersion blender, but be careful when blending hot liquids!
Soup bowls – serve up your sublime soup with style!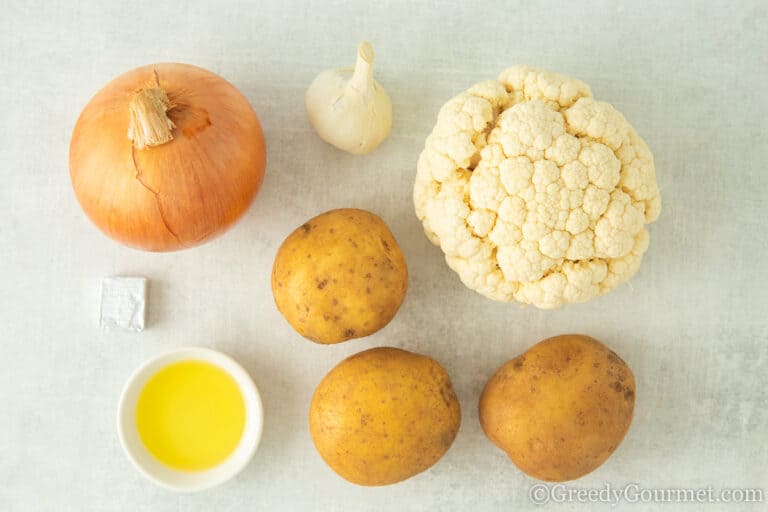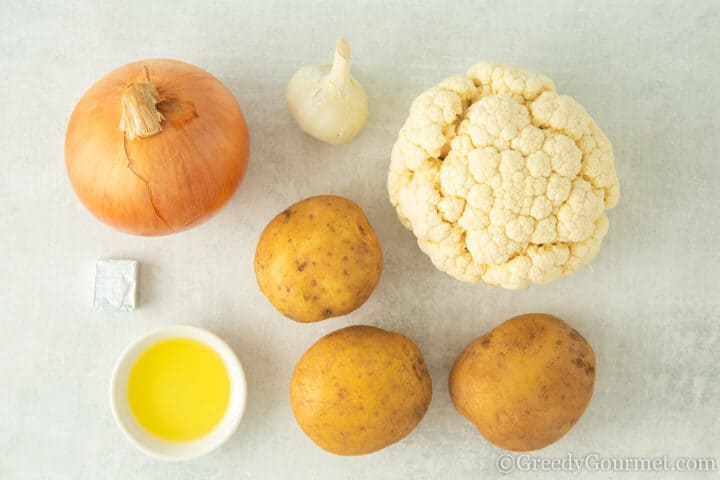 Ingredients you need for this recipe
White truffle oil – this is the special ingredient that will bring a touch of elegance to your cauliflower and potato soup
How To Make Cauliflower and Potato Soup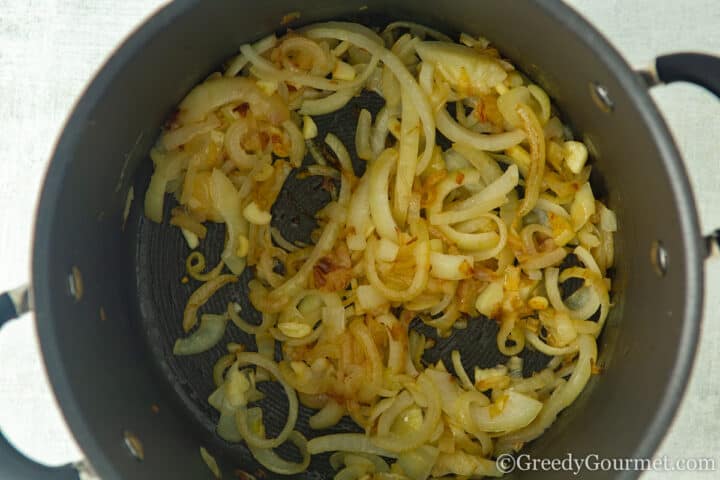 Gently fry the onions and garlic in oil until softened and translucent.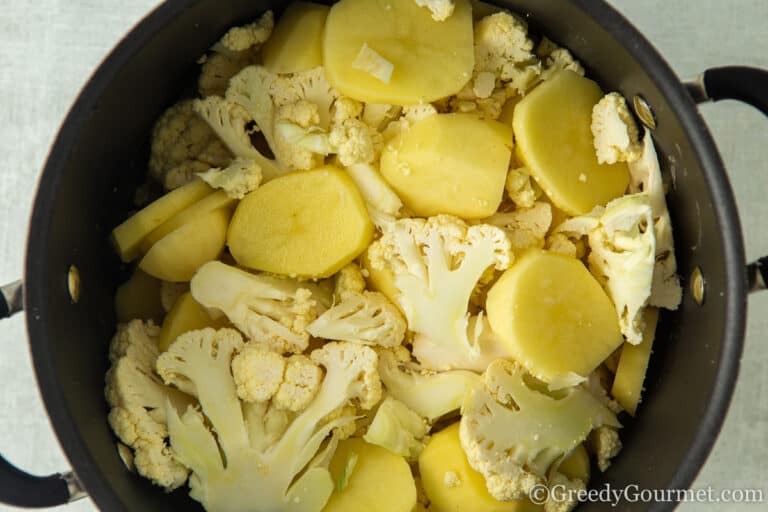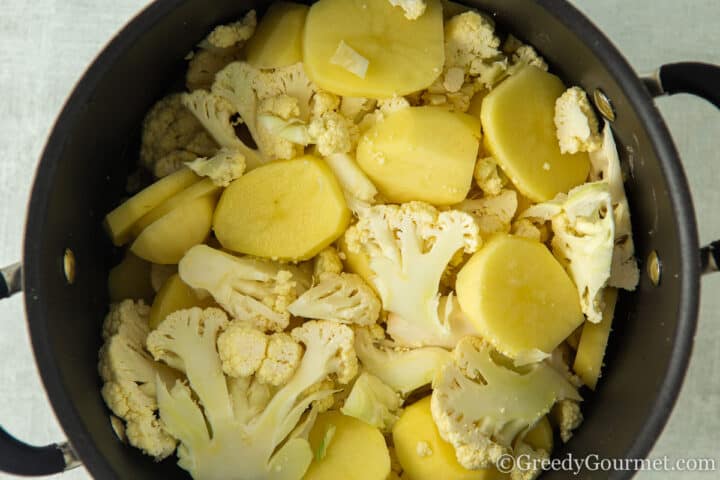 Add the potato, cauliflower and stock. Simmer until cooked.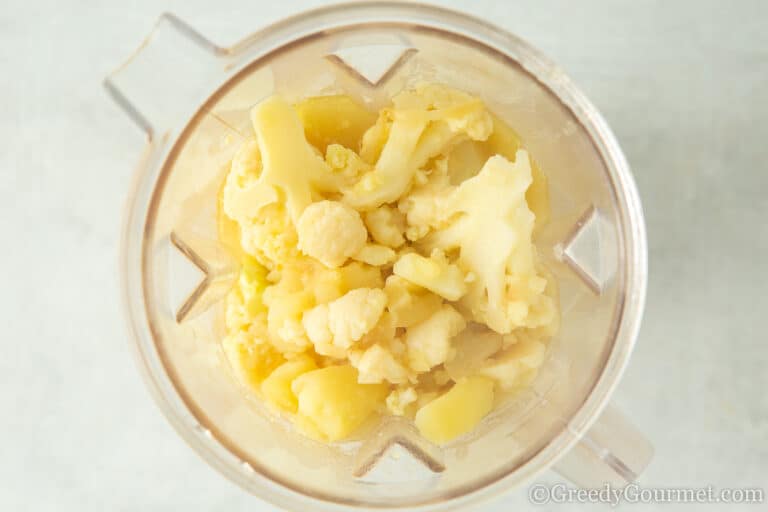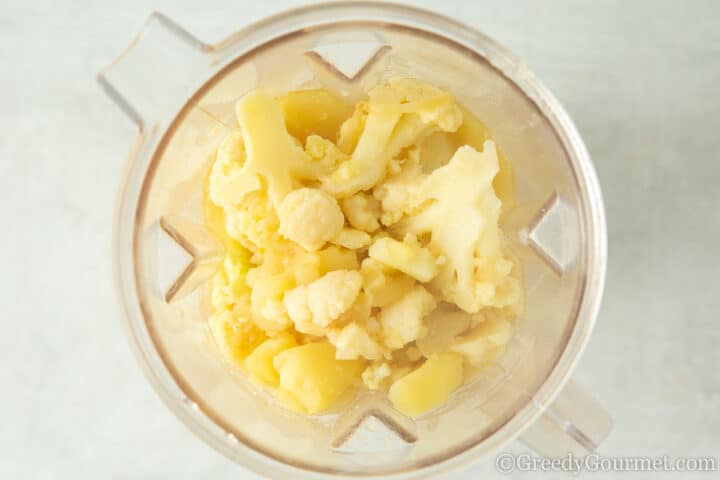 Transfer to blender and process until smooth. Drizzle with truffle oil. Enjoy!
Top Tip
Don't cook your soup on too high a heat. Make sure it simmers gently and you'll retain that wonderful flavor.
What to Serve with Cauliflower and Potato Soup
Sides
Wine pairing
A smooth, medium bodied white wine would pair very well with a warming bowl of cauliflower and potato soup. Go for something like a Chablis, Chenin Blanc, Soave, Pinot Gris
Variations To This Recipe
Add cooked chicken or turkey to your soup to bulk it out and turn it into a more filling soup.
You can use vegetable stock or, for extra richness, chicken broth. If you want a real hit of richness, add my homemade turkey stock.
For a richer low salt stock, use a low sodium chicken broth.
Use any mixture of your favorite herbs for this soup recipe. I've gone for chives, but you can use fresh thyme, fresh parsley, oregano, rosemary, mint, marjoram, basil or sage... even wild garlic!
Add some cream or coconut milk to make this a creamy soup.
A a few turns of freshly ground black pepper to add a final flourish to your soup.
Not in a hurry? You could roast the cauliflower in the oven for an even more intense flavor. Simply drizzle with olive oil and roast in baking tray for 30 minutes in the oven. You could also bulk up your soup and roast other vegetables like carrots or parsnips – again, drizzle with olive oil and roast for 30 minutes, or until softened.
Popular substitutions
If you prefer a milder onion flavor, replace the onion with sliced green onions
You can use olive oil in place of vegetable oil
Top Tip
Get fresh locally sourced ingredients when making soup. It makes all the difference! Also, be sure to stick to the ratios below for the perfect silky smooth texture.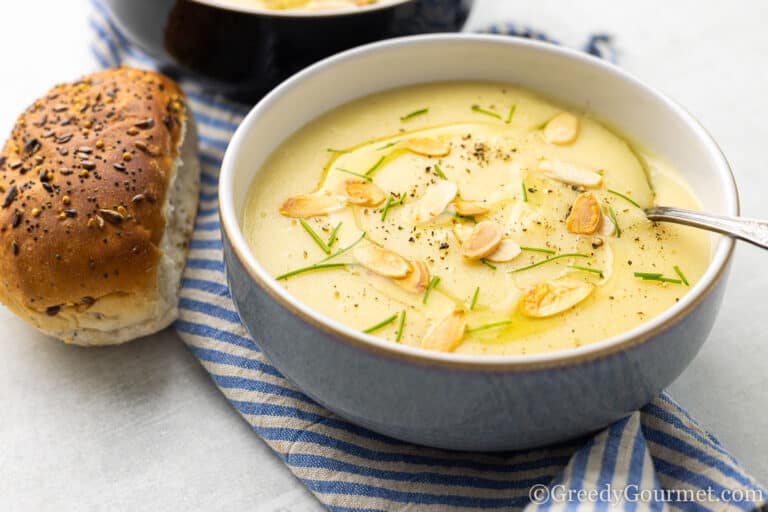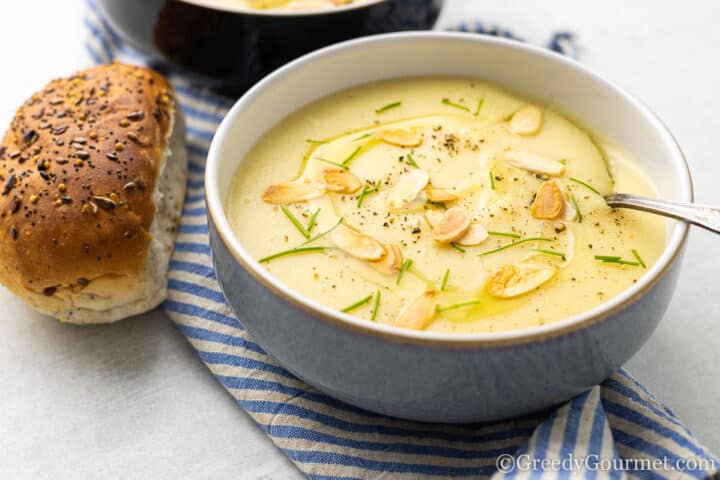 What are the best potatoes to use for cauliflower and potato soup?
There are a few options when it comes to choosing the ideal potato for this soup:
Russet potatoes – these potatoes are very high in starch and will produce a light and fluffy texture. They are particularly good for roast potato recipes and mashed potato, but they also work well in soup recipes, particularly if thick and creamy is your favorite kind of soup
Yukon gold potatoes – a great all-rounder, Yukon gold are medium-starch potatoes and contain more water than russets. They produce a nice texture, particularly in a cauliflower soup
White potatoes – these waxy potatoes are widely available and make a good option for soup recipes
How do you prepare cauliflower?
Preparing cauliflower from scratch is easy... if you know how!
Here's how to prepare cauliflower for this cauliflower potato soup recipe:
Pull off the excess leaves from the cauliflower. You'll be left with the big stem.
Cut off the whole stem of the cauliflower using a sharp chef's knife. Make sure you use a quality non-slip chopping board.
Using a small paring knife, remove each cauliflower floret from the head of the cauliflower one at a time. Place each floret into a bowl of water.
Quickly wash the cauliflower florets and remove them, placing them on a clean surface or container ready to be used in your soup.
Can I use frozen cauliflower florets for this recipe?
Yes, you can use frozen cauliflower for this recipe. However, you will get better results if you use fresh cauliflower, as frozen cauliflower will produce a lot of water, which will thin your soup and detract from the taste.
How do I store leftovers?
Storing cauliflower and potato soup leftovers is simple. First, allow the soup to cool completely. Once cooled, transfer the soup to a suitable airtight storage container. Then put it in the fridge, where it will stay fresh for 3-4 days.
Can you freeze Cauliflower and Potato Soup?
Absolutely! Cauliflower and potato soup is easy to freeze. Again, you will need to allow it to cool completely, before placing it in an airtight container, one that is suitable for freezing.
Your soup leftovers will last up to 6 months in the freezer. If you've made a big batch, it might be a good idea to freeze your soup in smaller individual portions. That way, you can defrost only as much as you need each time.
Can this recipe be scaled?
Yes! This cauliflower and potato soup is great for making a big batch. Simply double or triple the amounts below.
Don't forget, the ratios are very important. As long as you keep weights and measurements relative (so, if you're doubling the recipes, make sure you double everything) then your soup will end up perfect!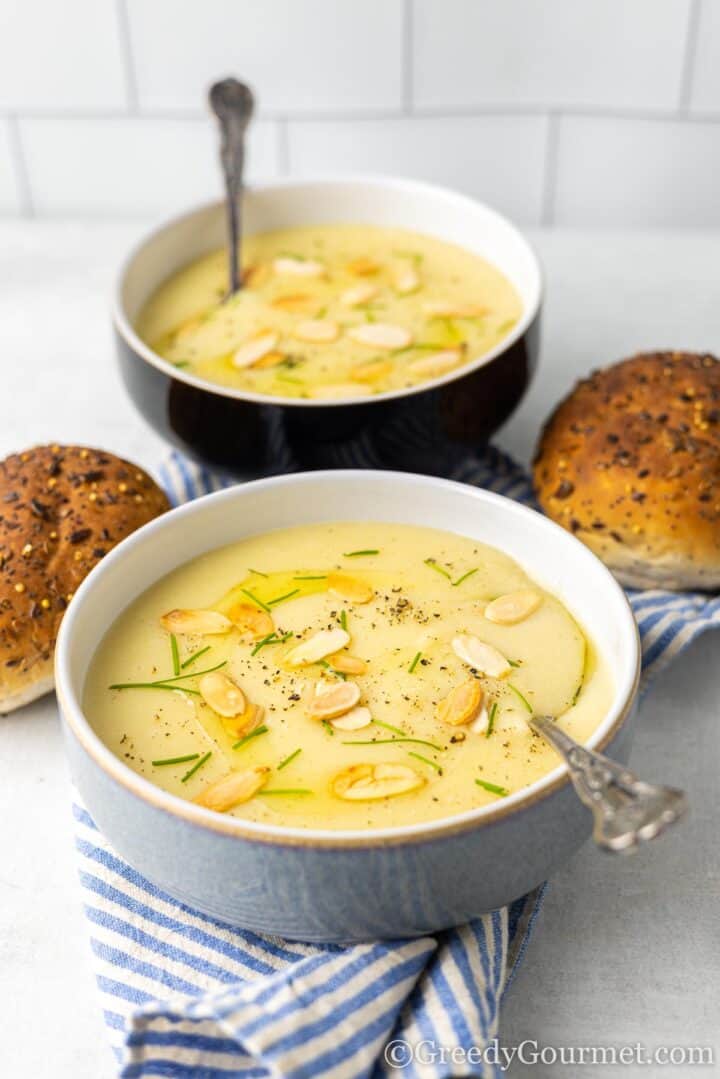 Other Sublime Soup Recipes You'll Love
Few things can beat a nice warming, soothing soup during the colder months of the year. With that in mind, here are a few fabulous soup recipes for you to try:
Don't forget to come back and let me know how your recipe turned out!
Print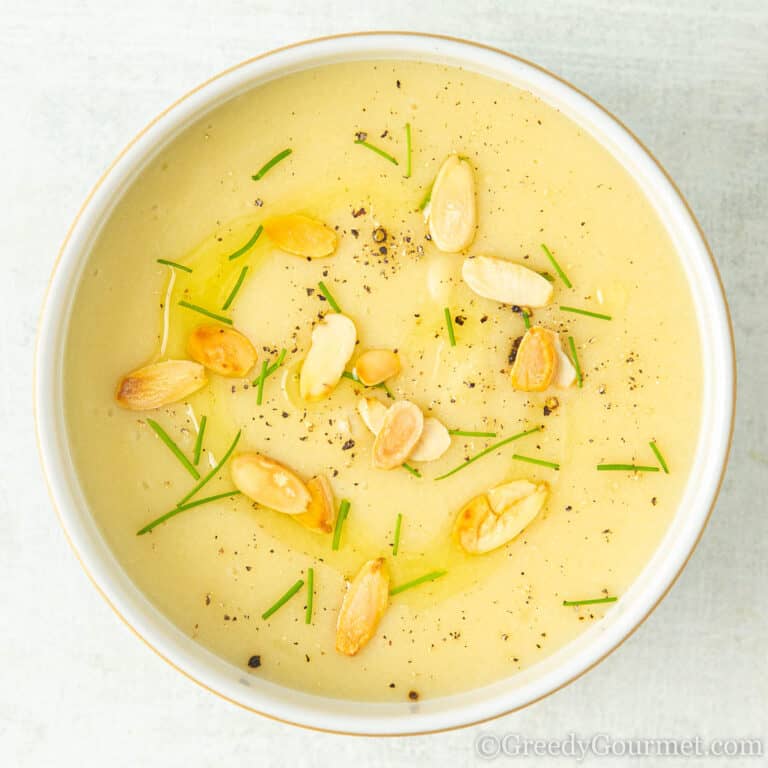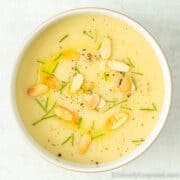 Cauliflower Potato Soup
---
Author:

Michelle Minnaar

Total Time:

35 minutes

Yield:

4

portions

1

x

Diet:

Vegan
Description
This cauliflower potato soup is easy to make and so incredibly flavourful everyone will love it. Serve on a cold day and it freeze it for the future!
---
15

ml (1 tbsp) vegetable oil

1

onion, chopped

2

garlic cloves, crushed

1

small cauliflower, weighing around 450g (

1

lb)

450g

(

1

lb), peeled and sliced potatoes

750

ml (3 cups) vegetable stock
toasted almonds, for garnishing
Chives, for garnishing
truffle oil, for drizzling
---
Instructions
Heat the oil in a large saucepan. Gently fry the onions and garlic for 5 minutes until softened and translucent.
Tip in the cauliflower and potatoes then pour in the stock.
Simmer for 10 minutes or until everything is fork tender.
Transfer the contents to a blender and process until smooth.
Divide the soup evenly between bowls, then scatter with almonds, chives and truffle oil. Serve with your favourite crusty bread. Enjoy!
Prep Time:

15 minutes

Cook Time:

20 minutes

Category:

Soup

Method:

Boil

Cuisine:

French
Keywords: cauliflower potato soup, cauliflower and potato soup recipe, healthy cauliflower potato soup, vegan cauliflower potato soup