Eggnog and waffles? What a great combination! If you love both of these delightful treats you will absolutely love them combined into one tasty breakfast dish.
Of course, you don't have to just enjoy them for breakfast, eggnog waffles make a great dessert alongside a scoop of vanilla ice cream or whipped cream!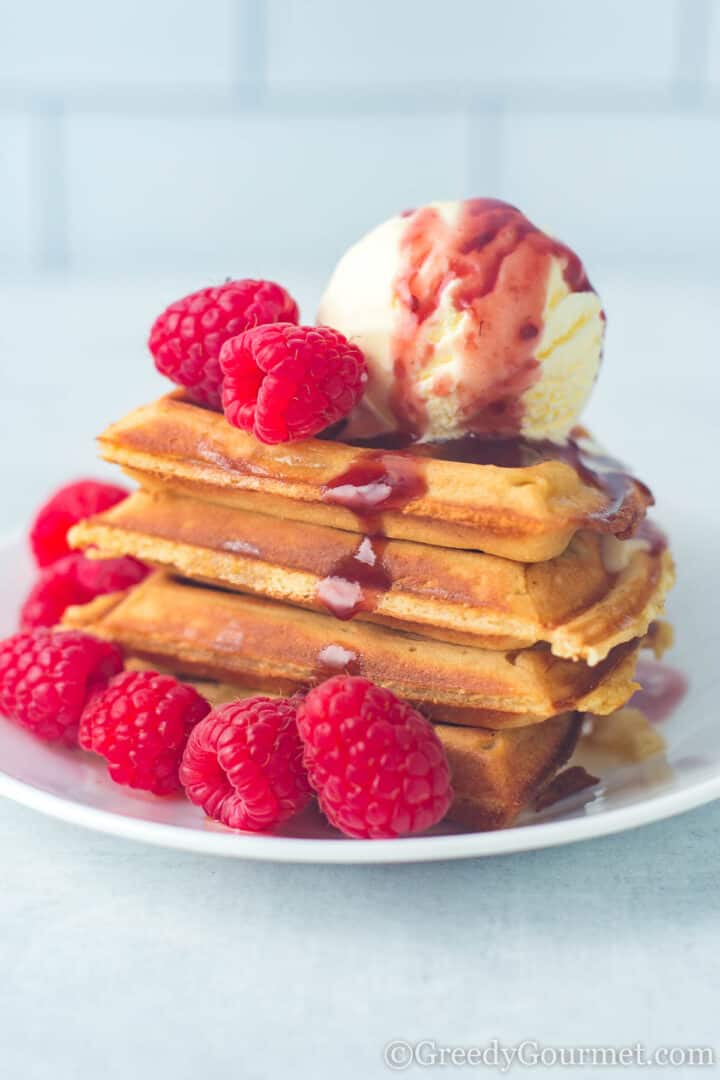 This recipe takes inspiration from my Eggnog French Toast recipe and would be delicious accompanied by a scoop of Rum and Raisin Ice Cream for a real treat.
Although eggnog waffles make a great holiday breakfast around the holidays, these waffles are good for any time of the year that you would like to delight yourself and your family with a unique and special dish.
Why You'll Love This Recipe
Its eggnog flavor is decadent and delicious
It takes simple ingredients and transforms them into something special
It can be whipped up in no time
It stars as the main dish in a holiday breakfast, lunch, dinner, or dessert
It can be topped with anything from maple syrup to whipped cream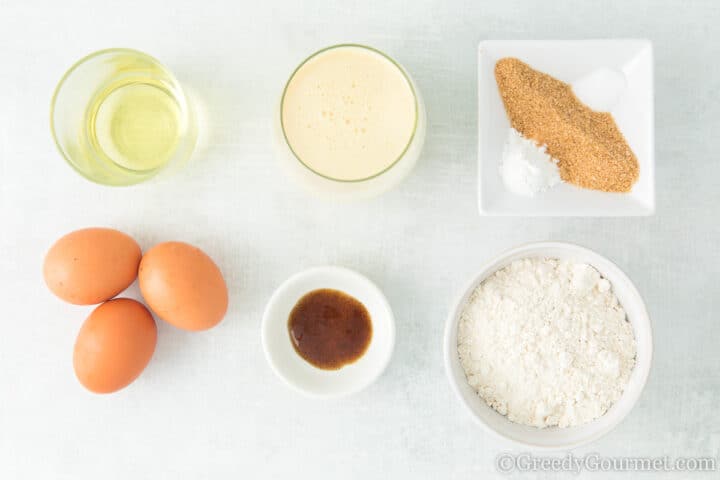 Special Equipment Needed to Make This Recipe
How To Make This Recipe
Sieve all the dry ingredients in a large bowl.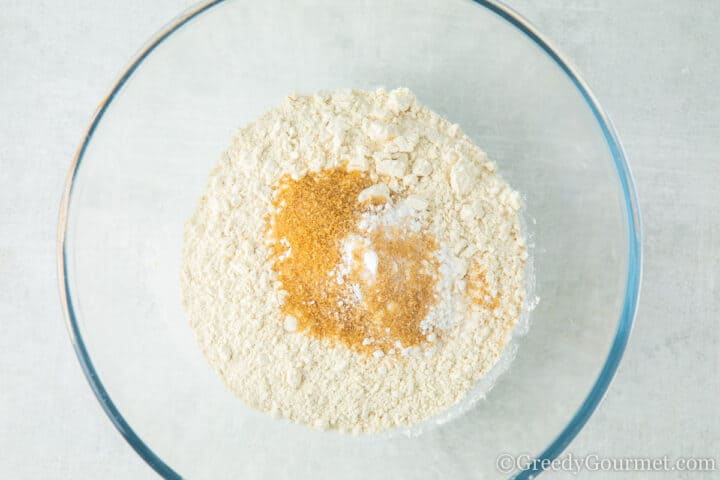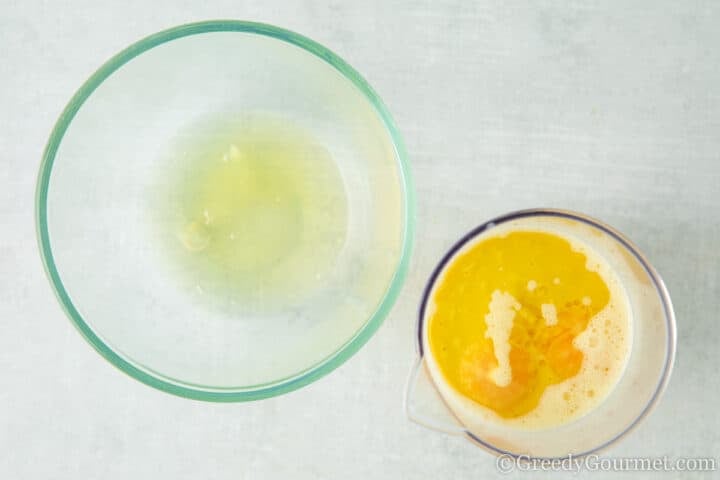 Whisk the eggnog, egg yolks, oil and vanilla paste in another bowl.
Whisk the egg whites until soft peaks form.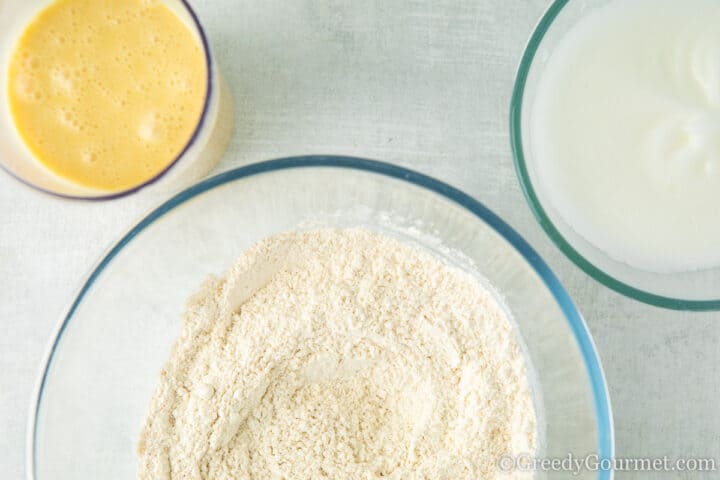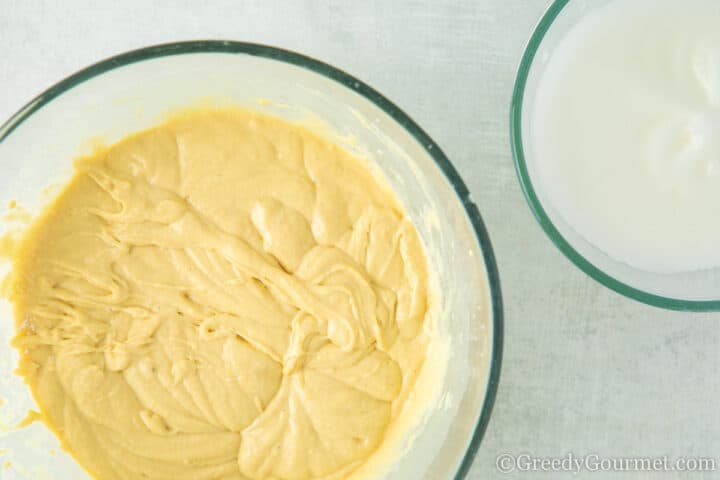 Slowly incorporate the egg yolk mixture with the dry ingredients.
Gently fold the whipped egg whites into the eggnog mixture.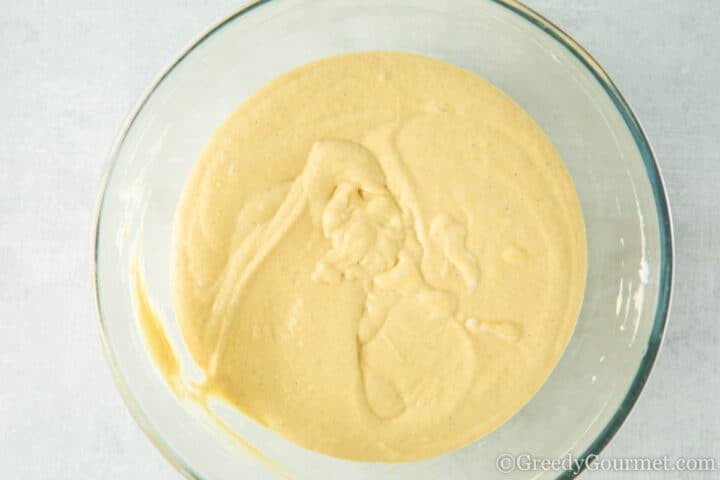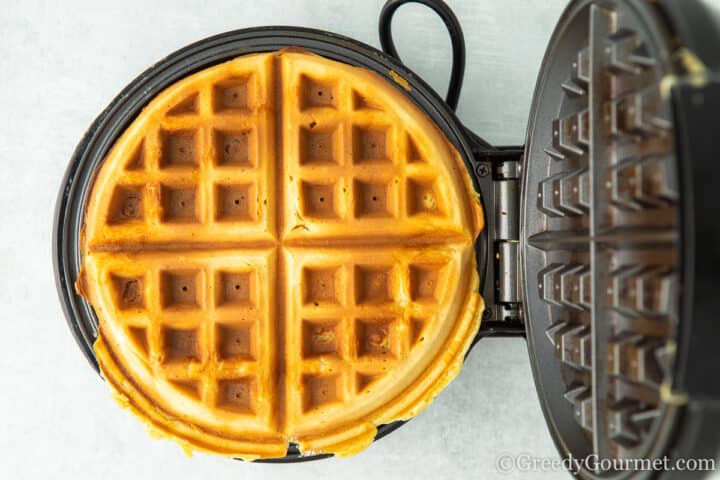 Cook the waffles accordingly to manufacturer's instructions. Enjoy!
Top Tip:
Be sure to very gently fold your batter into your egg whites little by little in a large bowl. Once you have incorporated all of the batter into the egg whites, give it a couple of gentle folds and leave it be. Overmixing your eggnog batter and egg white mixture will decrease the fluffiness of your eggnog waffles.
What To Serve or Pair With Your Eggnog Waffles
My eggnog waffles are sweet and decadent served just as is. However, accompanying it with a delightful topping, delicious side dish, or cocktail will only make the meal that much better.
Toppings
If you're really crazy about eggnog, you can accompany your waffles with more of the rich flavors of eggnog in your toppings. There's nothing wrong with just butter melted over your waffles, but sometimes a special meal calls for some more excitement.
Whipped cream
Melted butter
Sides
Enjoy your eggnog waffles alongside these delicious accompaniments for a tasty breakfast or brunch that will really WOW your family.
Fruit
Scrambled eggs
Bacon
Fried chicken
Cocktails
Maybe you're enjoying your eggnog waffles as a dessert instead of for breakfast. Try one of these cocktails for a delicious eggnog-filled evening!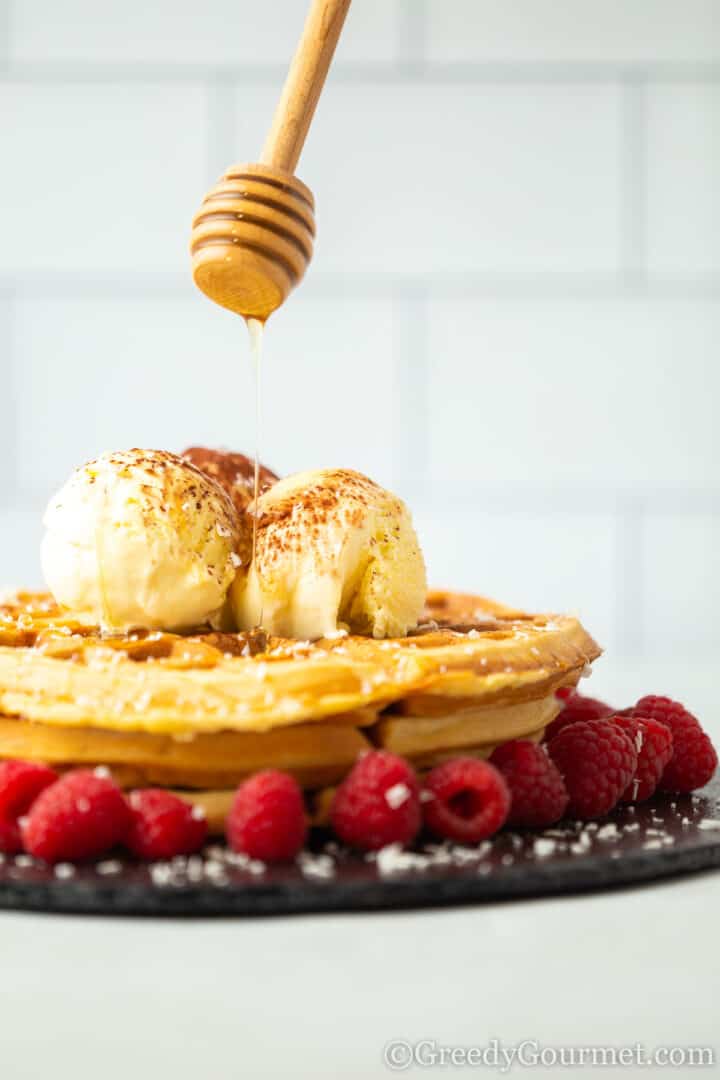 Substitutions To This Recipe
Whether you are out of one ingredient or another, or just want to try something different, here are some simple substitutions that can be made to your eggnog waffles.
Flour
Eggnog waffles can be made using whole wheat flour instead of white all-purpose flour. Measure the exact same amount of whole wheat flour as all-purpose flour to make your eggnog waffles.
Vanilla
The vanilla paste can be substituted with vanilla extract in this recipe if you do not have the paste available. Vanilla paste is thicker than vanilla extract, with a slightly more intense flavor.
Use a one-to-one ratio to substitute vanilla extract for vanilla paste in this waffle recipe.
Sugar
Golden caster sugar is commonly found in the UK, but may not be as easily available in other countries. Although golden caster sugar is finer than granulated sugar, it can be substituted in a one-to-one ratio.
Use a blender or food processor to quickly refine the granulated sugar before using it in your eggnog waffle recipes to get the same texture in the waffles.
Baking Powder
If you're out of baking powder, you can substitute it with baking soda in this recipe for eggnog waffles. You must use an acid like vinegar or lemon juice to create the same reaction as baking powder.
Use 1/3 of a teaspoon of baking soda and one teaspoon of acid per one teaspoon of baking powder to replace.
Top Tip:
Make sure to let your waffle iron get nice and hot before putting your batter into it. This will ensure that it doesn't stick to the iron and cooks evenly.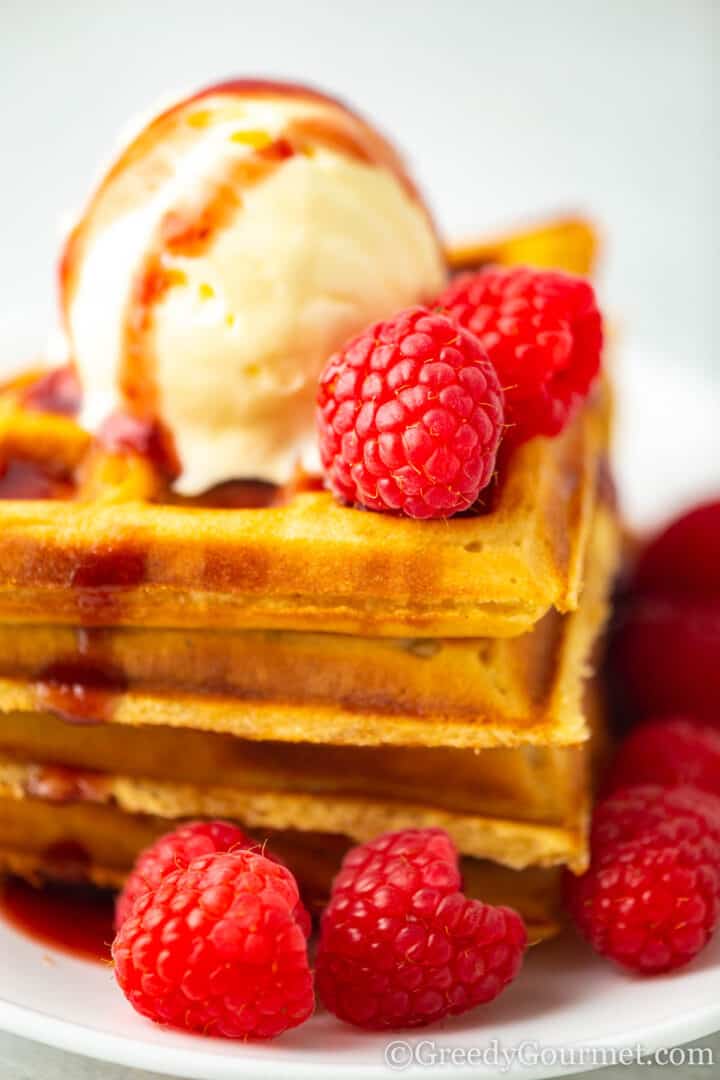 Variations To This Recipe
This waffle recipe is great as is, but if you or someone in your family has dietary restrictions, it can easily be changed to suit different diets.
Skip the dairy in your eggnog by making it vegan with dairy-free milk, coconut milk, maple syrup, nutmeg, and vanilla extract. You won't miss the dairy in this version of eggnog.
Use dairy-free whipped cream to top your waffles instead of regular whipped cream. Dairy-free whipped cream can be made with coconut milk and confectioner's sugar and makes a great replacement for whipped cream made with heavy cream.
How do I store leftover eggnog waffles?
If you've managed to not devour all of the eggnog waffles, simply store the leftover waffles in the refrigerator for up to three days for best results. Aluminum foil or plastic wrap tightly covering the waffles works best.
Otherwise, a Ziploc bag with most of the air removed from it will keep preventing your waffles from drying out.
Can I freeze eggnog waffles?
Yes, you can freeze fresh eggnog waffles. Allow the waffles to cool down completely before putting them in the freezer.
Flash freeze the eggnog waffles by placing them individually on a baking tray next to one another. Place parchment paper under the waffle if you want to prevent them from sticking to the tray.
After about three hours, remove the tray from the freezer, and stack the waffles together in a Ziploc bag with the air squeezed out. Flash freezing the waffles ensures that they don't freeze together, allowing you to pull out as many as you want at a time.
Waffles last for about two to three months in the freezer. As always, eating them sooner than later will ensure that they don't get freezer burn and keep their flavor.
How do I reheat eggnog waffles?
The best method for reheating eggnog waffles is to loosely wrap them in aluminum foil and place them in the oven at 425 degrees for about five minutes. This will lightly toast the waffles without drying them out.
Another method to reheat your eggnog waffles from the freezer is to use the pop-up toaster if the waffles fit. You can also use a small toaster oven to reheat your eggnog waffles, just check them after a few minutes of toasting them on the bread setting.
Eggnog waffles can be reheated in the microwave quickly before going into the toaster, but I don't recommend microwaving them without toasting them as well.
Can this recipe be scaled?
Yes, you can scale this waffle recipe. Simply take the ingredients and double or triple them to make plenty for a big group or for leftovers.
Other Breakfast Recipes You'll Love
Print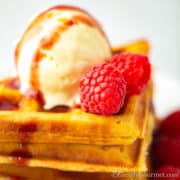 Eggnog Waffles Recipe
---
Author:

Michelle Minnaar

Total Time:

20 minutes

Yield:

6

servings

1

x

Diet:

Vegetarian
Description
A fun way to use your extra eggnog, these Eggnog Waffles are easy to make and makes a fabulous holiday breakfast or dessert. Have fun experimenting with different toppings!
---
Dry Ingredients
240

g

(2 cups) all purpose flour

12

g

(3 tsp) baking powder

6

g

(1 tsp) salt

25

g

(2 tbsp) golden caster sugar

2

g

(1/2 tsp) cinnamon

1

g

(1/4 tsp) nutmeg
Wet Ingredients
500

ml

(2 cups) eggnog

60

ml

(1/4 cup) vegetable oil

5

ml

(1 tsp) vanilla paste

2

eggs, separated
---
Instructions
Turn on your waffle iron and allow it to heat up while preparing your batter.
Place all your dry ingredients into a large mixing bowl and combine.
Create a well in the middle of your dry ingredients and pour in the eggnog, oil, vanilla paste and egg yolks. Whisking in the middle, slowly bring in the dry ingredients from the outside, just as if you were making pasta. Keep whisking until everything is combined.
In a separate bowl whisk the egg whites until stiff and then gently fold into the batter.
Spray the waffle iron with cooking spray or brush with melting butter.
Cook the waffles according to the manufacturer's instructions.
We served it with vanilla ice cream, raspberries and honey but by all means serve how you wish. Enjoy!!
Prep Time:

10 minutes

Cook Time:

10 minutes

Category:

Breakfast

Method:

Bake

Cuisine:

American
Keywords: Eggnog Recipes, Waffles, Christmas Waffles, Eggnog Waffles