Nothing says the holidays like irresistible baked goods with warm spices and sweetness! This mincemeat tart covers all the bases of a traditional holiday dessert with its buttery pastry crust and sweet, fresh and dried fruit, candied peel, and nutty filling. If you're a fan of this classic holiday dessert, you will love this easy to make mincemeat tart!!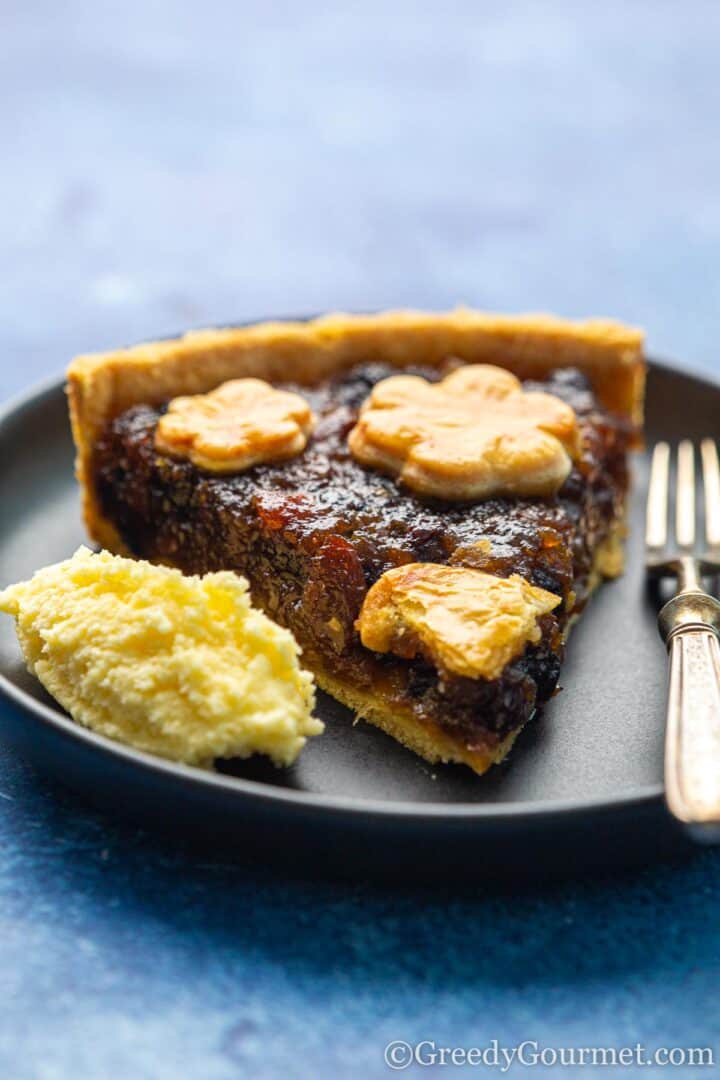 This mincemeat tart was inspired by my filo pastry mince pies which are little pockets of holiday flavour in each bite. Pair this mincemeat tart with this delicious recipe for brandy butter, which makes an excellent topping for this flaky tart.
Mincemeat tart is usually enjoyed during the holiday season, perfect as an addition to your holiday spread at Christmas time. However, don't hesitate to enjoy it anytime, but especially when the weather is cool and you'll be delighted to preheat the oven for some extra warmth.
Why You'll Love This Recipe
It's perfect for the holidays
It's easy to customize with the decorative patterns you love
A classic dessert that comes together without lots of ingredients
Special Equipment Needed to Make This Recipe
Special Ingredients You Need for This Recipe
Mincemeat pie filling – if you don't want to take the time to make homemade mincemeat, this recipe is well suited for store bought, which is just as tasty. You can definitely make homemade mincemeat if you are a true purist, but I recommend buying the jarred stuff to make your holiday prep easier.
How to Make This Recipe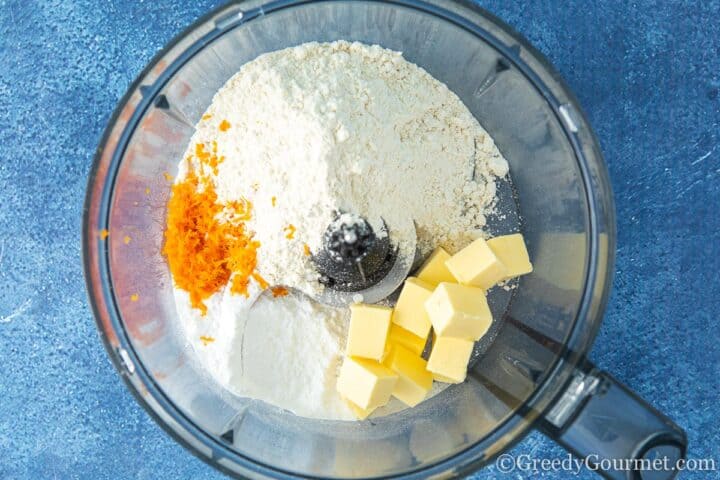 Place the flour, butter, sugar and orange zest in a food processor.
Blitz until a breadcrumb consistency is formed.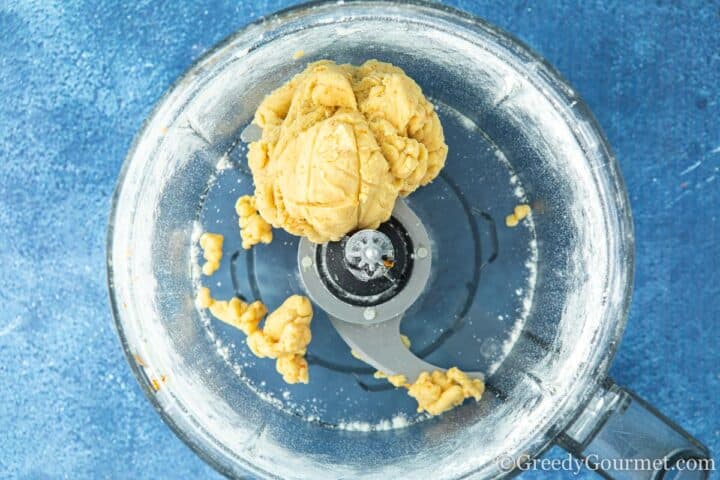 Add the egg yolks and blitz again until a dough forms.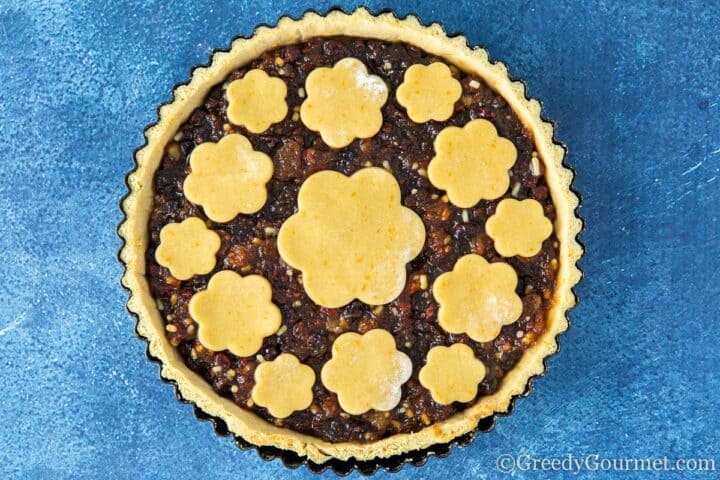 Line a tart tin with the dough. Fill with mincemeat and decorate with leftover pastry on top.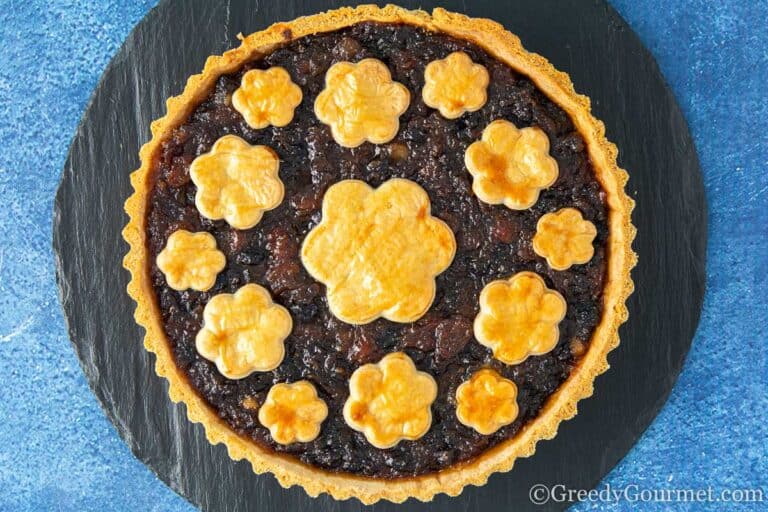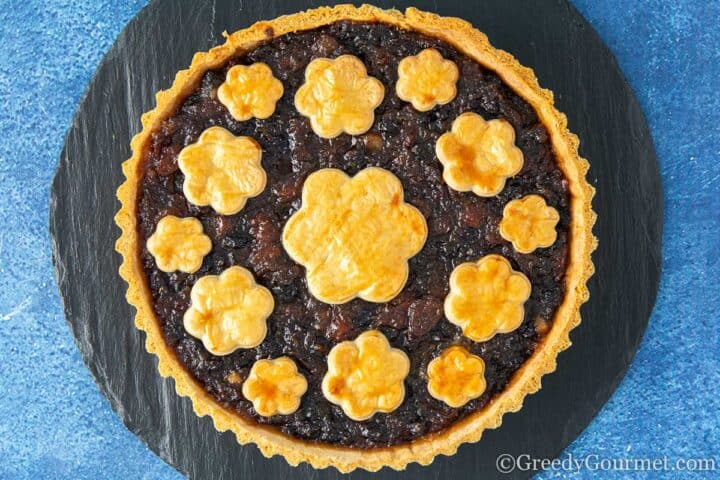 Baked until cooked and golden. Serve with brandy butter. Enjoy!
Top Tip
Keep your butter cold, this will help to ensure that you have a flaky buttery pastry crust for your mincemeat tart.
What to Serve with Your Mincemeat Tart
Enjoy this holiday delight with a boozy beverage, or topped with a decadent clotted cream. Serve warm or room temperature, this mincemeat tart is delicious no matter what!
Drinks
Boiled custard – this velvety drinkable dessert is a classic holiday delight made with simple ingredients is a great way to end your evening.
Eggnog latte – looking for a pick me up after dinner? Try this eggnog latte with warm flavors and a little caffeine to enjoy with dessert.
Rumchata eggnog – the flavours of eggnog and Rumchata are complimentary of one another and pair up in this delicious cocktail.
Toppings
Brandy butter – traditional brandy butter is made with only three ingredients and is a staple on the holiday dessert table, a great pairing with your mincemeat tart
Eggnog cream – this eggnog whipped cream combines two of the festive season favourites, whipped cream and eggnog for a topping that elevates any dessert.
Icing sugar – for an extra glaze on top of your mincemeat tart, drizzle icing sugar over top. This easy icing comes together quickly and adds sweetness.
Sides
Eggnog mousse – along with the holiday theme, eggnog mousse is easy to make ahead and full of warm spices and sweetness.
Rum and raisin ice cream – who doesn't love a little booze in their ice cream? Homemade rum and raisin ice cream is good any time of the year but always appropriate for holiday gatherings.
Eggnog ice cream – make this easy eggnog ice cream to eat alongside your mincemeat tart and enjoy the complimentary flavors.
Popular Substitutions for This Recipe
Mincemeat – if you're making your own mincemeat filling try using rum instead of the traditional brandy for a different flavour. Any combination of fresh fruit like apple, currants, or even pears can be used in the mincemeat filling.
Pastry – try a different style of pastry for your mincemeat tart such as a sweet and flaky pate sucree or a pate sablee which is more like a shortbread cookie; sweet and crumbly.
Variations to This Recipe
If you'd rather make individual servings, try making smaller tarts using the same recipe, but instead use a cupcake tray and fill each space with pastry dough. Follow the same directions for blind baking before filling with the mincemeat.
You can skip the egg wash if you don't want to use it or if you don't have any eggs. The egg wash adds a pleasing aesthetic to the tart, making it shiny and helps give it a golden finish.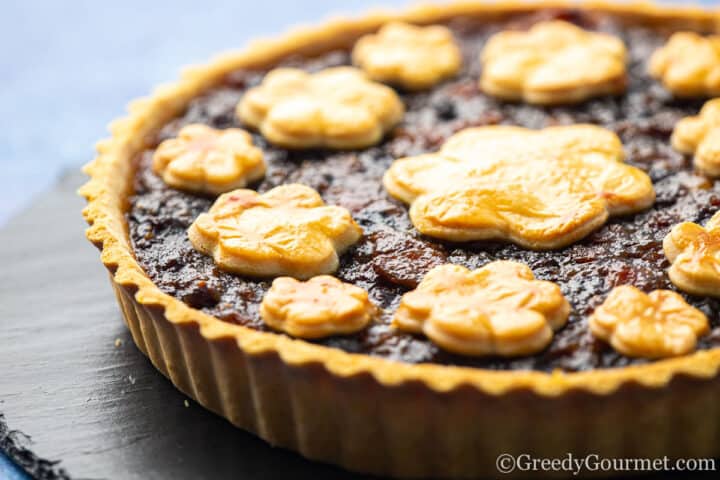 Top Tip
You can dust your greased baking tin with fine breadcrumbs instead of flour to prevent any sticking of the crust to the pan.
How Do I Store Leftovers?
Store the leftover mincemeat tart in an airtight container, or with plastic wrap tightly wrapped over the top. The tarts can be stored at room temperature, or in the refrigerator if your kitchen is particularly warm.
Can I Freeze This Recipe?
Yes, this recipe freezes fabulously when stored correctly. Make sure the tart is completely cooled before putting it in the freezer and  keep the tart in an airtight container or wrapped very well in plastic wrap. We've got an excellent guide to help you freeze your mincemeat pies.
How Do I Thaw This Recipe?
Remove this mincemeat tart from the freezer about three to four hours before serving and let it defrost at room temperature before enjoying.
Can This Recipe Be Made In Advance?
Yes, this recipe can be made in advance. Mincemeat tart can be served at room temperature and it is just as delicious as fresh out of the oven. Make the tart a day or two in advance for the best results.
Other Holiday Dessert Recipes You'll Love
White chocolate yule log – the traditional yule log gets a twist with this sweet and creamy white chocolate version
Christmas pavlova wreath – meringue based with fruit and cream, this Christmas pavlova wreath is super festive and full of beautiful colour from the berries.
Chocolate cheerios baubles – whether you're making these chocolate cheerio baubles for your kids, or for your guests to take as a gift, these delicious sweet desserts are a welcome addition to your Christmas tree decor
GIVEAWAY
Win a bottle of KAH Tequila from Tesco and make the festive season a fiesta!
Christmas calls for cocktails and for cranberries. KAH Tequila, a 100% agave spirit from Mexico. It makes for a stunning gift and is perfect for home entertaining.
The spectacular Tesco-exclusive white bottle is new for 2022. It's available online and in over five hundred Tesco stores. Here's how to make a festive cocktail!
KAH Christmas Cranberry Margarita
Ingredients for the rim of the glass:
1 tbsp clear honey
Mix together:
1 tbsp caster sugar
1 tbsp sea salt
zest of 1 orange
Ingredients for the cocktail:
50ml KAH Blanco Tequila
12ml Lime juice
12ml Triple sec
75ml Cranberry juice
Method:
Rim your glass with honey and dip in the orange zest mixture.
Shake all the liquid ingredients with ice and strain into the glass. Garnish with fresh cranberries and rosemary. Enjoy!
Entering is easy, just follow the instructions below.
a Rafflecopter giveaway
HELP
Here you can find a tutorial on how to enter with Rafflecopter.
If your form is not showing, try refreshing the page.
Complete the form, otherwise your entries will not count.
Make sure the mandatory entries (e.g. leave a blog comment) are completed first.
Don't forget to come back daily for extra entries via Twitter.
If you're viewing this post by email, please come to the actual webpage to enter.
Competition Question: What is your favourite way to use mincemeat?
Print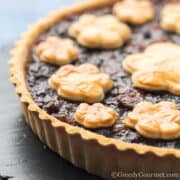 Mincemeat Tart
---
Author:

Michelle Minnaar

Total Time:

50 minutes

Yield:

12

slices

1

x

Diet:

Vegetarian
Description
This mincemeat tart is a classic Christmas recipe made with flour, butter, egg yolks, icing sugar and mincemeat. Can be made in 50 minutes.
---
350g

(

1¾ cups

) plain flour

200g

(

¾ cup

) cold butter, cut into small cubes

50g

(

½ cup

) icing sugar

2

oranges, zest only

2

egg yolks

250g

mincemeat
---
Instructions
For the Pastry: Grease a 23cm/9in loose-bottomed, fluted tart tin. Set aside.
Place the flour, butter, icing sugar and the orange zest into your food processor. Pulse the ingredients until a breadcrumb consistency is formed. 
Add the egg yolks. Pulse again until the mixture sticks together in clumps then tip onto a work surface and gather it into a ball with your hands. Knead the pastry just two or three times until smooth. If your butter was a bit too soft, the pastry might be too. If so, wrap it in parchment paper and chill for 15 minutes.
Split the pastry in half and place one half aside.
Remove the base of the tin and place on a piece of parchment paper and dust lightly with flour. Place one half of the pastry in the center of the tin's base and roll out the pastry, still on the base, until it is 4cm/1½in bigger than the tin's base. As you are rolling out, turn the pastry by turning the paper. Gently fold the pastry surrounding the tin base in towards the center.
Place the tin's base back into the tart tin. Lift the base off of the surface and transfer to the tin. Ease the pastry into the corners and up the sides of the tin, pressing the overhang lightly over the rim. If there are any breaks in the pastry, simply press it together to seal. Press the pastry into the flutes of the tin then lightly prick the base with a fork, but not quite all the way through. Place the pastry-lined tin on a baking tray, cover loosely with cling film and chill in the fridge for 30 minutes.
Preheat the oven to 200°C/fan 180°C/390°F/gas mark 6.
Remove the cling film from the pastry case and line with foil so it supports the sides, then fill with baking beans. Bake blind for 12-15 minutes, or until the pastry is set. 
Lift out the foil and beans. Carefully trim the excess pastry from the sides using a potato peeler, by gently running the peeler over the sides until the excess falls away. Remove the trimmings from the sheet. Return the empty pastry case to the oven and bake for another 10-12 minutes, or until it is pale golden and completely dry. Set aside to cool.
Reduce the oven temperature to 180°C/fan 160°C/320°F/gas mark 4.
Roll out the other piece of pastry and cut out your decorations, I used 3 different size flower pastry cutters.
Evenly fill the pastry base with the mincemeat. Top it with pastry decorations of your choice. Brush the top of your pastry decorations with an egg wash and then transfer to the oven for around 30 minute or until the decorations are golden brown.
Remove from the oven and allow to cool slightly in the tin for 5 minutes before removing the tart from the tin and serve immediately with some brandy butter. Enjoy!
Notes
This tart is just as nice at room temperature so feel free to set aside to cool down completely.
Prep Time:

15 minutes

Cook Time:

35 minutes

Category:

Dessert

Method:

Bake

Cuisine:

British
Keywords: Mince Pie, Mincemeat Tart recipe uk, large mincemeat tart, sweet mince tart recipe, frangipane mince tart, christmas tart recipe, christmas tart, Mincemeat Pie, Christmas Dessert Ideas, christmas dessert, mincemeat recipe