Chicken dhansak is a delicious and stomach warming Parsee and Indian recipe. Generally, it involves simmering meat in a mixture of red lentils, green lentils or brown lentils and vegetables, onions, garlic, ginger, tomatoes, fresh coriander and spices. It's a perfect recipe to make in the middle of the week, as it only has a prep time of 10 minutes and is made from simple ingredients.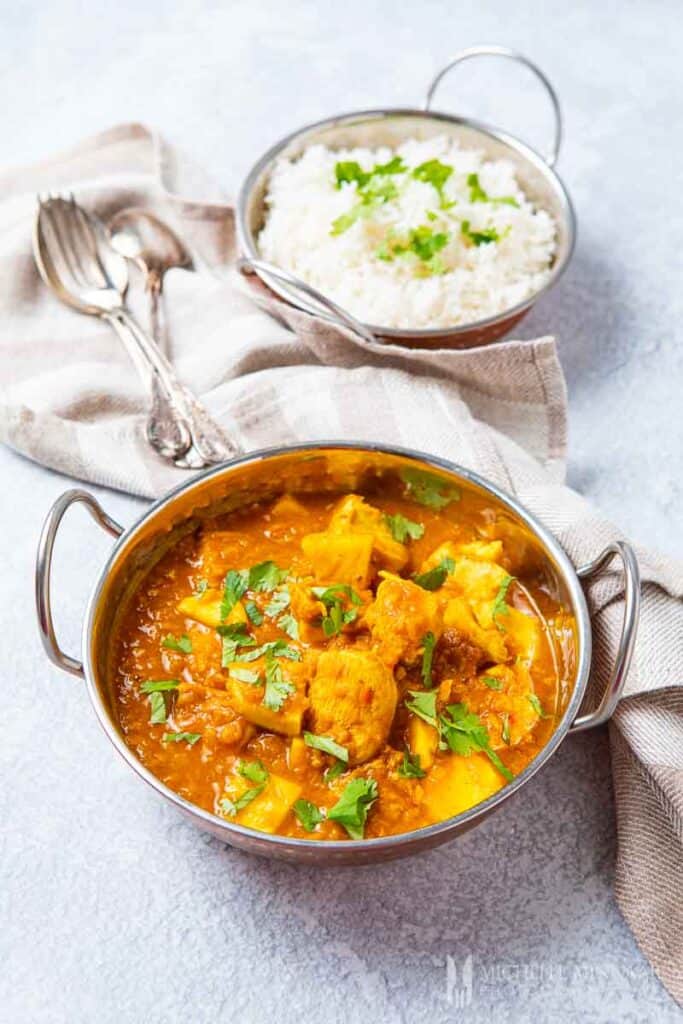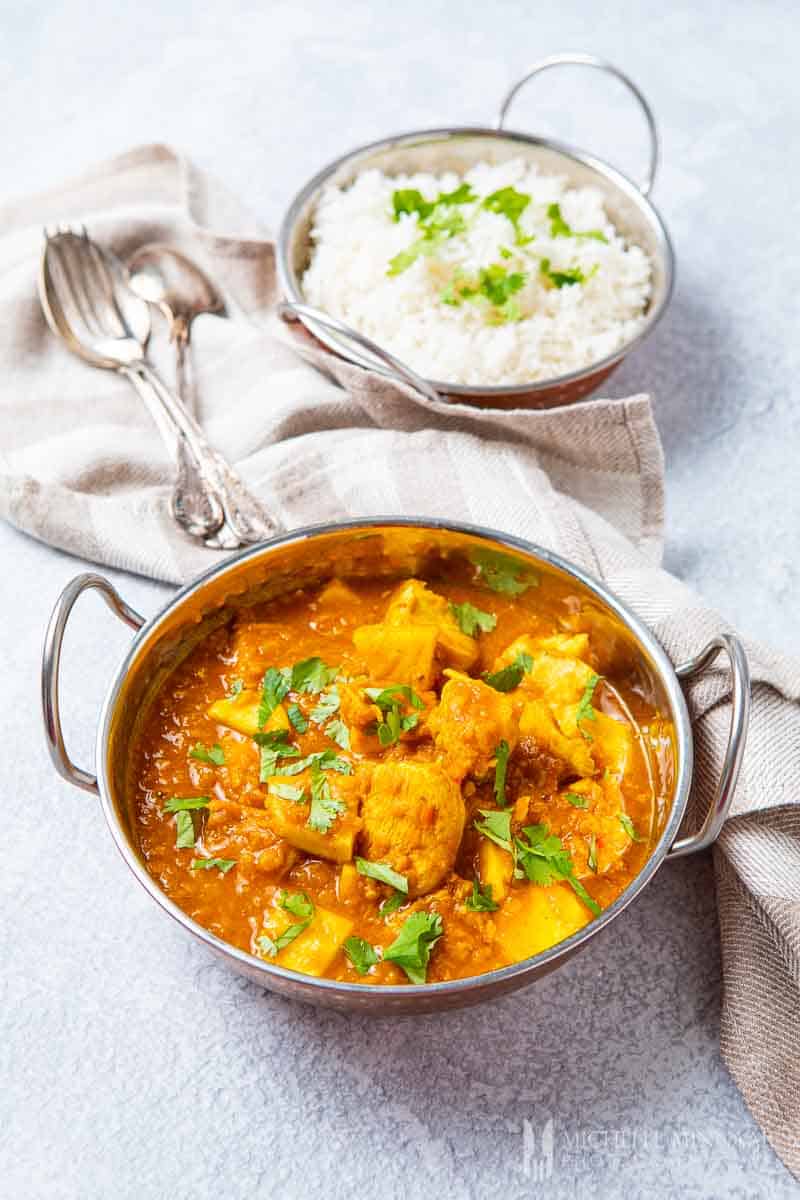 In my opinion, it is a fantastic recipe if you would like to start cutting down on your meat consumption (lentils are great for this). In fact, you can eventually leave out the chicken for a luscious curry of lentils, onions, chopped tomatoes, garlic, ginger and spices.
So, if you're starting your way on your vegetarian journey, try this chicken dhansak recipe today. Once you try this chicken dhansak, you'll wish you had this recipe a long time ago. Enjoy and let me know how it goes.
Chicken dhansak recipe
A dhansak recipe involves cubes of mutton or goat, simmered with spices, red lentils, green lentils or brown lentils and other vegetables. In short, it is a vibrant recipe which combines sweet, sour and spicy ingredients in one bite. Usually, a chicken dhansak recipe takes hours to prepare. However, my version only takes an hour with only 10 minutes prep time, saving you lots of time and getting you the perfect outcome.
I decided to make this recipe a tad lighter by substituting the mutton or goat meat with chicken. For best results, brine the chicken. This is when you add the chicken into a salt water solution first. The salt water makes the meat incredibly tender. You can also use chicken thigh fillets. Aside from chicken thighs, you can use any other cut of the chicken:
Next, my version is a lot easier because you add the chicken breasts with the addition of a homemade curry base sauce. Generally I like to make a large batch of it and then store it in my freezer for when I feel like a curry. It's really handy.
You can also swap in garlic ginger paste in place of fresh garlic and ginger. It'll still taste great!
If you've got leftover curry base sauce, here are a few curries you can make with it apart from the chicken dhansak:
Sweet potato curry with mushrooms and spinach – a nutty vegetable curry with garlic, ginger fresh coriander and spices. Add lentils for extra taste
Mixed vegetable curry – a vibrant vegetarian curry that's very tasty and nutritious. Again you can add lentils for depth of flavour
Beef korma – an intense curry with fresh coriander, garlic, ginger and spice flavours, with a creamy texture
Tempted yet?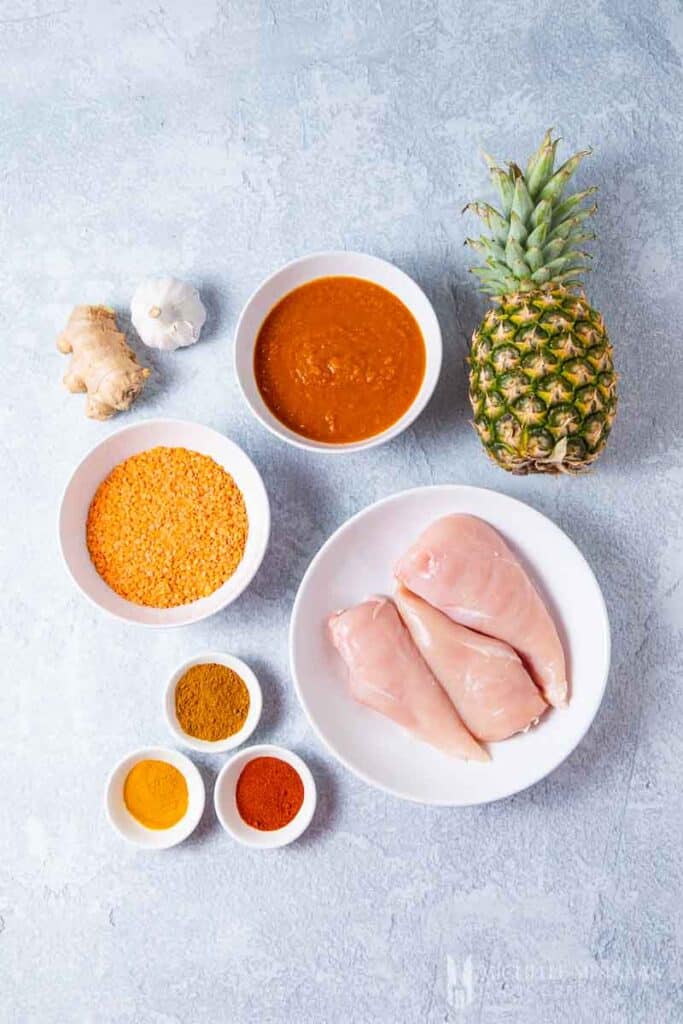 Top things you'll need for a dhansak recipe
Here's a list of the top items and ingredients you'll need to complete this chicken dhansak recipe. See the following products below:
Chicken dhansak taste
This chicken dhansak curry recipe is a combination of traditional Indian spices and ingredients with lentils and sweet and sour elements. Most of the times, a dhansak recipe is rich and earthy in taste because it is served with mutton or goat meat and lentils. More than that, it's quite sweet and sour in taste.
The sweet taste generally comes from the addition of sugar (brown sugar most of the time). However, in order to cut down on the sugar and introduce some more acidity, it's common to substitute with fresh pineapple or lemon juice. With these added ingredients, you'll get a big boost of vitamin C for good measure!
In terms of the level of spices, you can make it a mild heat. However, the original version calls for medium heat.
Chicken dhansak origin
A dhansak curry recipe stems from Persian and Gujarati cuisines. Originally, it was a Parsee dish. However, it is also a very popular dish with Indian people, where it was spread amongst Parsee or Zoroastrian people in India.
If we look at the word dhansak, 'dhan' refers to a Gujarati cereal dish. 'Sak' is derived from the word 'shaak', which refers to cooked vegetables.
Generally speaking, this chicken curry recipe involves a cooking technique that extends the meat with the addition of lentils or split peas and other vegetables. This is done because, in those regions, meat is considered an expensive ingredient. Therefore, you add the chicken at the beginning of the process, along with the lentils, onions, garlic and ginger, for a more filling dish.
While ghee is traditionally used, you can substitute it with vegetable, sunflower or coconut oil.
In Parsi culture, a dhansak curry recipe is served always on a Sunday. In addition, it is never served for three days when a family member or a close friend passes. This is because, culturally speaking, meat should not be consumed in the three days.
However, after three days of mourning, the dhansak curry is served on the fourth day. Lastly, a dhansak recipe is never served on weddings or other festivities.
Chicken dhansak slow cooker
Normally, a chicken dhansak curry recipe takes a long time to cook, but only 10 minutes to prepare. You add the chicken, lentils, onions, garlic, ginger, curry powder, chilli powder and other spices to the casserole, add chicken stock and other ingredients, and let it simmer away. The texture you should be going for is mushy, as the chicken and lentils break up into the sauce.
Therefore, I recommend you use a slow cooker or a pressure cooker. This will cut your cooking time in half! Other slow cooker recipes you can try:
What to serve with a dhansak?
Caramelised brown rice is the side dish of choice for any dhansak curry recipe. You make it by boiling rice in caramel water. First, you start by making your own caramel until it reaches a beautiful hazelnut brown colour. Next, you dilute the caramel with lots of water.
Make sure you have enough water to boil your rice. Lastly, cook your rice in the caramel water. The rice will take on a beautiful brown colour. You could even cook the rice in chicken stock. Serve the rice hot, with a squeeze of lemon juice and some fresh coriander, alongside the chicken dhansak.
Other side dishes you can consider are:
Which side dish resonates with you the most with this chicken dhansak? Of course, you can make all of these and make a feast.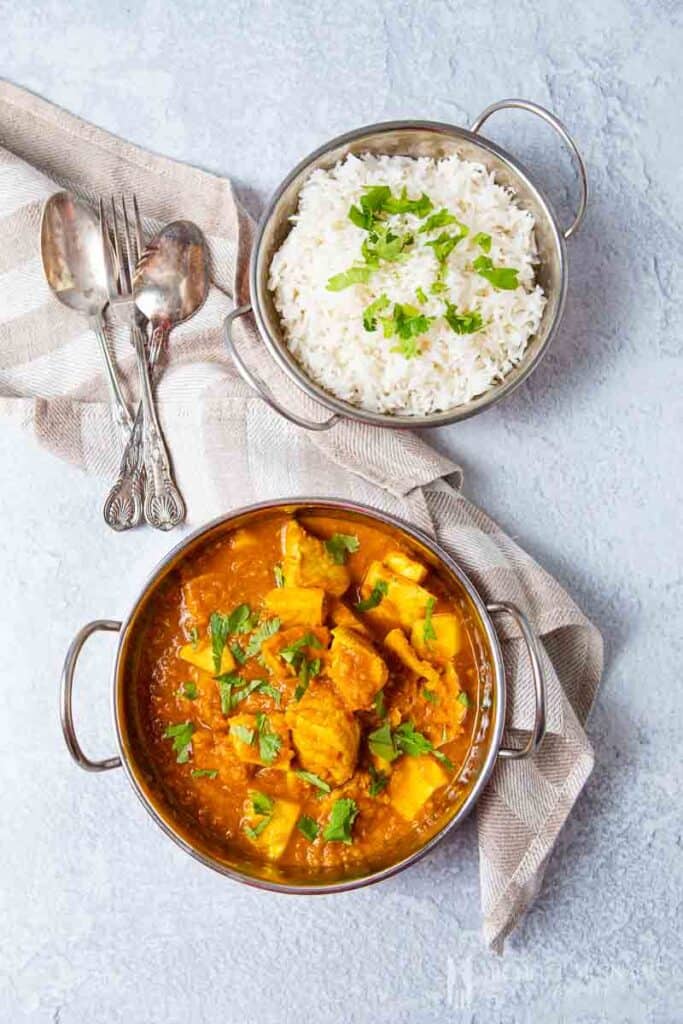 Best toppings for dhansak
Here are just a few topping ideas which you can inspire yourself with for this chicken dhansak. In my opinion these are the best topping ingredients:
Freshly sliced pineapple
Fresh coriander leaves or a sprinkle of ground coriander
A squeeze of lemon juice with zest
Add the chicken with slices of fresh red or green chillies, or some chilli powder for extra heat
Add a sprinkle of garam masala at the end
Add a tbsp of mango chutney for a tangy twist
Other toppings that also work for this chicken dhansak recipe are:
Peanuts or cashews
Yoghurt
parsley
roasted vegetables
How would you serve your chicken dhansak? Let me know how the recipe works out for you and leave a comment below.
Print
Chicken Dhansak
---
Description
A delicious chicken dhansak curry recipe with lentils and sweet and sour flavours from the addition of fresh pineapple.
---
15

–

30

ml (1 tbsp–2 tbsp) ghee (can use 1 tbsp sunflower oil, vegetable oil or coconut oil

5

ml (1 tsp) ground turmeric

1

kg (2lbs) chicken breasts, chopped

2

onions, finely chopped

4

garlic cloves, peeled and crushed

5

cm (2in) ginger root, peeled and grated

200g

(1 cup) split red lentils, green lentils or brown lentils, washed

400g

chopped tomatoes

500

ml (2 cups) curry base sauce

250

ml (1 cup) chicken stock or water

5

ml (1 tsp) curry powder

5

ml (1 tsp) garam masala

5

ml (1 tsp) ground coriander

5

ml (1 tsp) chilli powder (optional)

125

ml (½ cup) pineapple juice

½

pineapple, cored and sliced

Salt and pepper to taste
---
Instructions
Heat 1 tbsp–2 tbsp of ghee over a medium heat in a large ovenproof casserole pan or large frying pan. 

Add the onions and fry for 5 minutes. Stir regularly 

Add the chicken pieces to the onions and cover with 1 tsp of turmeric, then brown on all sides in the casserole pan. Stir over a medium heat. 

Add garlic and ginger or the garlic ginger paste, stir and fry for 1 minute.

Add the chopped tomatoes, stir and cook for 1 minute

Pour in the curry base sauce, lentils and 250ml (1 cup) of chicken stock into the pan and bring the contents to a low simmering heat. 

Cook for 30 minutes, but check in every 10 minutes or so and give it a stir, to make sure there's enough liquid in the pot (you don't want the lentils sticking to the bottom of the pan. If not, top up with a bit of water or some chicken stock. 

After the chicken pieces and lentils are cooked, add 1 tsp of curry powder, 1 tsp of garam masala, 1 tsp of chilli powder (optional), ground coriander, pineapple juice (or lemon juice) and pineapple and give it a stir. 

Simmer for another 5–10 minutes on a low to medium heat.

Serve with your favourite Indian side dishes. It freezes well too. Enjoy!
Notes
Add an extra sprinkle of garam masala at the end, to add an extra dimension to the dish.
If you can't get hold of ghee, use 1 tbsp sunflower oil, vegetable oil or coconut oil.
Add some fresh coriander for a beautiful garnish.
Prep Time:

10 minutes

Cook Time:

45 minutes

Category:

Curry

Method:

Simmer

Cuisine:

Indian
Keywords: chicken dhansak, authentic Indian chicken curry recipe, dhansak curry recipe