A delicious homemade recipe with rich fruity flavors and subtle spices, this raisin chutney recipe is so good you'll want to put it with everything!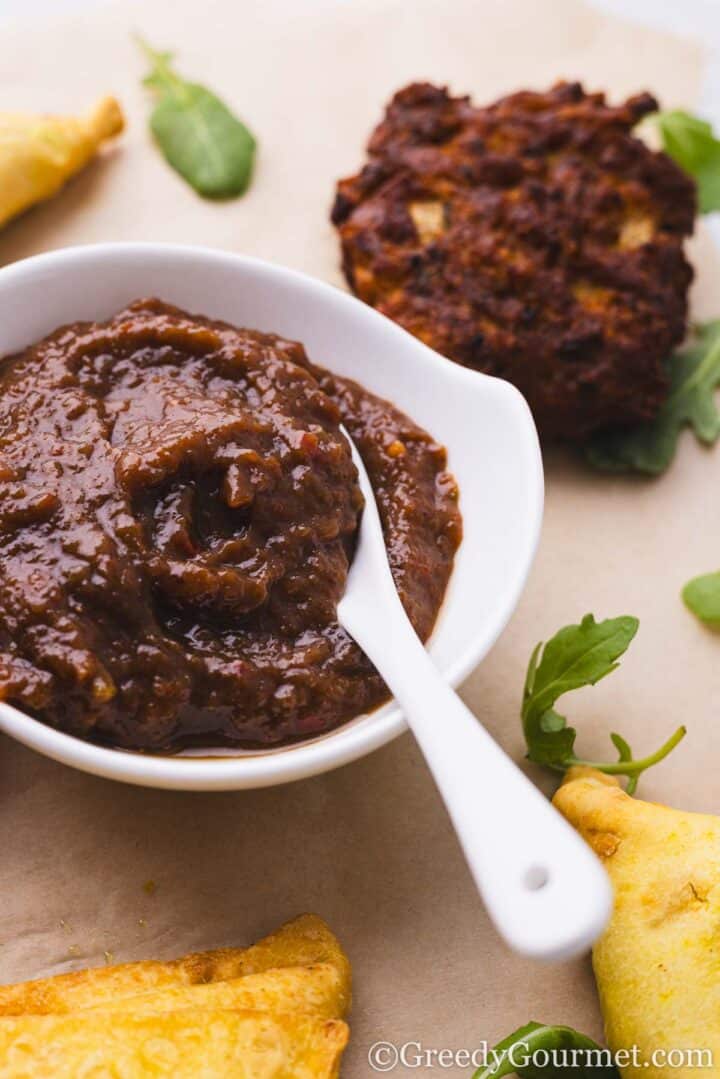 It's wonderfully versatile – from your favorite curry to your go to sandwich, cheeseboards to cold cuts, there are so many different foods you can pair with this recipe. Plus, it's so easy to make!
Why you'll love this raisin chutney recipe
The taste is out of this world – rich, fruity, slightly spicy and utterly delicious
Can be paired with so many different dishes
So easy to make – there's no cooking involved and it can be whizzed up in 5 minutes!
Only seven ingredients!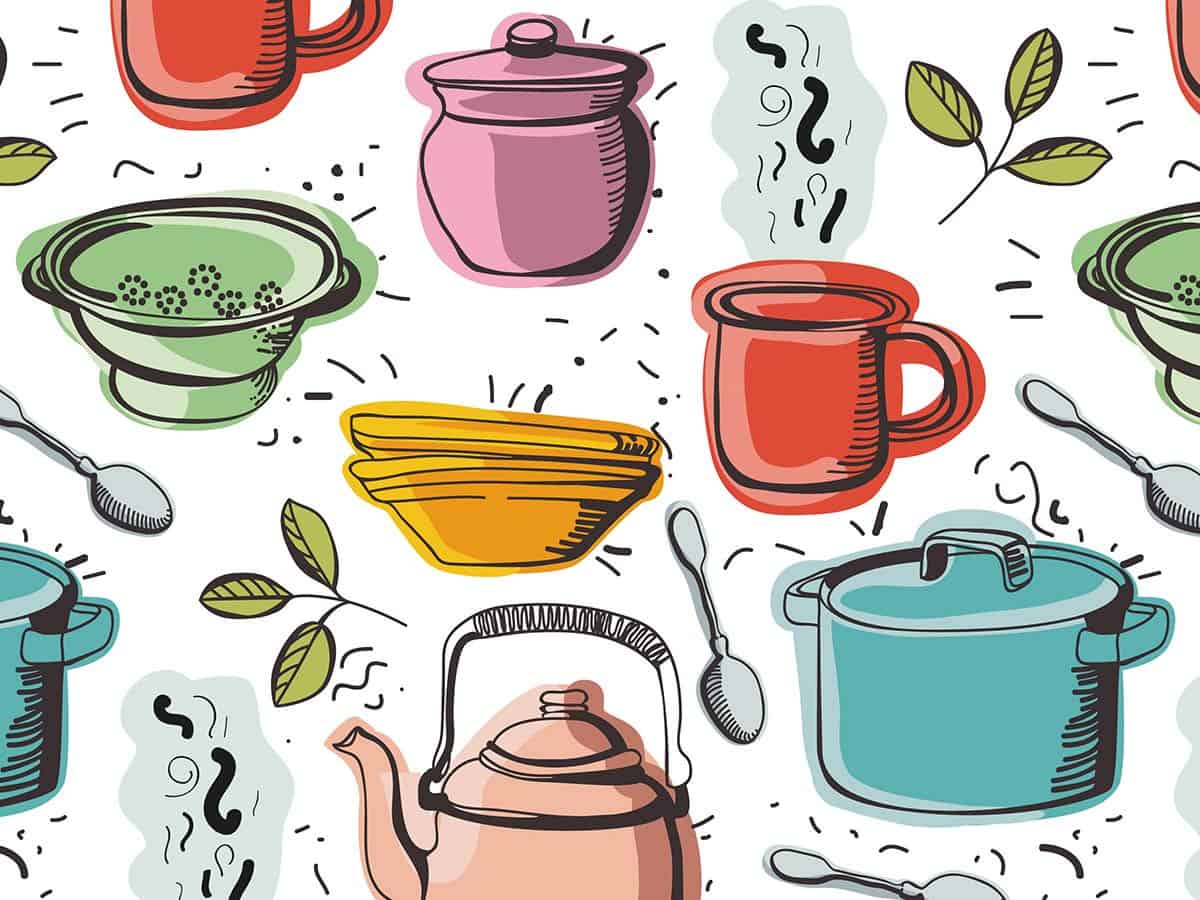 CHUTNEY EQUIPMENT YOU NEED
Check out the ultimate list to chutney making equipment. You actually don't need that much and most of the items are quite affordable!

Making your own preserves is a great and satisfying hobby. Giving the gift the lovely food to your friends and family are especially rewarding!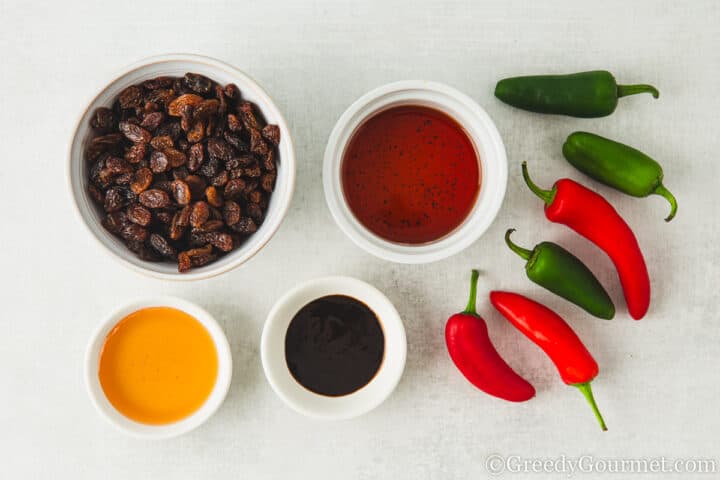 How to make this recipe
Top Tip
Give your chutney time to mature and it'll taste even better. Six weeks is ideal.
Soak the raisins in water.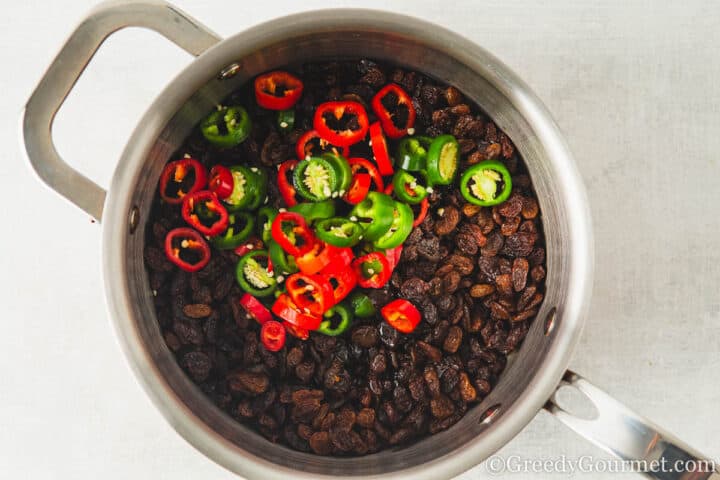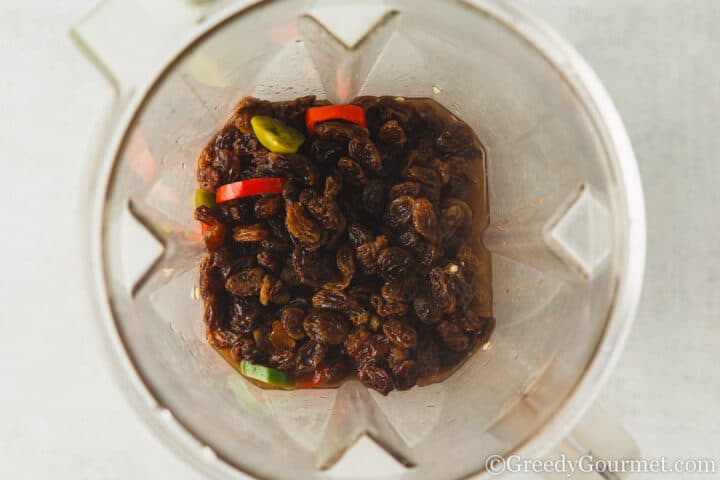 Place all the ingredients in a blender.
Process until smooth, then place in jar. Store in fridge and use within a month. Enjoy!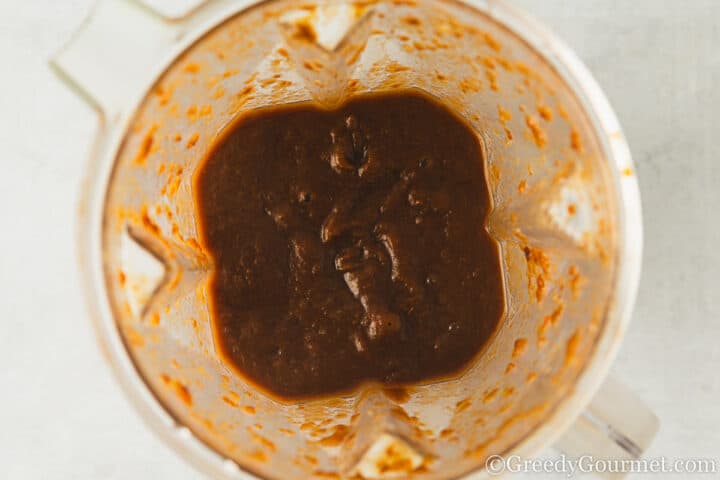 What to pair with raisin chutney
Meat or fruit
Raisin chutney pairs really well with cold cuts such as ham or pork. You can also pair it with other fruits such as peeled and chopped apples.
Cheeseboard
A cheeseboard and chutney is a delicious when served with a side of raisin chutney.
Nuts or nut butter
Any chutney pairs really well with an assortment of nuts. Go for the likes of cashews, pistachios, almonds, pecans, walnuts or macadamias.
You could also spread macadamia nut butter and chutney on your favorite crackers for an irresistible snack.
Curry
Curry and chutney – what's not to like? Try an easy chicken curry for a quick midweek meal, or a more indulgent chicken korai to really get the taste buds zinging!
Another great option, for those who like a bit of sweet and sour, is a chicken pathia. Don't forget fish curry recipes – my fish korma is to die for!
Variations to this recipe
Feel free to tweak the heat of this recipe by adjusting the number of chili peppers you use.
You can use any vinegar you like for this recipe. Red wine vinegar works particularly well with this recipe, but you can also use apple cider vinegar, white wine vinegar, malt vinegar or balsamic.
Add a small amount of fresh ginger for an earthy kick
Use a blend of apple cider vinegar with red wine vinegar
1 cup dates can be added in place of one cup raisins
Popular substitutions
You can swap the whole chili peppers with ground chili. Use 1/2 teaspoon of chili powder for every chili pepper.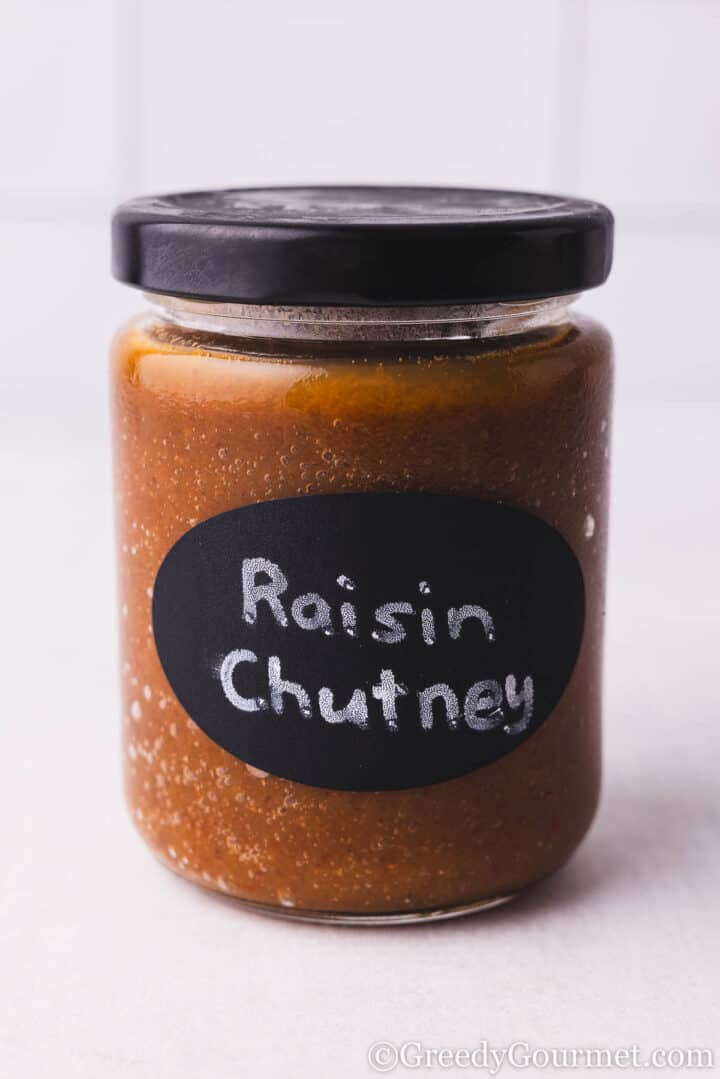 Top Tips
Use good quality raisins. As they are the main ingredient, they really do make or break this recipe.
Reserve the drained water from the soaked raisins. You can use it to make the texture of the chutney thinner if need be.
Follow the recipe below with precision and you'll end up with the perfect taste and texture.
Always sterilize your chutney storage jars before spooning your chutney in.
Be patient. Chutney needs time for the flavors to fully mature. Around six weeks is ideal, although six months is even better!
Do you need to soak the raisins first?
 Yes. Soaking raisins when making chutney makes them plumper and more flavorsome.
What are the best raisins to use?
Golden raisins or dark raisins are the best kind for making chutney.
Do you need to cook this chutney?
This type of chutney is a super simple no cook recipe. So, no 'reduce heat to medium low' or 'stirring occasionally' instructions to follow.
Simply soak the raisins, combine with spices and other ingredients and blend. That's it!
Why is my raisin chutney too thick?
There's not enough liquid. Simply add a splash of water and mix until you hit the sweet spot.
Why is my raisin chutney too thin?
Either you didn't drain the soaked raisins enough, or you've added too much liquid to the ingredients. To fix this, soak more raisins, then blend them with the chutney to thicken to the desired consistency.
Can you cook chutney in an instant pot?
You can, although this recipe doesn't involve cooking so an instant pot isn't necessary.
Can I add garlic?
You can add garlic, although there's so much flavor I really don't think you need it.
Does stirring occasionally while blending help?
There's no need to stir when whizzing up this recipe.
How do I store raisin chutney?
Keep your chutney in a sterilized airtight jar and store it in a cool dry place.
Once opened, how long does it keep?
Once opened, store this chutney in the fridge. It will stay fresh for up to 2 months.
How long does homemade chutney last?
Unopened chutney will last up to two years.
Can you freeze raisin chutney?
Yes! We freeze chutney in a freezer bag (press out as much air as possible while sealing it). The chutney will keep for up to 6 months.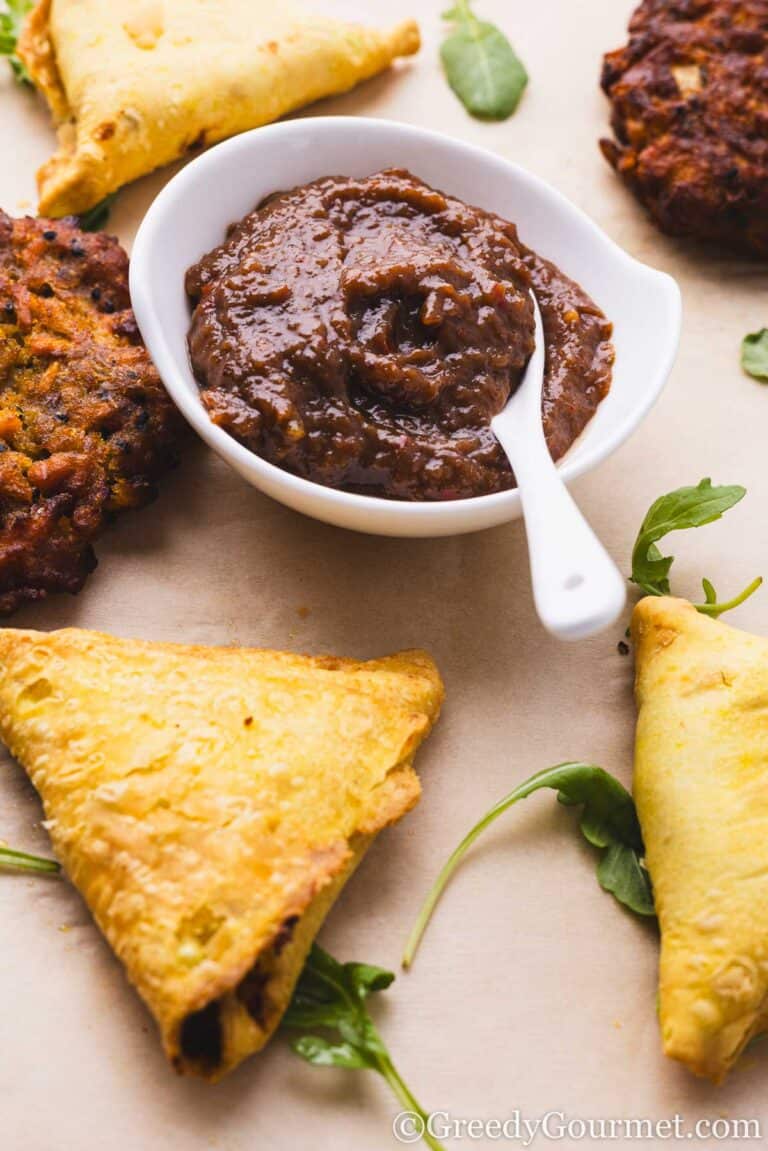 More amazing chutney recipes
Are you on the lookout for new recipes? These homemade chutney recipes are a wonderful way to make simple dishes that can elevate do many types of dishes. So, pick your favorite and get cooking!
Print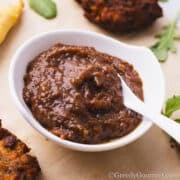 Raisin Chutney
---
Author:

Michelle Minnaar

Total Time:

30 minutes

Yield:

3

x 200g, 30g per portion, 20 servings

1

x

Diet:

Vegan
Description
Elevate your dishes with this homemade Raisin Chutney recipe. The perfect blend of sweet and tangy, it's a versatile condiment for any meal!
---
500

grams

raisins

3

g

(1/2 tsp) salt

3 tablespoons

honey

3

red chili peppers

3

green chili peppers

15

ml

(1 tbsp) tamarind paste

60

ml

(4 tbsp) vinegar
---
Instructions
Place the raisins in a bowl and pour hot water over them. Allow the raisins to soak in the hot water for approximately 20 minutes. Then, drain the raisins.
In a blender, combine the soaked raisins, tamarind paste, honey, green chili peppers, red chili peppers, vinegar, and salt.
Blend the mixture until smooth and well combined, adjusting the consistency by adding water as needed.
Taste the chutney and adjust the salt and sweetness according to your preference.
Transfer the raisin chutney to a clean, airtight container or jar. 
It can be used as a dip, spread, or condiment with various dishes. Enjoy!
Notes
You can adjust the number of chili peppers you use according to the spice level you desire.
Prep Time:

30 minutes

Cook Time:

0 minutes

Category:

Condiment

Method:

Blend

Cuisine:

Indian
Keywords: Raisin chutney recipe, Sweet raisin chutney, Spiced raisin chutney, Homemade raisin chutney, Easy raisin chutney, Raisin chutney condiment, Raisin chutney for cheese, Indian raisin chutney, Tangy raisin chutney, Raisin chutney sauce, Raisin chutney uses, Raisin chutney for sandwiches, Quick raisin chutney, Raisin chutney dip, Raisin chutney with tamarind