One of the favourite dishes in Chinese restaurants and Chinese takeaways throughout the UK, salt and pepper chicken is deliciously comforting, wonderfully comforting and extremely easy to make at home.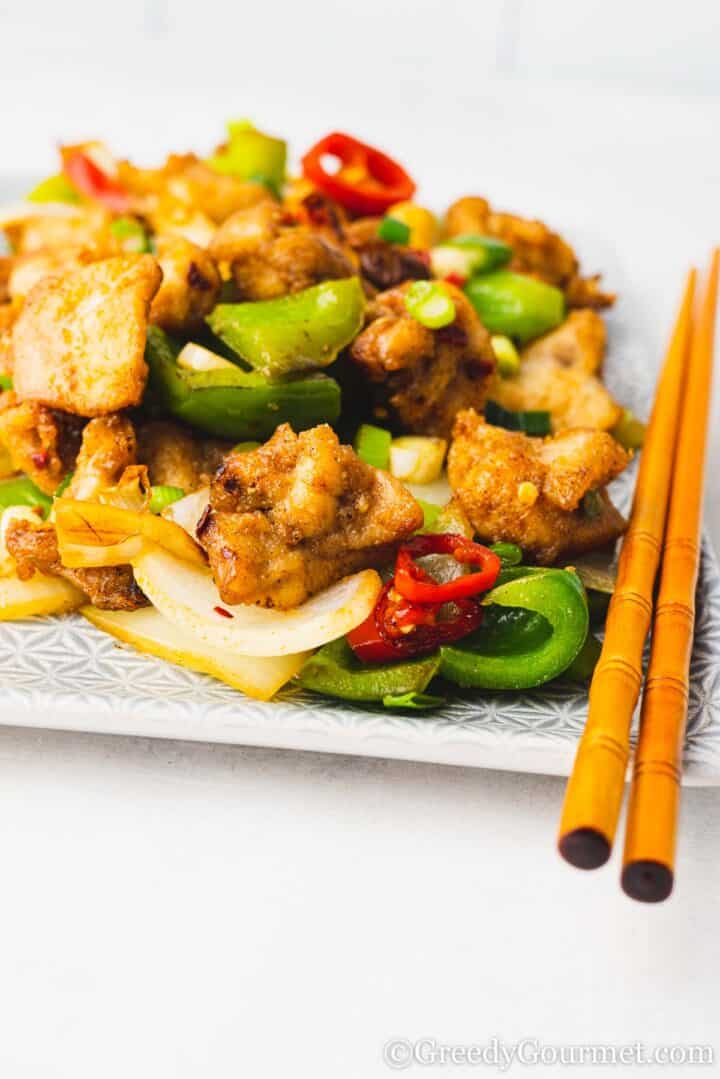 Succulent chicken pieces, fresh and tangy vegetables and earthy spices combine for a sublime stir fry that will blow you away!
Why You'll Love This Salt And Pepper Chicken Recipe
The flavours are sensational!
It's a relatively simple recipe to put together, considering how incredible the taste is
It tastes just as good, if not even better, than your favourite Chinese takeaway dish
You can make a big batch of salt and pepper seasoning and use it with some other delicious fakeaway dishes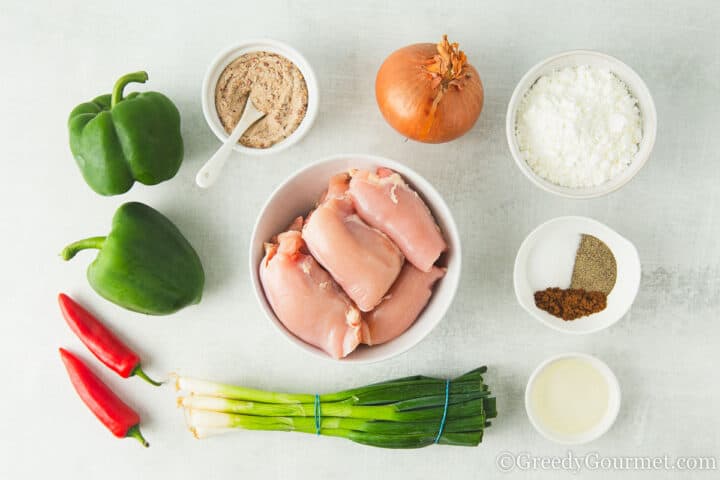 Equipment Needed To Make This Recipe
How To Make Salt And Pepper Chicken
Place the cornflour, salt, pepper and Chinese 5 spice in a bowl.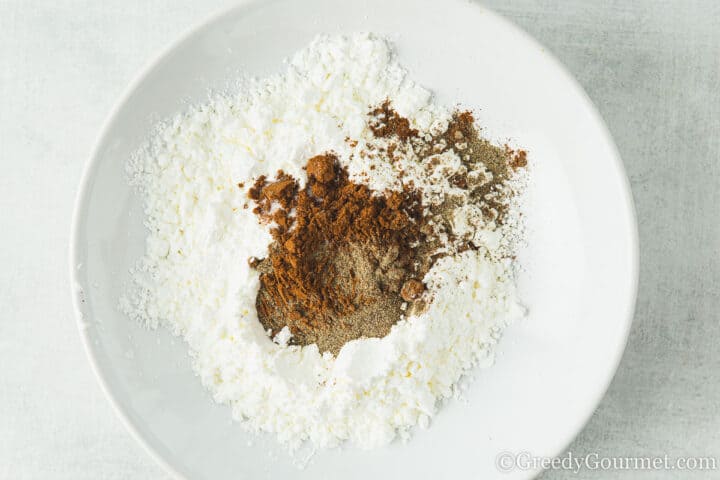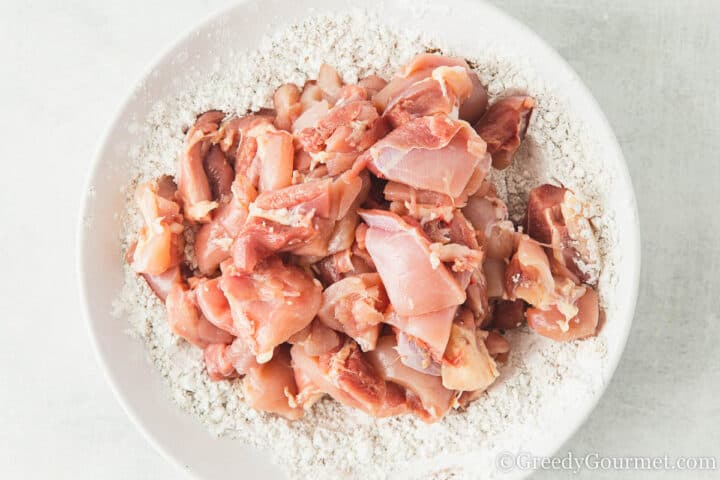 Toss the chopped chicken thighs in the cornflour mixture until everything is covered.
Now the chicken is ready to be deep fried. Do it in batches.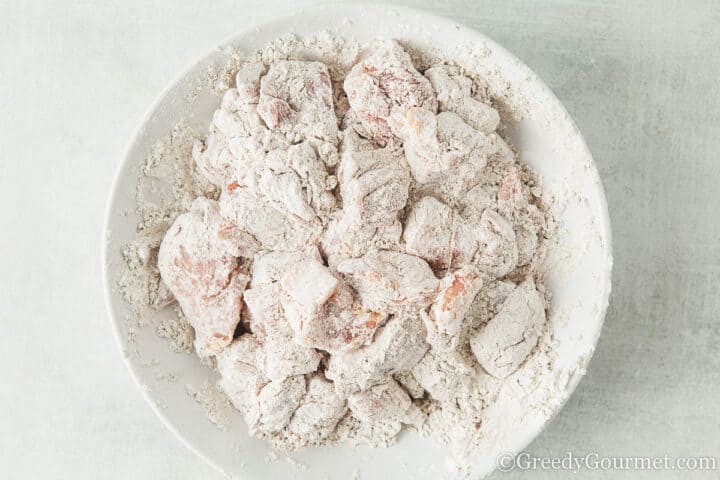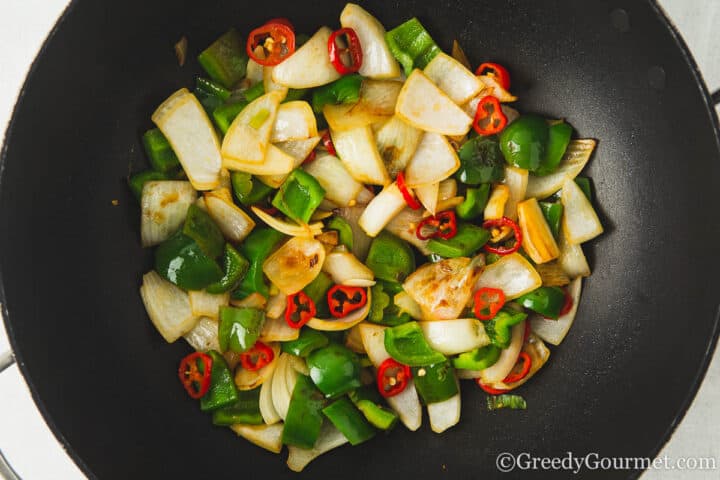 Fry the onions, peppers and chillies in a wok for a few minutes.
Add the fried chicken, spring onions and salt and pepper seasoning to the vegetables. Fry for another few minutes then serve immediately. Enjoy!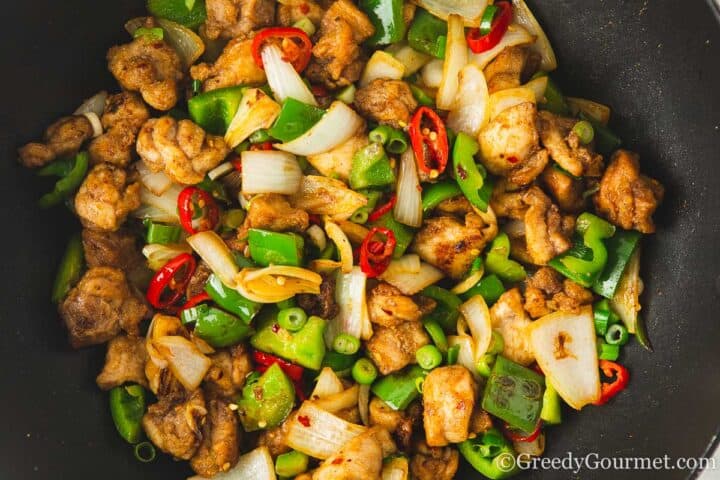 Top Tip
Don't crowd the frying pan when frying the chicken. It needs space to be able to take on that wonderful golden brown colour and crispy texture. Drain the fried chicken on paper towels to remove any excess oil.
What To Serve With Salt And Pepper Chicken
Sides
In my opinion it is best to stick to the original version of salt and chilli chicken when it comes to serving. This means serving the chicken stir fry with white rice, either steamed or boiled.
Use a good quality basmati rice and if you have a rice cooker then even better. For a bit of extra flavour put a little bit of vegetable stock in the boiling water, and give the rice a faint herbal aroma. Plain white rice is of course also an option.
You could even go for more flavour and serve it with egg fried rice.
If you don't feel like rice, you can also serve the meal with noodles. Choose from normal egg noodles, the thin, clear glass noodles, or even fried noodles. In fact, if you want to eat the dish using chopsticks, noodles are much easier to handle!
Dipping Sauce
This salt and pepper chicken is delicious when served with a simple side, but you could also add a dipping sauce on the side, such as a soy sauce dip, vinegar, sweet chilli dip or plum sauce.
Check the Asian section of your supermarket or your local Chinese supermarket – there are some fantastic dipping sauces out there!
Wine Pairing
A round, full bodied red pinot noir would work wonderfully well with the spices in this recipe, as would an off-dry white wine like a Riesling.
Variations To This Recipe
You can shallow fry the chicken with less crispy but slightly healthier results.
You could also cook the chicken in an air fryer.
Feel free to add more of the seasoning if you prefer, but remember it's quite salty!
If you don't want to make your own salt and pepper seasoning, you can buy it online.
The spice mixture itself consists only of dried and ground spices. If you can't get enough kick in your food you can add more chilli to the mixture.
Alternatively, use extra-hot ground chilli powder instead of chilli flakes. For a more oriental aroma add a pinch of cinnamon or cardamom to the mixture. You can also consider these Aleppo pepper substitutes as well as these chilli powder substitutes.
Add two tablespoons of rice wine to the pan after frying the vegetables. This will add a wonderful fragrance and flavour.
Add a topping for a final flourish to this salt and pepper chicken recipe. Fresh coriander is of course an ever-welcome addition to Asian food. If you find the flavour a little too dominant for the salt and chilli chicken, there are some alternatives.
My favourite topping is actually finely chopped tops of spring onion. The green tops give a lovely freshness to the dish without overpowering it.
Popular Substitutions
Replace boneless skinless chicken thighs with chicken breasts if you prefer.
A fun variation of salt and chilli chicken is to make the dish with chicken wings instead. The process is otherwise the same. Again, for extra tenderness you can brine the chicken wings before starting. Brined chicken wings are even quite good on their own. Check out my recipe here.
You can also use a different meat – I recommend pork.
Replace with tofu, seitan or mushrooms to make this a vegan salt and pepper dish. See my salt and pepper tofu recipe.
Replace the vegetable oil with sesame oil when stir frying the chicken and vegetables to add a nutty, authentic Chinese flavour.
Top Tip
Use a quality wok when cooking up this salt and pepper sensation! The wok is the way to go with authentic asian recipes, as you'll be able to cook on a high heat, while easily distributing the heat throughout all the ingredients.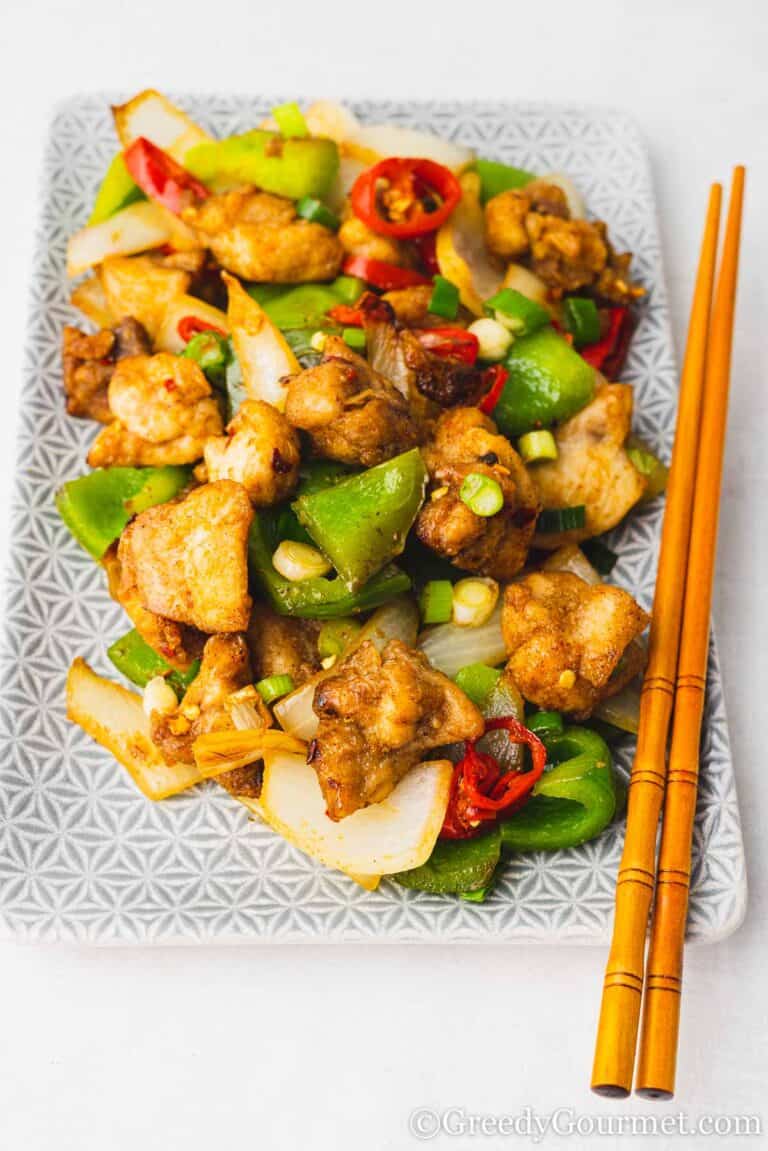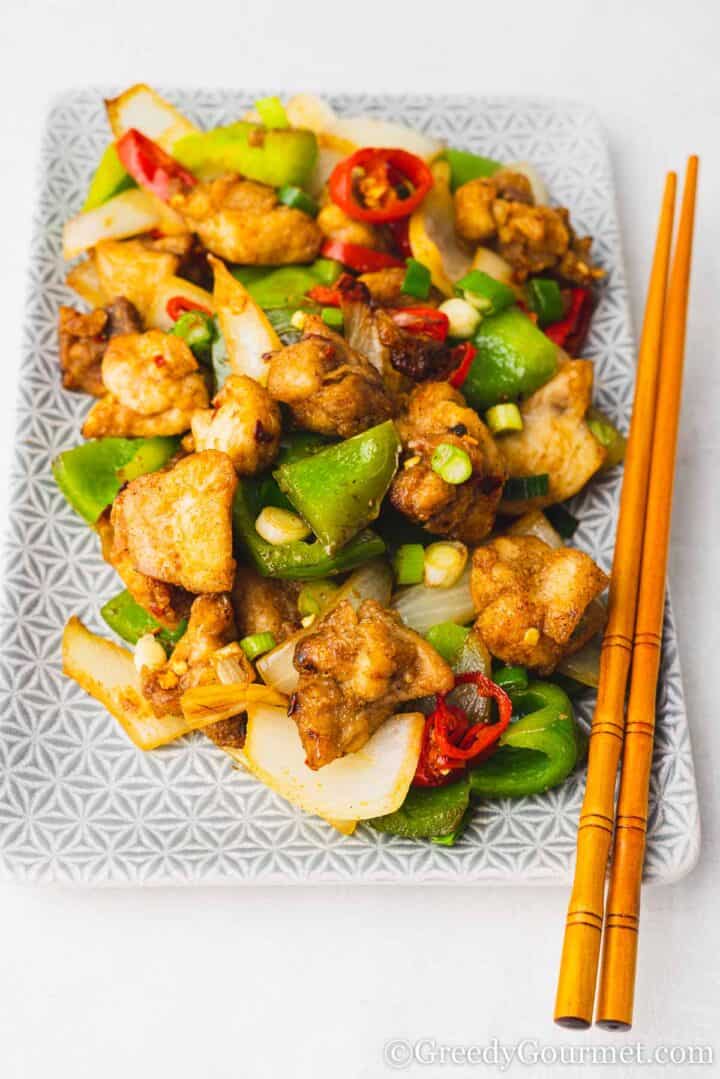 More amazing Asian recipes
If you're a fan of Asian cuisines, you'll want to try these incredible recipes:
Print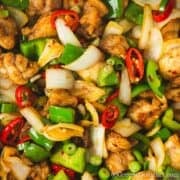 Salt and Pepper Chicken Recipe
---
Author:

Michelle Minnaar

Total Time:

35 minutes

Yield:

4

portions

1

x

Diet:

Low Lactose
Description
Learn how to make this Salt and Pepper Chicken recipe and your wallet will never have to suffer from expensive Chinese takeaways again.
---
Deep Fried Chicken
250

ml

(1 cup) vegetable oil

100

g

(1 cup) cornflour

8

g

(1/2 tbsp) salt

7

g

(1 tbsp) ground black pepper

7

g

(1 tbsp) Chinese 5 spice

450

g

(1lb) boneless skinless chicken thighs, cut into bite-sized pieces
Salt and Pepper Chicken
15

ml

(1 tbsp) vegetable oil

1

large onion, peeled and cut into bite-sized chunks

2

green peppers, washed and cut into bite-sized chunks

2

red chillies, washed and thinly sliced

4

spring onions, finely sliced

5

ml

(1 tsp) salt and pepper seasoning
---
Instructions
For the Deep Fried Chicken: Place the cornflour in a large bowl, then mix in the salt, pepper and Chinese 5 spice. 
Heat the oil in a large frying pan. You can test the temperature by dropping a small small piece of bread in the oil. If it starts sizzling with enthusiasm, it's ready. Remove the bread, or should I say crouton, from the oil with a slotted spoon. 
Toss the chicken in the cornflour mixture and gently drop pieces in the oil. Be careful, don't overcrowd the frying pan. Cook until golden brown, crispy and cooked on all sides. Drain on paper towels. Cook in batches until all the chicken is cooked. 
For the Salt and Pepper Chicken: Heat the oil in a wok and fry the onion, green pepper and chillies for 3 minutes.
Add the chicken and spring onions to the stir fry and season with the salt and pepper seasoning.
Serve immediately with rice. Enjoy!
Notes
You can use chicken breast instead. Pork would work too!
Alternatively, you can fry the chicken and a few tablespoons of oil. The result will be less crispy but healthier. 
Feel free to add more of the seasoning if you prefer, but remember it's quite salty!
If you don't want to make your own salt and pepper seasoning, you can buy it online.
Prep Time:

15 minutes

Cook Time:

20 minutes

Category:

Main Course

Method:

Fry

Cuisine:

Chinese
Keywords: salt and pepper chicken, easy salt and pepper chicken, crispy salt and pepper chicken, what to serve with salt and pepper chicken, salt and pepper chicken breast, salt and pepper chicken chinese takeaway, chinese salt and pepper chips, salt and pepper chicken thighs, chinese chicken recipe