Steamed cod is one of the healthiest and easiest ways to cut down on calories. Cooking this steamed cod recipe is super simple, and served with a green salad you can be sure to stay on track to a leaner and healthier you.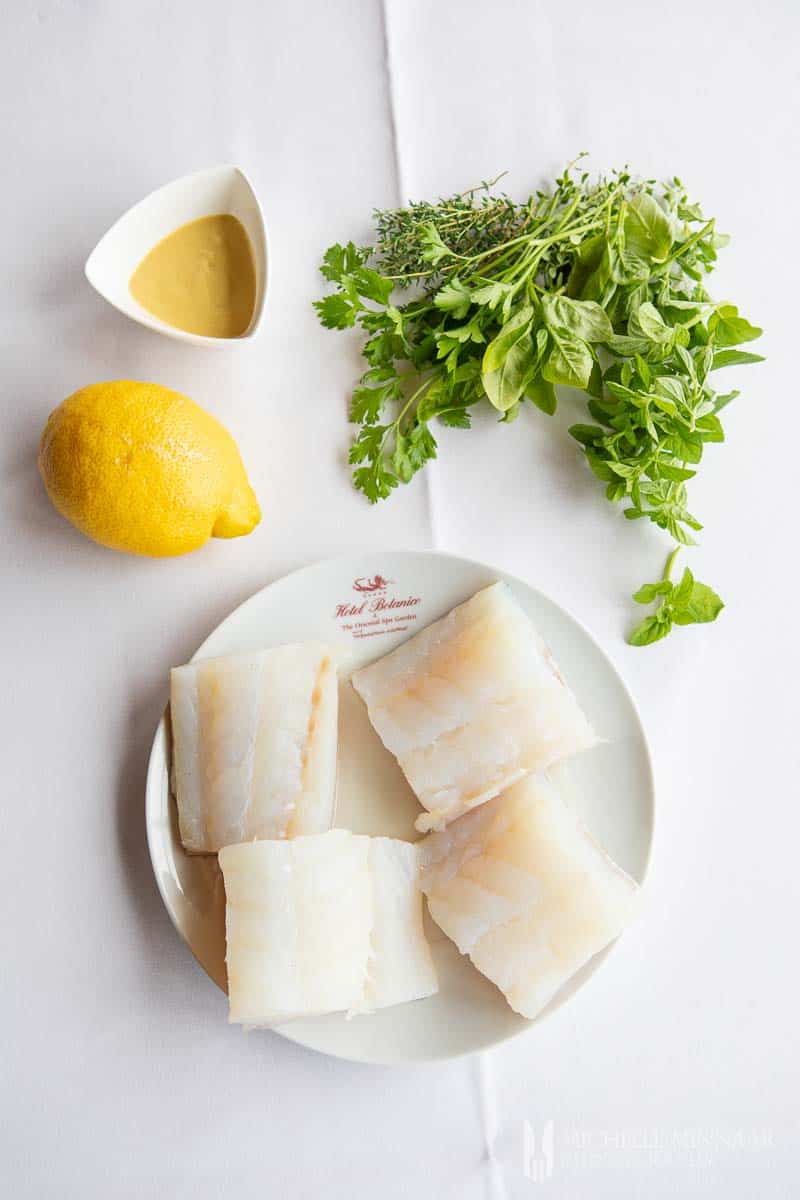 With food transport being as advanced as it is today, you can easily get hold of fresh cod, even if you live far from the sea. Best of all, steaming white fish is a piece of cake and you don't need a steamer to prepare it!
This steamed cod recipe is inspired with Mediterranean flavours which will make you feel like you are there on vacation. What's best, if you can't find cod, you can substitute it with other white fish, such as sole, halibut, haddock or sea bass - the choice is entirely yours. Once you get into steaming fish, you'll keep coming back for this light and summery recipe. Serve the steamed cod with a light sauce, steamed vegetables, lemon juice or lime juice for optimal results.
steamed cod fish
Generally speaking, there are two types of cod fish. The first being the Atlantic Cod which lives in the cold and deep waters of the North Atlantic Ocean. The other one is the Pacific cod which inhabits mostly the northern Pacific Ocean. In terms of flavour, cod is mild and subtle, and that's why it pairs well with other sauces such as sauce vierge, hollandaise sauce or a garlic lemon butter sauce. Usually, the fish has a very dense and flaky white flesh, which is perfect for steaming. When you steam the cod, it will hold its structure without falling apart. Instead, the flakes of the white flesh will separate beautifully as you dig your fork into it. Therefore, cod is one of the best white fish for steamed fish recipes.
In the UK, it's one of the most popular ingredients to the classic english recipe called fish and chips. Again, cod is prized dense texture.
You can source cod at your local fishmonger or at the supermarket. You can also purchase frozen cod but he texture of the flesh could potentially deteriorate because who knows how long the fish was frozen for? It's best to purchase fish which was frozen under three months, as anything longer will compromise the texture, quality and taste of the fish's flesh.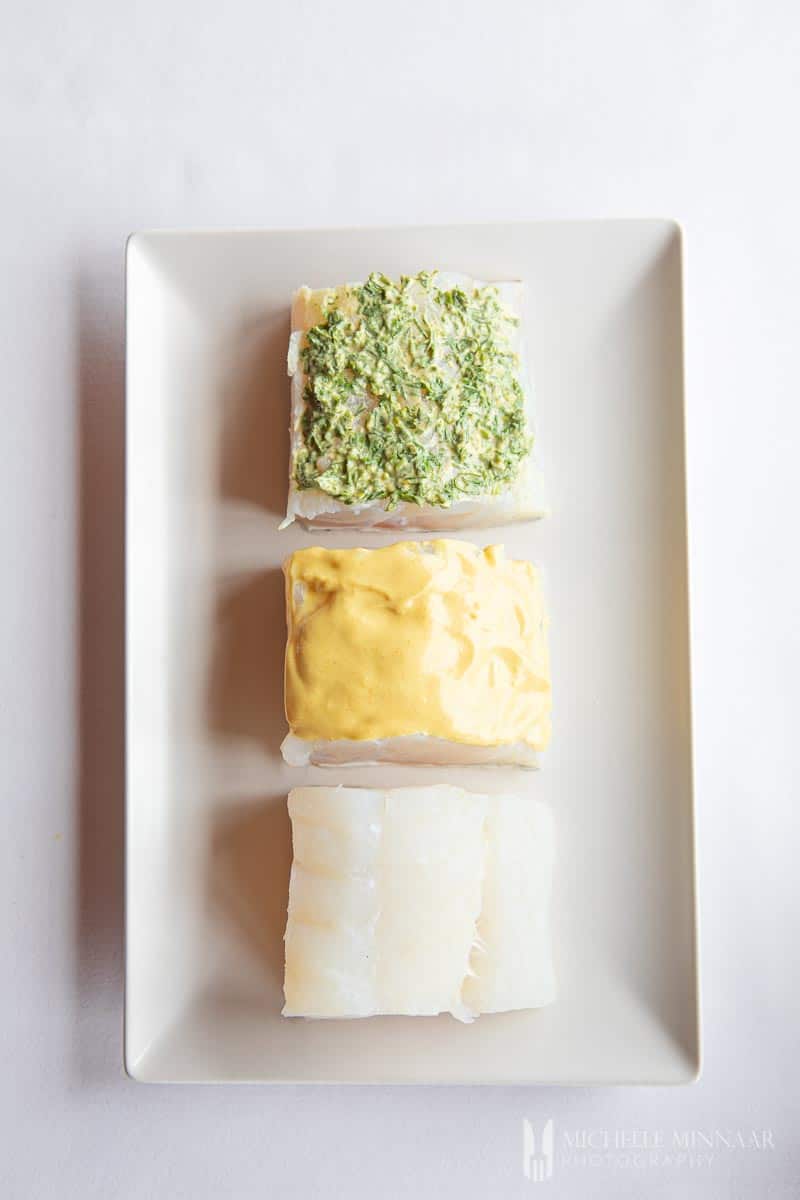 cod recipes
Due to the fact that cod is one of my favourite fish, I've cooked with cod many times. For instance, I've made:
how to steam cod without a steamer
You don't need to stock up on fancy and expensive kitchen equipment to prepare this delicious steamed cod recipe. Steaming fish is not a complex process.
Just follow these simple steps:
Place a deep pot on the stove and add a cooking ring into it.
Add boiling hot water to reach the ring.
Select a plate that fits with the size of the pot and balance it on top of the cooking ring.
Put the water on high heat until it boils.
Next, add the cod fillets onto the plate.
Cover the entire pot and let the fish steam.
Depending on the size of the cod fillet, you should let it cook from 4-6 minutes.
Check the steamed cod if the flaky flesh separates. If it does, serve immediately.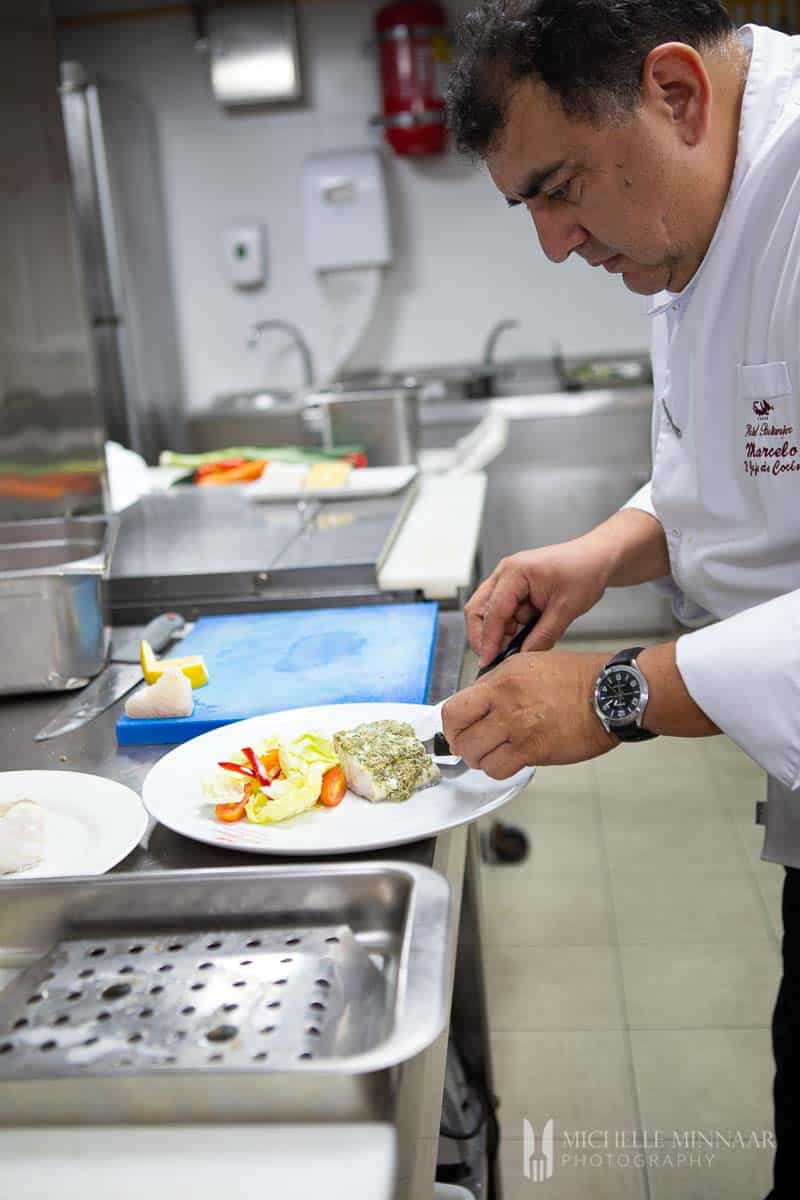 steamed cod in foil
Making steamed cod or steamed fish recipes with foil is very common throughout the Caribbean.
With this method, you can opt to steam the whole cod fish or just the fillets of cod.
Place the fish flat onto the aluminum foil.
Season with oil, salt and pepper. Feel free to include vegetables or the sauce vierge directly on top of the fish.
When you cover up the fish with 2 additional sheets of aluminum foil and close it, the fish will steam with the rest of the ingredients. Hence, the flavours will be infused into the flesh of the fish.
Fold the sides of the foils inwards until you are left with a rectangular 'fish package'.
Next, steam the cod in your oven and serve immediately.

alternatives
There are many alternatives you can use for this steamed cod recipe if you can't source cod.
steamed halibut
For instance, you can substitute with halibut. Halibut has quite a delicate, chalky flesh. Although, when cooked, it becomes flaky and still holds its firm texture.
steamed haddock
Steamed haddock is practically interchangeable with cod. If you have leftovers, try these recipes too:
Other fish you can consider are:
How often do you cook with cod? Have you ever made steamed cod before?
Print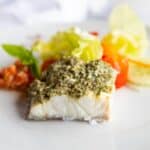 Steamed Cod
---
Description
This steamed cod recipe is easy and quick to prepare. This healthy white fish dish is best served with seasonal vegetables and sauce vierge.
---
4

cod fillets, weighing about 180g (

6oz

) each

15

ml

(1 tbsp) cilantro, washed and finely chopped

15

ml

(1 tbsp) dill, washed and finely chopped

15

ml

(1 tbsp) tarragon, washed and finely chopped

15

ml

(1 tbsp) parsley, washed and finely chopped

1.25

ml

(1/4 tsp) freshly ground white pepper

1.25

ml

(1/4 tsp) salt

15

ml

(1 tbsp) lemon juice

30

ml

(2 tbsp) Dijon mustard
---
Instructions
Clean fish and pat dry.
Mix the cilantro, dill tarragon, parsley, pepper, salt, lemon juice and mustard in a bowl and mix the ingredients together to form a thick paste.
Bring water in the steamer or wok to a boil on high heat and steam the fish for 5 minutes.
Remove the fish from the heat and slather the fragrant paste on top of each piece of fish.
Pour away the liquid that condensed in the dish.
Continue to steam the fish for another 5 minutes or until fully cooked.
Serve with sauce vierge on the side.
Notes
This recipe works for just about any type of fish fillet.
Cooking times depend heavily on the thickness of the fish fillets. When the fish flakes easily at the touch of a fork, you know it's done.
Prep Time:

15 minutes

Cook Time:

10 minutes

Category:

Dinner

Method:

Steam

Cuisine:

French
Keywords: steamed cod recipe, how to cook cod, best steamed fish, healthy cooking