Classic macaroni salad is a staple at a summer cookout or picnic. Macaroni salad, like potato salad, is also a comfort food; combining delicious and simple ingredients together to create a dish that brings a smile to most everyone's face.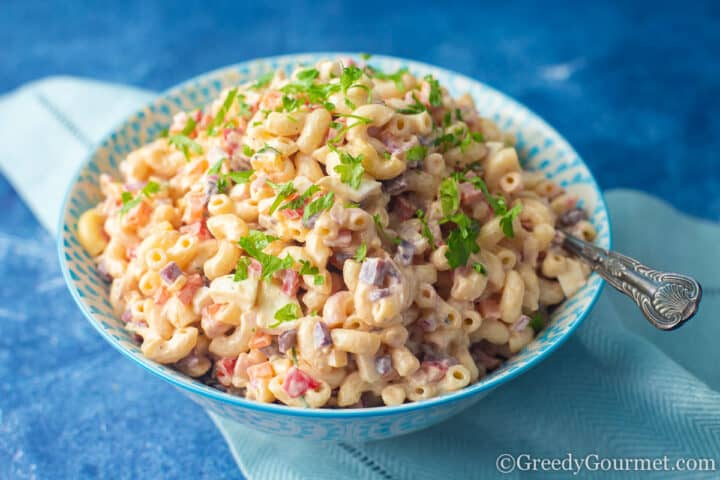 Pasta combines with a tangy macaroni salad dressing made of mayonnaise, greek yogurt, white wine vinegar, dijon mustard, and honey. Hard-boiled eggs, carrots, red bell pepper, red onion, and parsley add texture and a light crunch to this fabulous bbq staple.
When it comes to pasta salad recipes, this classic macaroni salad tops the list with its delicious ingredients and easy steps. Although there are many more pasta salad recipes that stray away from simple, these are truly the best macaroni salad ingredients.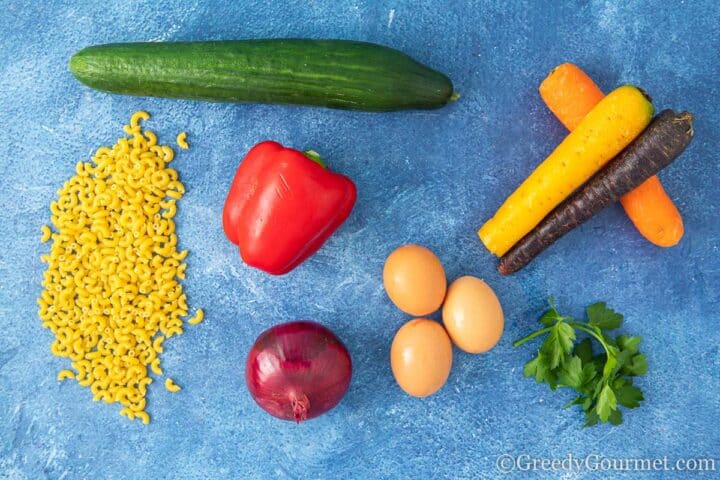 The great thing about salad cuisine is that you can add or omit any ingredient that you may not have or don't care for. This recipe is great as is, but any vegetable component can easily be substituted for something else.
For this reason, this salad is a great way to clean out the fridge and use up produce before it goes bad.
This classic macaroni salad is inspired by my Keto Coleslaw, another perfectly creamy summertime dish. This easy macaroni salad recipe would pair wonderfully with my very tasty Lamb Shish Kabobs or BBQ Pulled Lamb recipes.
Why You'll Love This Recipe
It's simple, using ingredients that you may already have
This creamy macaroni salad tastes rich but is lighter than most recipes
It's easy to substitute ingredients in this macaroni salad recipe if needed or desired
Equipment Needed to Make This Recipe
Ingredients Needed to Make This Recipe
How to Make This Recipe
Assemble the dressing ingredients.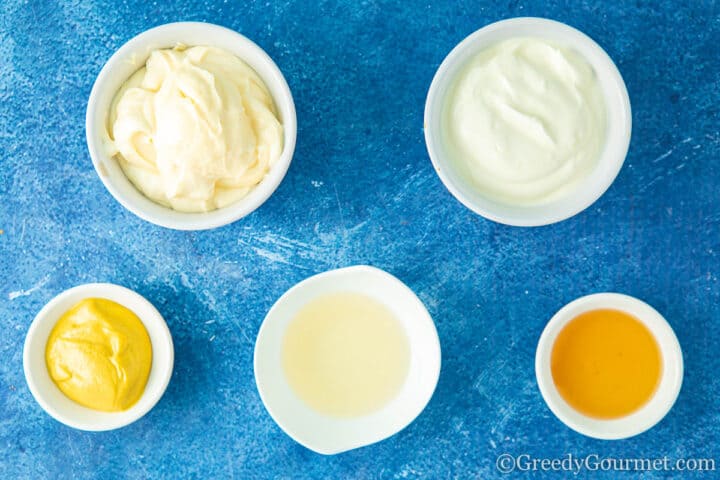 Mix them all together in a bowl. Set aside while prepping the salad ingredients.
Place all the ingredients in the bowl with the salad dressing.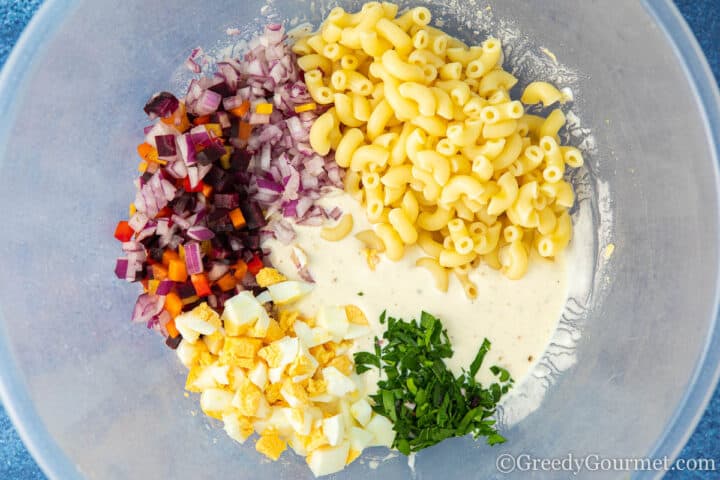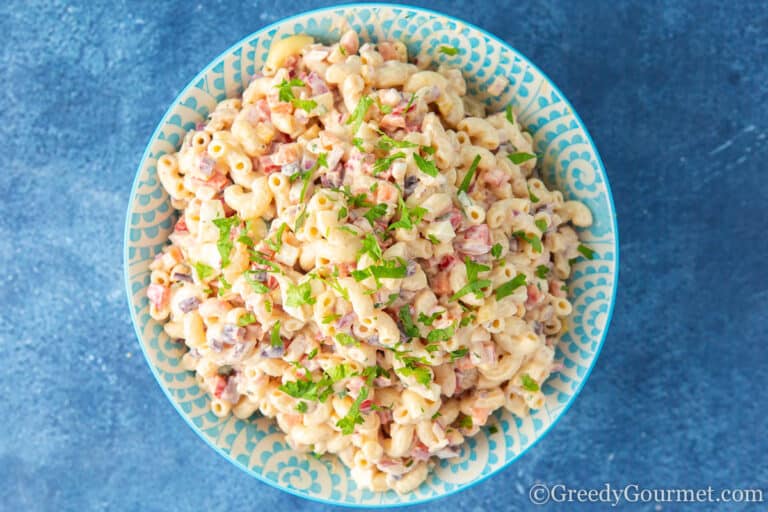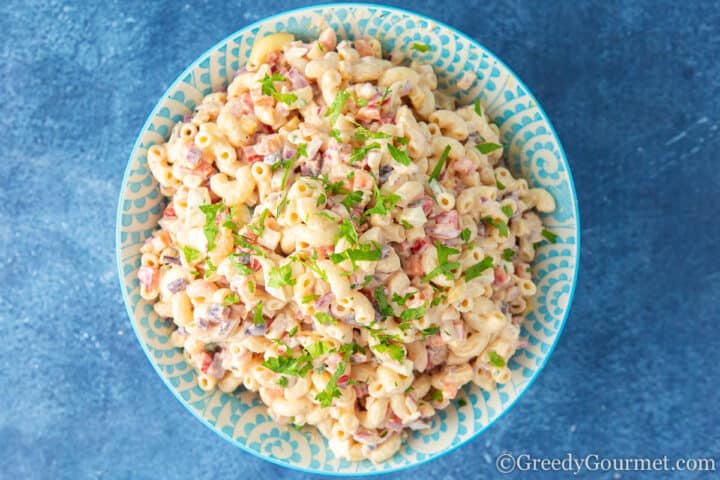 Mix well until everything is covered with dressing. Sprinkle with parsley and serve.
Top Tip
You can make the salad dressing ahead of time, as well as cut and prepare all of your ingredients to add to the pasta.
What to Pair with Your Classic Macaroni Salad
This is the best macaroni salad recipe, so delicious you may be tempted to eat it straight out of the bowl. There are several great accompaniments you can pair with your classic macaroni salad recipe.
Mains
Macaroni salad is an excellent side dish to bbq and a hit at potlucks. Here are some suggestions that this macaroni salad recipe will pair nicely with.
Hot dogs - a cookout isn't complete without this summertime treat
Hamburgers - another bbq staple, hamburgers make macaroni salad taste even better
BBQ Rack of Lamb - a fabulous treat for a special occasion outdoor party
Steak - whether sliced on a sandwich or cubed on kebabs, steak loves a creamy side dish
BBQ Chicken Kebabs - my chicken kebabs are a healthy main that goes great with a cold salad
BBQ Smoked Ribs - the tangy flavors of these ribs will compliment the sweet and acidic flavor of the pasta
Sides
Along with the main event dish, macaroni salad pairs great with other side dish cuisine on the menu
Desserts
After you've stuffed yourself with lots of delicious pasta salad, make sure you've saved room for one of these delicious desserts
4th of July cheesecake - Impress your guests with this festive no-bake cheesecake recipe, the perfect patriotic treat for any Fourth of July celebrations
Amarula Berry Trifle - nothing says summer like homemade macaroni salad and a berry trifle for dessert
No-Bake Rhubarb Cheesecake - a cheesecake that doesn't require turning the oven on? A perfect summer dessert
Gin and Tonic Cheesecake - this cheesecake screams summertime with it's refreshing flavors that will end your cookout on an impressive note
Cocktails
Warm weather, cookouts, and cocktails go hand in hand. Make sure to accompany your classic macaroni salad with one of these refreshing beverages
Long Vodka - a simple twist on the gimlet, this cocktail is perfect for hot weather
Gin and Gingerbeer Cocktail - more exciting than the classic gin and tonic, gingerbeer gives this cocktail a little spiciness
White wine - crisp and refreshing, a great accompaniment to this creamy macaroni salad
Beer - a must have at every outdoor event, beer washes down all the tasty food and keeps you cool and refreshed
Popular Substitutions for This Recipe
Gluten-free pasta - if you or someone you know has a gluten intolerance, gluten-free pasta can easily be substituted for regular wheat pasta
Apple Cider Vinegar - apple cider vinegar or white vinegar can be used instead of white wine vinegar for a stronger, tart flavor in your salad
Sour Cream - for a richer creamy dressing, use sour cream instead of greek yogurt, the taste will be similar
Vegan - this easy macaroni salad recipe can be made vegan by using vegan mayonnaise, and vegan greek yogurt made of cashews or almonds. Replacing the honey with maple syrup will give the same sweetness, and you can simply leave out the hard-boiled eggs.
Mustard - instead of dijon mustard, try whole grain or yellow mustard instead. The flavor will be slightly different but you will have the same tang and acidity element from the alternative mustards.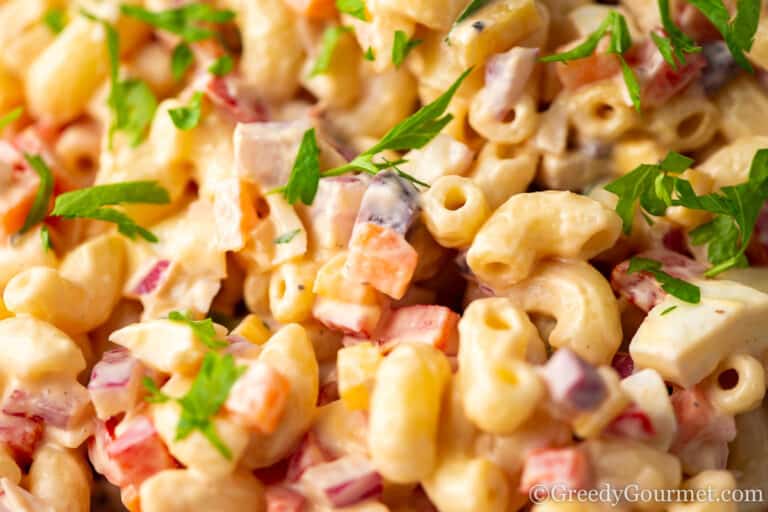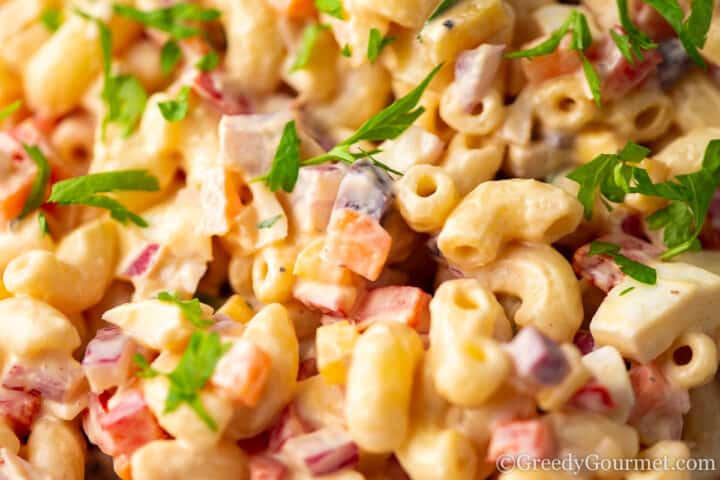 Variations for This Recipe
Added acidity
Give your macaroni salads acidity a boost by using some fresh squeezed lemon juice
Added tang and sweetness
Sweet pickle juice and sweet pickles added to your salad will give it a unique flavor. Chopped sweet pickles give added crunch and texture that compliments the eggs and creamy salad dressing
Additional seasoning
Added garlic powder, freshly ground black pepper, onion powder, chives, or even green onions will all give this salad excellent added flavor
Added cheese
Try some cubed cheddar cheese in your mac salad for cheesy goodness, which can never hurt
have a look at 10 velveeta substiutes for different cheese ideas
Added meat
Cubed ham, crumbled bacon, or even shrimp make lovely additions to this classic salad
Try out this Baked Pumpkin Mac n Cheese with bacon for a tasty fall macaroni dish.
Top Tip
The longer your dressed salad sits in the fridge, the better the flavors meld together and improve.
How Do I Store Leftovers?
Store leftover mac salad in an airtight container in the refrigerator. Cold salads can be stored easily in a Ziploc bag with the excess air removed.
How Long Will this Salad Last in the Fridge?
Store your leftovers in the refrigerator for three to four days. The taste of the salad will improve over time, but the macaroni can become mushy if left in the refrigerator for too long.
Can This Recipe be Scaled?
Yes, this recipe can be easily scaled to accommodate larger or smaller crowds. Simply half or double the recipe depending on how many guests you will have. And remember, leftovers are always a bonus!
Can This Recipe be Made in Advance?
Yes! In fact, it is better to make your salad ahead of time. As it sits, the flavors of the macaroni salad ingredients meld together and become stronger and more delicious.
Food Safety
This straightforward salad doesn't require much cooking, but it is important to pay attention to temperature to avoid contamination. Avoid leaving this creamy dressing based mac salad out of the refrigerator for longer than three hours.
If you are are setting up a buffet style meal, avoid leaving food uncovered when it's not being dished out to avoid airborne contaminates from landing on the surface of your salad.
Print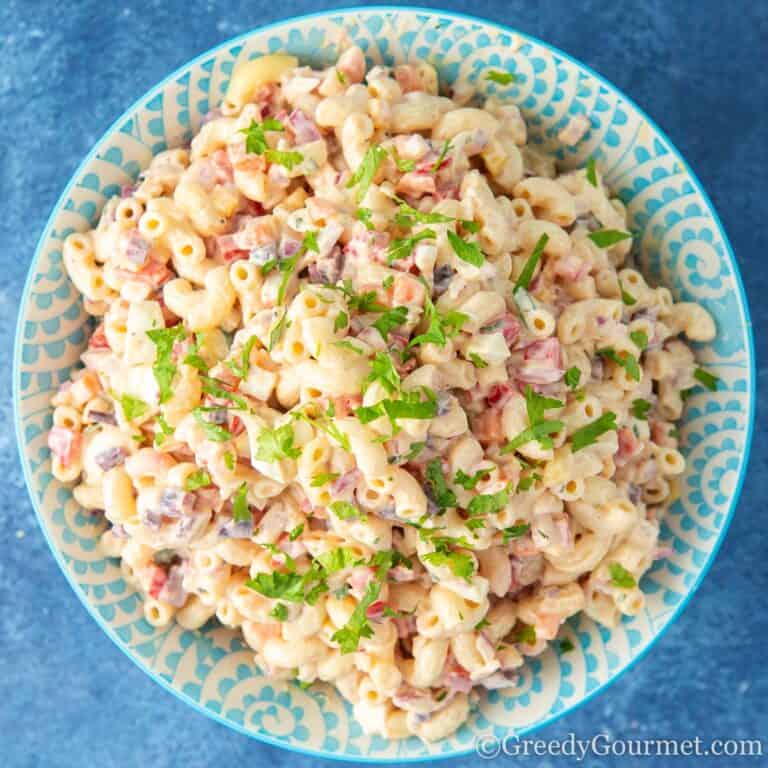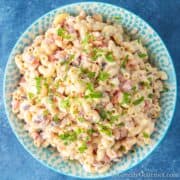 Classic Macaroni Salad
---
Author:

Michelle Minnaar

Total Time:

35 minutes

Yield:

8

servings

1

x

Diet:

Vegetarian
Description
Classic Macaroni Salad, this is a staple at any summer picnic or BBQ. An easy straightforward salad that's still full of flavour. 
---
Salad Dressing
125

ml

(1/2 cup) mayonnaise

125

ml

(1/2 cup) Greek yogurt

23

ml

(1 1/2 tbsp) white wine vinegar

15

ml

(1 tbsp) Dijon mustard

10

ml

(2 tsp) honey
Macaroni Salad
250

g

(1 1/2 cups) dry elbow macaroni

2

hard boiled eggs

1

(1 cup) red pepper, diced

2

(1 cup) carrots, diced

1

(1/2 cup) large red onion, diced

1

(2 tbsp) small bunch parsley, chopped
---
Instructions
For the Dressing: Place all the ingredients into a mixing bowl and whisk together until fully combined and then place in the fridge.
Cook the Paste: In a large saucepan, half fill with boiling water and add a good pinch of salt.
Add the macaroni and cook as guided on the packaging. Always keep an eye on your pasta as over cooking it can make the dish a little claggy.
Once cooked, drain well and run under cold water until completely cool to prevent it cooking more.
Assembling the Macaroni Salad: Remove the mixing bowl from the fridge and add the macaroni, eggs, red pepper, carrots, red onion and parsley, withholding a pinch of the parsley for decoration. Mix well and season to taste, making sure everything is coated evenly. 
Present in the serving bowl of your choice and top with the pinch of parsley as decoration. Enjoy!
Notes
You can serve this old fashioned salad straight away or make it in advance for the following day.
If you don't have Dijon mustard then any mustard will do but I would suggest wholegrain mustard.
Prep Time:

15 minutes

Cook Time:

20 Minutes

Category:

Main

Method:

Boil

Cuisine:

English
Keywords: Classic Macaroni Salad, old fashioned Macaroni Salad, Salad Ideas, Salad Recipes, Summer Salad, Everyday Salad, Best Salad Recipe