This white bean dip recipe is so quick and easy to make. Simple ingredients and a super-fast prep time; just 10 minutes from start to finish.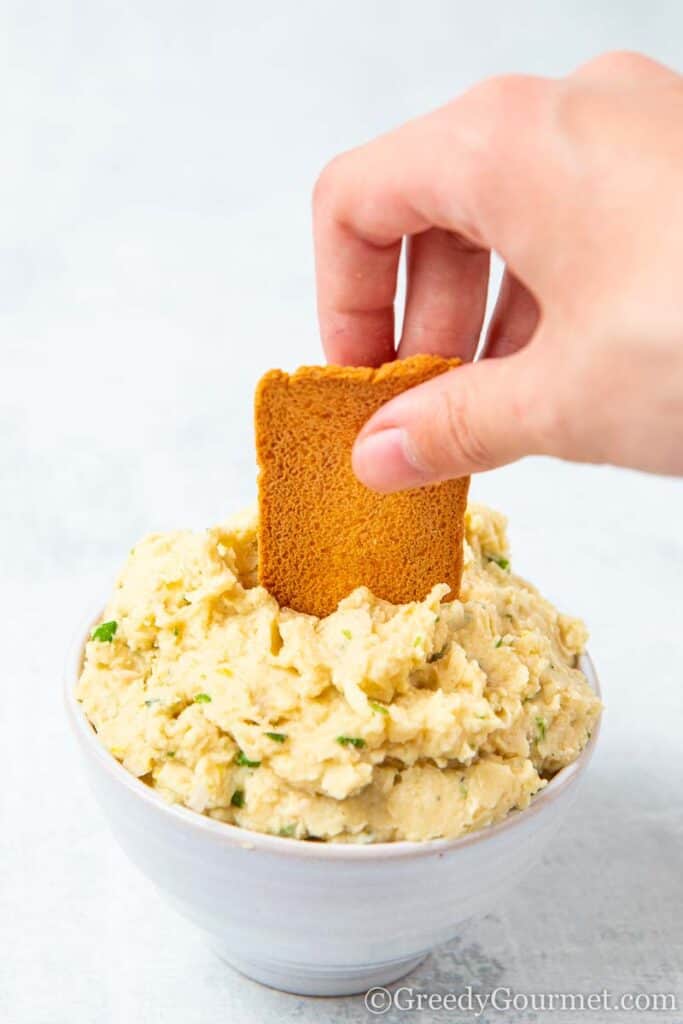 It's ideal for anyone who wants to make something tasty and healthy, but doesn't have much time to spare.
When you're done, you'll have a delicious white bean dip that will be great for snacks and appetizers. It tastes so much better than the store-bought stuff!
Products you need for this recipe
For this white bean dip recipe, you'll need to get hold of a few kitchen items and ingredients.
What types of beans to use
You can use many different types of beans in dip recipes. Try different ones each time, to find your favorite taste.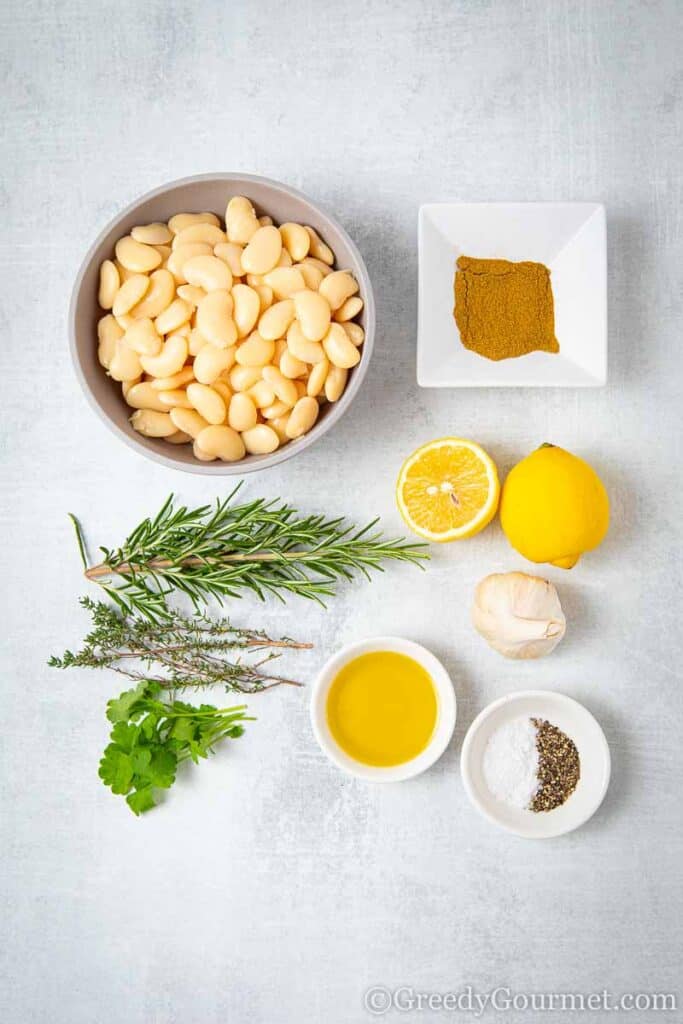 What herbs are best in this white bean dip recipe?
In this recipe, I've opted for a mix of fresh rosemary, parsley and thyme. There's a lot of different combinations you can go for.
Black pepper and garlic really bring a great depth of flavor, but you could also make this dip extra tasty with a few more spices thrown in.
For whole seeds, you'll need a mortar and pestle to grind them into a powder before adding them into the food processor with the other ingredients.
Other ingredients you could add to a white bean dip
There are a few other ingredients you could throw into the mix. For a bit of sweet heat and a Mexican twist, add some jalapeno peppers. Adjust according to how hot you like it.
You could also leave out the garlic and lemon and instead add lemon aioli. It'll make it even creamier.
If you want an extra garlic and lemon taste, leave both in and add the aioli. You could also add sriracha aioli for a sweet, hot, garlicky kick.
If you want to experiment, you could also use different types of garlic. Each time you make the dish, try each one and see what works for you.
As well as fresh garlic and garlic granules, you can use garlic powder, garlic spread, garlic salt, minced garlic or black garlic.
How to make vegan bean dip
Making this white bean recipe is really easy. It just involves blitzing up white beans and mixing them with a squeeze of lemon, a drizzle of olive oil, a sprinkle of salt and pepper and some fresh fragrant herbs.
The spicy twist is the secret to this white bean dip recipe that really makes it special. Two teaspoons of cumin give it an extra dimension of flavor.
It'll bring a kind of earthy, spicy taste that will take it from a plain old dip to something a lot more exciting.
Another way to make white bean dip
Instead of putting all the ingredients straight into the food processor, you could first sauté the garlic, herbs and lemon juice in olive oil, before adding them to the blitzed beans.
This will give you a more concentrated flavor. Of course, the dip will be warmer. So, if you don't want a warm dip, you'll have to let it cool down for about 20 minutes.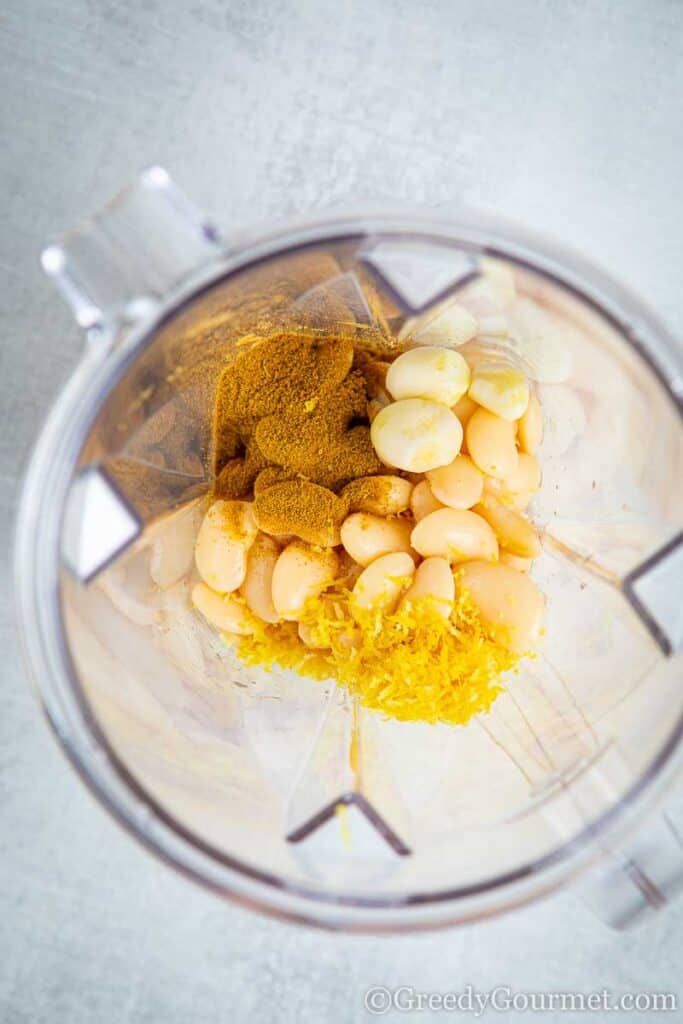 Other ways you can use white bean dip
Dip recipes are the perfect way to complement finger foods and other snacks that need a little extra taste. They make more than just a great tip though.
Have you ever thought about using dips as burger toppings? Just imagine how amazing these minted lamb burgers would taste when topped with a delicious beans dip!
You could also keep it vegan and add your dip to this amazing butternut and chickpea burger.
If you thin the dip a little you can use it as a dressing to salad recipes. This pumpkin and feta salad would be extra delicious when combined with your bean dip and a drizzle of olive oil.
Can you make white bean dip without oil?
You can make cannellini beans dip without using olive oil. Just add a little splash of water in place of the oil. Add little by little until you reach your desired consistency.
If you want to replace the olive oil with healthy natural fats, you can add some avocado. This will give it a creamier texture.
Can you heat up white bean dip?
If you prefer to serve your dips warm, you can heat it up easily. Just place in an oven safe dish and gently heat for 10–15 minutes at around 350°F (180°C).
Can you freeze white bean dip?
Chances are, you'll devour this divine dip within a day. If you manage to resist, it'll store just fine in the fridge for around four days.
If you've made a big batch and want to store it for longer, you'll want to know if this white bean dip is freezable. The good news is yes – you can freeze it, no problem.
Place your remaining dip in a storage container, making sure it's airtight. Label it with the date, so you know when you froze it.
It'll stay good in the freezer for up to six months.
Is bean dip good for you?
Beans are great for you! They're a really good source of fiber for a start. Many of us don't get enough fiber, so beans make a great addition to your diet.
Fiber keeps you regular and can aid digestion, lower cholesterol and protect against heart disease and high cholesterol.
They're also a great way to get some low-fat, low-calorie protein. A single cup of beans contains around 15g of protein – about twice as much as rice or wheat.
Beans contain a special protein building block called lysine. Lysine is really important – especially if you're a vegetarian or vegan, as you might not get enough.
Beans are also proven to help weight loss. Studies have shown that if you eat beans as your main source of protein, you're more likely to lose weight.
The other ingredients in this white bean recipe are also great for your health. Cumin is a bona-fide super spice that can help you lose weight, lower your cholesterol, prevent diabetes, lower stress and prevent memory loss.
Lemons are packed full of vitamin C, soluble fiber and plant compounds, and can help you lose weight, aid digestion and reduce your risk of heart disease and cancer.
Extra virgin olive oil is one of the healthiest fats you can use. It's full of antioxidants and healthy fats and contains anti-inflammatory substances.
Garlic is also a super healthy ingredient. Aside from keeping vampires at bay, it can boost your immune system, lower blood pressure and reduce the risks of heart disease.
Blend all these together and you've got an incredibly healthy, delicious little dip!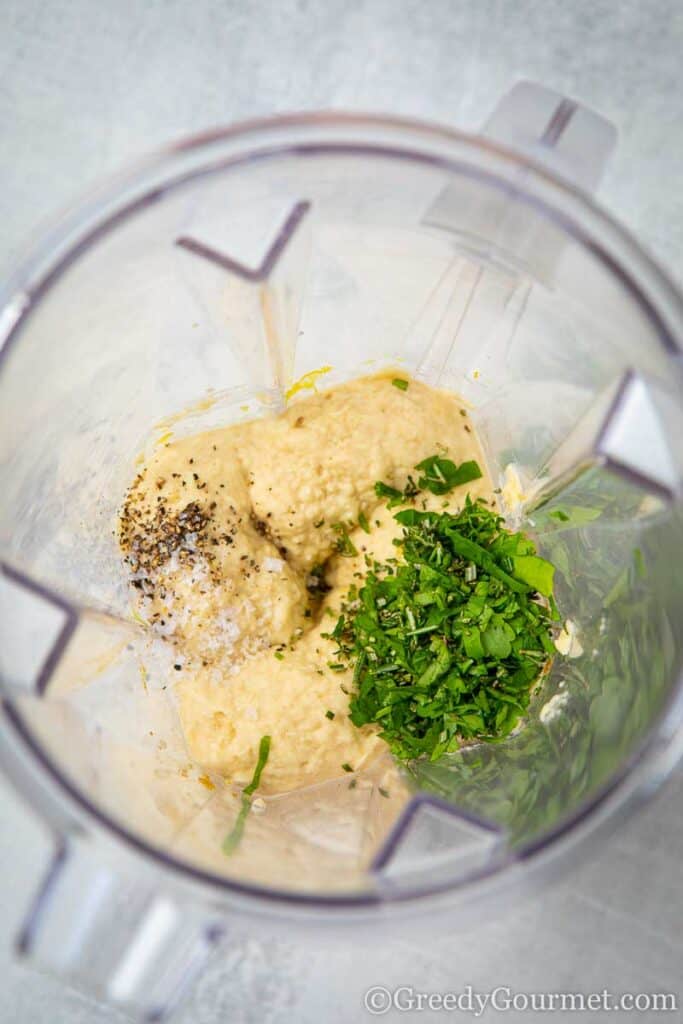 Pita chips with white bean dip
Bean dip recipes like this one go perfectly with pita chips. You can make pita chips easily by cutting a pita into wedges, sprinkling with salt, pepper and herbs, and baking in the oven for about 10 minutes. You could even add garlic for extra flavor.
Once they're nicely toasted and golden brown, they'll taste absolutely delicious with a big scoop of white bean dip.
Crudités with white bean dip
Crudités are raw vegetables that are normally served up on a platter with a variety of dips. Like a lot of great recipes and cuisine, the idea for crudités started in France.
Crudités with bean dips are perfect for parties or when served as an appetizer to a main meal.
Great crudités to serve with recipes like this one include carrots, bell peppers, cucumber, tomatoes, celery, broccoli (especially the stalks!) and lightly steamed asparagus.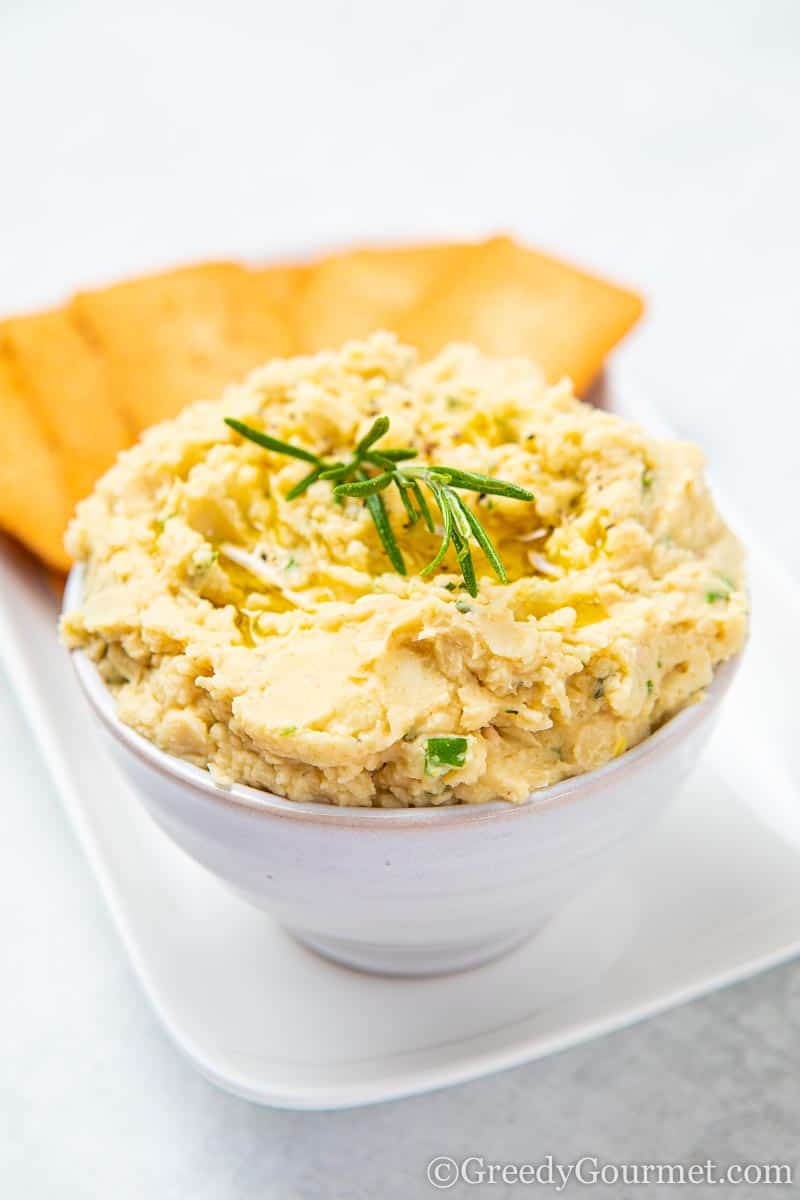 What else do you eat white bean dip with?
Here are some tasty recipes to serve with your white bean dip.
More amazing dip recipes
Use your food processor to whizz up some more classic dips.
What are your favorite dip recipes? Let me know in the comments below!
Print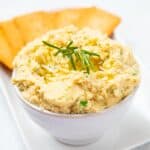 White Bean Dip
---
Author:

Michelle Minnaar

Total Time:

10 minutes

Yield:

6

servings

1

x

Diet:

Vegan
Description
White Bean Dip comprises white beans that have been blitzed together with olive oil, lemon and numerous herbs. Serve with crudités and pita chips.
---
480

g

(2 x tins) cannelini, butter beans, navy or white beans, drained and rinsed

1

lemon, juice and zest

125

ml

(1/2 cup) extra virgin olive oil

2

garlic cloves, peeled

10

ml

(2 tsp) ground cumin

12

g

(1/2 cup) fresh herbs, washed and finely chopped
salt and pepper, to taste
---
Instructions
Place the beans, lemon juice and zest, olive oil, garlic and cumin in a food processor and blend until smooth.
Add the herbs and give it a quick blitz to incorporate.
Season to taste then spoon into serving bowls.
Serve with vegetable crudités and crackers as a snack, starter or side dish. Enjoy!
Notes
Feel free to play with different types of pulses.
In this case, I used a combination of parsley, thyme and rosemary. Mint and basil can be thrown in the mix too.
If you would like to have the dip to have a sloppier consistency, add more splashes of olive oil, until you're happy with it. Alternatively, use water to go easier on the calories.
You can make this dip a day in advance. Before serving, bring it to room temperature.
Storage: this dip lasts for 4 days in the fridge and freezes well.
Prep Time:

10 minutes

Cook Time:

0 minutes

Category:

Dip

Method:

Blend

Cuisine:

American
Keywords: white bean dip, vegan white bean recipe, butter bean dip, white bean appetizer, healthy white bean dip