One of the staple classics of British cuisine, a big helping of cottage pie is as comforting as it gets.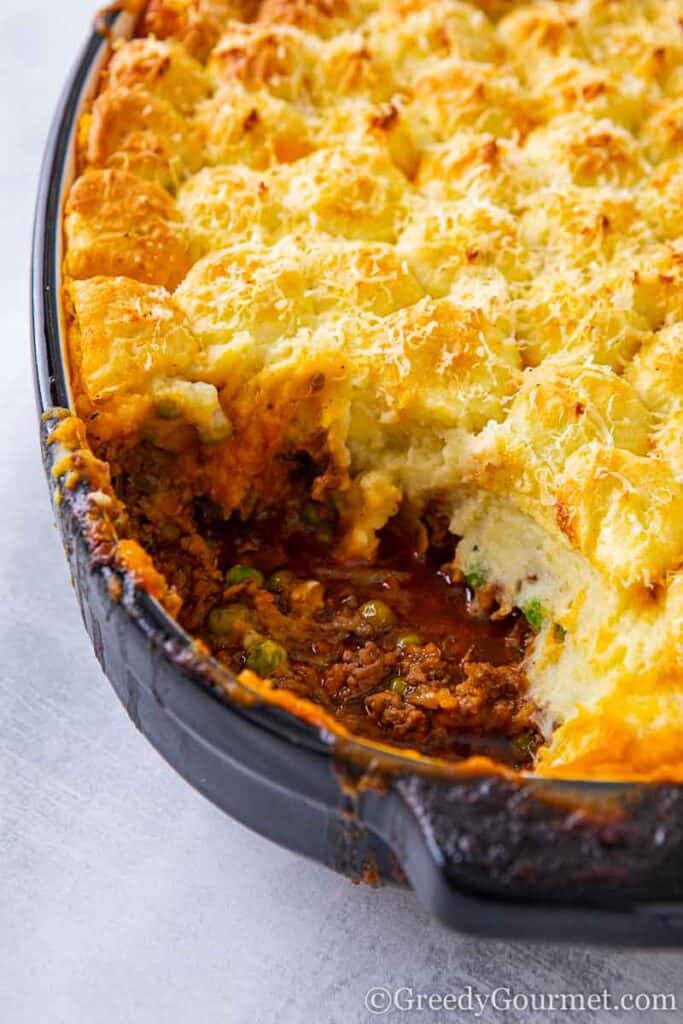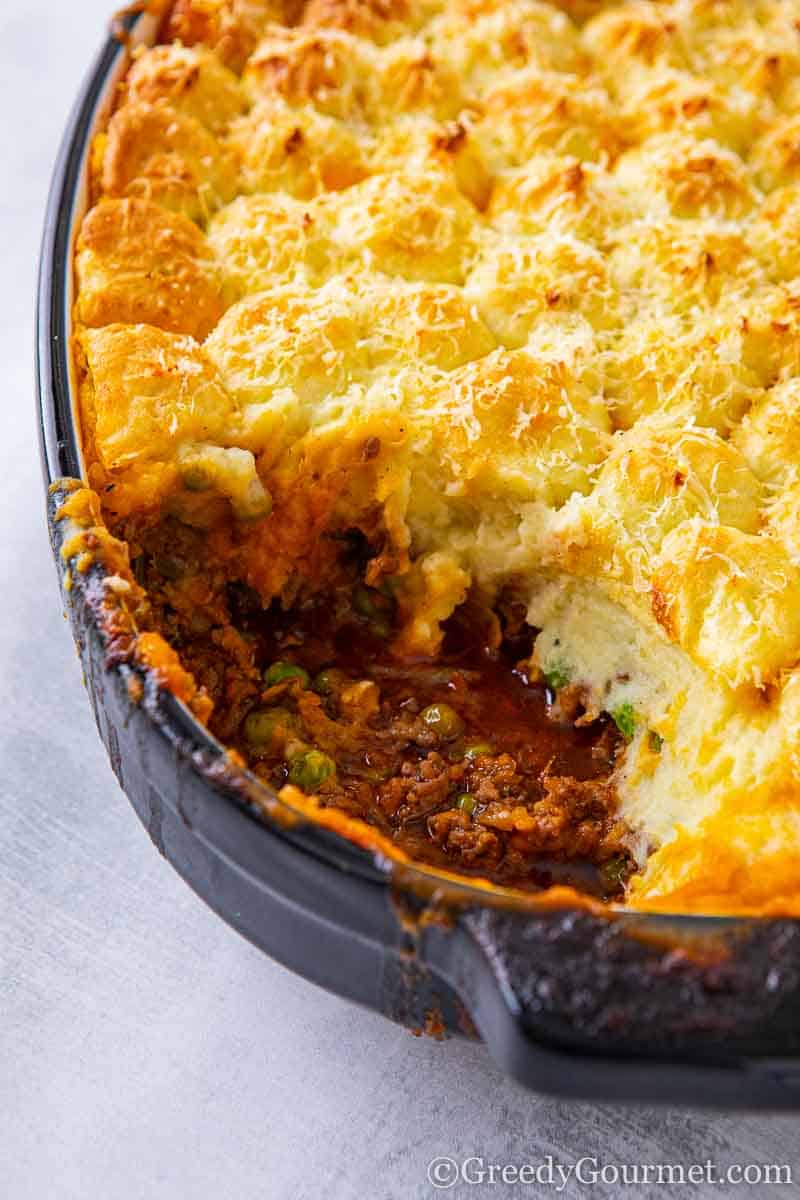 If you've never made it yourself, there's nothing to it! If you have made it, check out this recipe. You'll find a few little tricks that wil take a humble classic to new levels of deliciousness!
Products you need for this recipe
Cottage pie recipe
Ah, cottage pie! The perfectly timeless comfort food, fit for pleasing all people all year round. Simple ingredients, straightforward prep and cook process and a taste that's oh so satisfying!
Once you cook this recipe, you'll never buy a ready meal again. The rich, deep taste of the mince beef gravy filling and the golden brown topping of smooth mashed potato combine for a warm hug of a meal!
Where does cottage pie come from?
Cottage pie is a classic dish that comes from the UK and Ireland.
What are the origins of cottage pie?
Originally, cottage pie was made as a way to use up leftover meat. A pie dish would be lined at the sides and bottom with mashed potato. Then, a topping of mashed potato would be added to form a 'pie crust' lid. 
Why is it called cottage pie?
The term cottage pie first came about in the late 1700s. Most of the British and Irish population lived in rural cottages. It was around this time that potatoes became a staple food. 
What's the difference between cottage pie and shepherd's pie?
When people say "cottage pie" they are usually referring to a pie made with minced beef and topped with mashed potato.
When people say "shepherd's pie", it means minced lamb is used as a filling – as shepherds look after sheep – and topped with mashed potato.
How do you keep mash from sinking into cottage pie?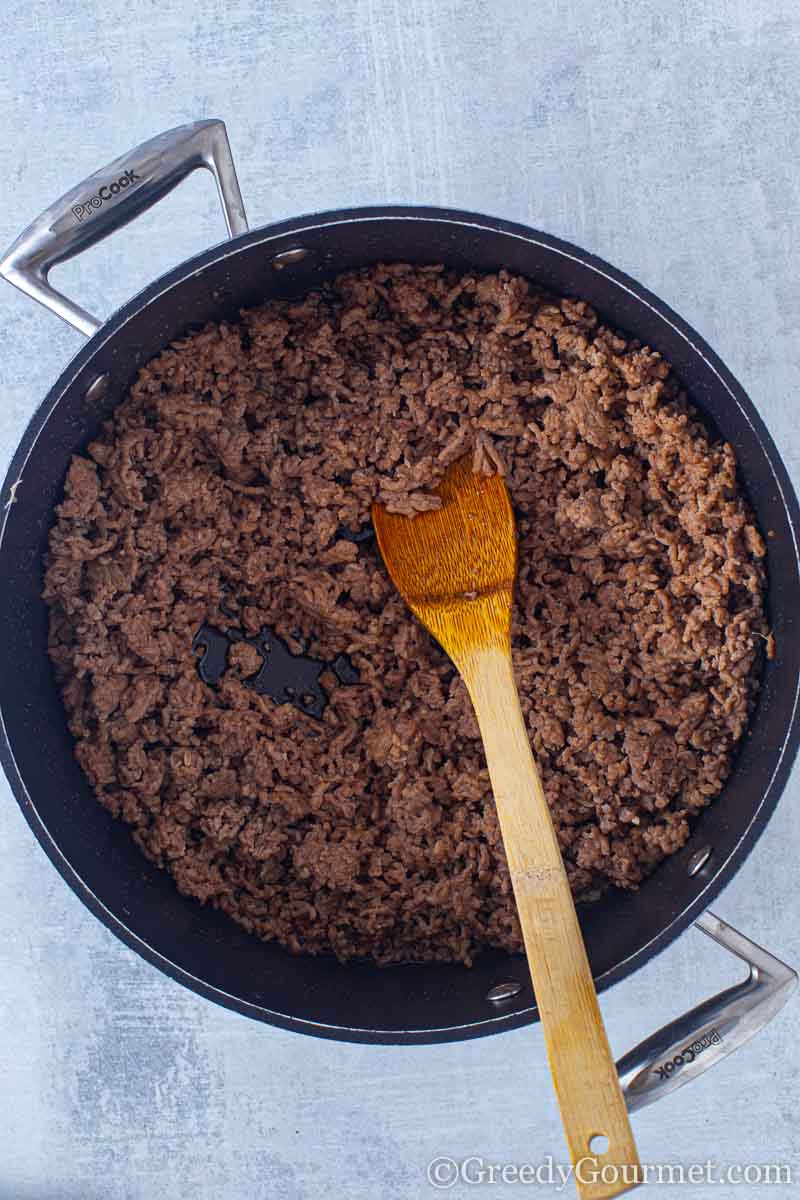 Is there anything worse than when those lovely creamy mashed potatoes sink into the meat layer below?  
There's a simple trick that'll mean your mashed potatoes will never sink again! Well, it's not so much a trick, rather something very simple that you need to know when making cottage pie. 
Cottage pie is simple to make, but the thing is, when you make cottage pie, the minced beef sauce layer needs to have cooled.
If it's piping hot, the mashed potatoes will sink into the sauce and you'll end up with a one-layered dish. If you let it cool, you'll end up with the perfect cottage pie!
How do you thicken a cottage pie?
The easiest way to thicken a cottage pie is at the stage when you're cooking the minced beef. If the sauce doesn't seem thick enough, just keep cooking it for another 10-15 minutes, stirring occasionally. 
If you find that it's still too watery, you can add cornstarch. To use cornstarch when thickening a dish, first make a slurry by stirring together a tablespoon of cornstarch and a tablespoon of water in a bowl. Then add the paste to the sauce and stir it in.
You could also use arrowroot. By the way, if you don't have that on hand, go check out this list of arrowroot substitutes.
Can cottage pie be made in advance?
One of the great things about this traditional cottage pie recipe is that it can be made in advance and reheated. Perfect when you're entertaining guests on a Sunday afternoon, but you don't have enough time to make the entire recipe.
How long does cottage pie keep for?
Cottage pie is the ultimate comfort food, so you'll most probably devour the whole dish in one go! There's a slim chance you won't, of course, in which case you'll want to know how long it'll last.
Cottage pie will last in the fridge for 3-5 days. Just store it in an airtight container and it will keep fresh. 
Can you freeze cottage pie?
So, what if you want to keep your delicious cottage pie for longer? Well, the good news is that cottage pie can easily be frozen and won't lose its taste.
Simply store in an airtight freezable container for up to 2 months.
How do you reheat cottage pie?
If you're reheating a cottage pie that's been frozen, make sure it's fully defrosted. The best to do this is by thawing it in the fridge overnight. 
When reheating cottage pie, preheat the oven to 160ºC/140ºC fan/gas mark 4. Then place your pie in the oven for 30 mins or until piping hot throughout.
Is cottage pie healthy?
First, let's focus on the good stuff. Making your own cottage pie is always going to be far healthier than buying the ready-made rubbish you get down that aisle in the supermarket.
Secondly, minced beef is packed full of minerals, iron and zinc, all essential for a healthy immune system and good energy levels.
The nutritional benefits of beef are often overlooked, especially its high iron content. In fact, iron deficiency is the most common and widespread nutritional disorder in the world. 
The other main component of this cottage pie recipe, potatoes, are also an unsung hero when it comes to nutritional benefit. 
Potatoes are only moderately calorie-dense and are packed full of essential vitamins and nutrients. They are also rich in antioxidants like flavonoids, carotenoids and phenolic acids.
Potatoes are naturally gluten free and some studies have shown that they may improve digestive health.
This cottage pie recipe also includes healthy vegetables such as carrots, mushrooms, garlic, onion and peas, all of which are packed with health benefits including essential vitamins and minerals as well as antioxidant properties.
Now for the not so good stuff. Most cottage pie recipes are high in calories and saturated fat. This is a big helping of classic comfort food we're talking about, after all.
There are a few ways to tweak this recipe, to bring down the calorie count and put a low-fat spin on it. You could replace the butter with warm skimmed milk, use extra lean beef mince, leave out the parmesan and even leave out some meat and bulk things up with more root vegetables and pulses.
Is cottage pie gluten free?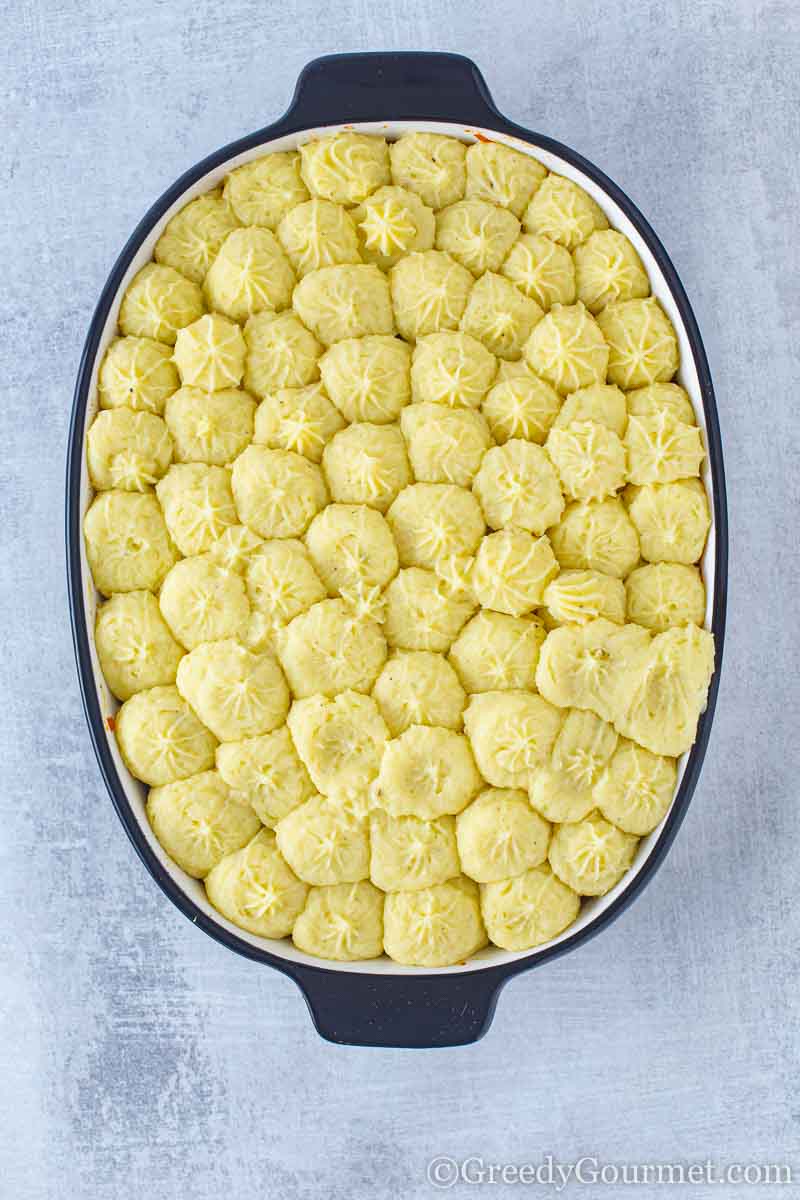 For those looking for the ultimate gluten free comfort food, cottage pie is perfect! It's 100% free from gluten – even the Worcestershire sauce, which used to contain gluten until the makers switched from malt vinegar to barley.   
What do you serve with cottage pie?
If you're looking for the ideal side dish for cottage pie, look no further. Here are some great recipes that would perfectly complement the taste of cottage pie:
Cauliflower cheese – add a luscious serving of cauliflower cheese for a double helping of classic comfort food
Braised red cabbage – an extra special side dish that'll add another dimension of taste to this recipe
Macho peas – a fiery favourite, macho peas bring a nice kick to your meal
Roasted Jerusalem artichokes – crunchy on the outside, creamy on the inside, this unsung vegetable makes a fantastic side when roasted
Asparagus wrapped in parma ham – these little beauts taste fantastic and make the perfect pairing with a helping of mashed potato and minced beef
Parmesan parsnips – these crunchy, cheesy parsnips taste amazing and make an ideal side for this recipe 
Tobacco onions – smoky, easy to make and utterly delicious, if you've never tried tobacco onions you're in for a treat
Cumin roast carrots – the earthy aroma and taste of the cumin makes these carrots extra special
Sous vide Brussels sprouts – if you're a sprout fan, this is the recipe for you. If not, it might be the recipe that'll make you see the light!
Creamed leeks – a simple side dish that tastes great, it'll be done in 20 minutes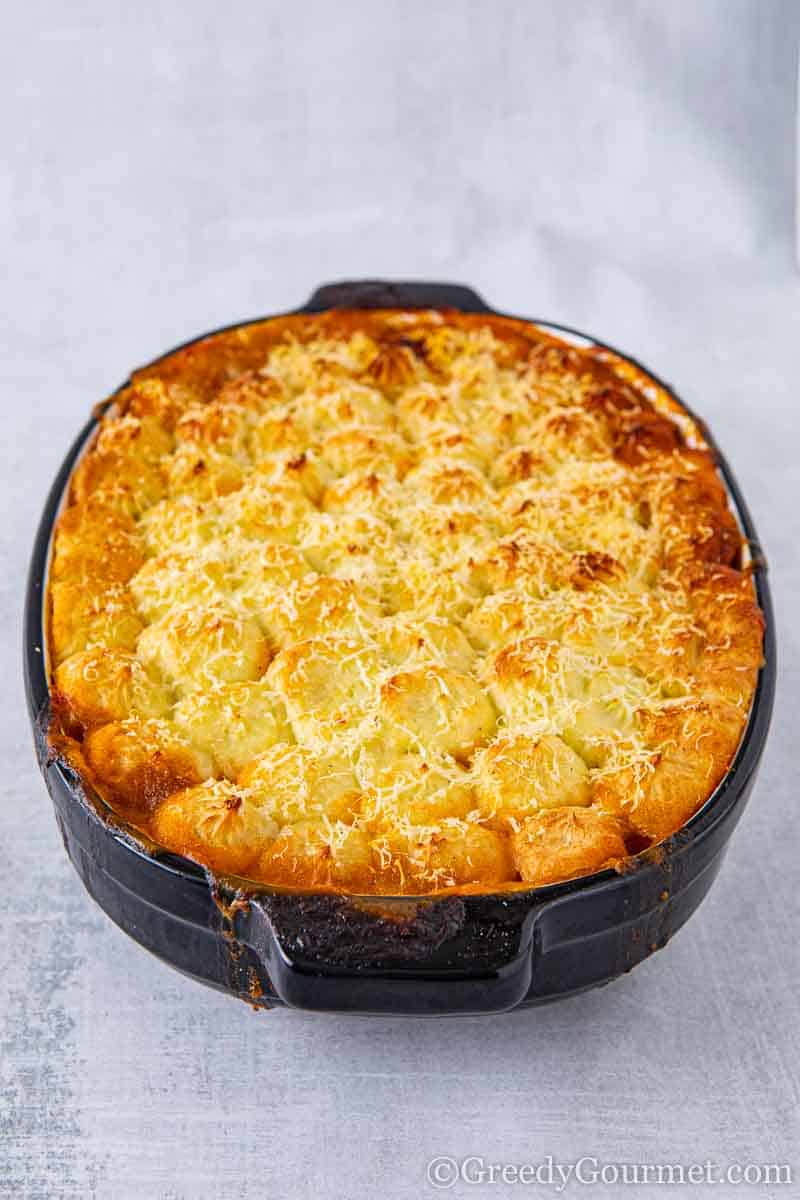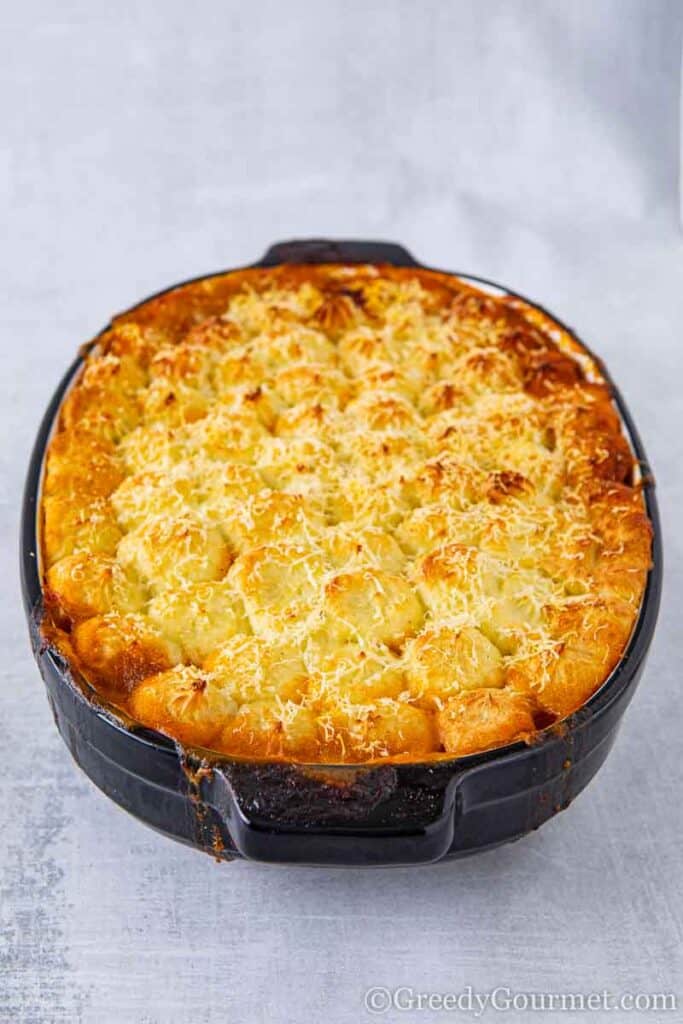 More delicious beef recipes
Has this British beef classic got you in the mood? Check some more of my delicious beef recipes:
Print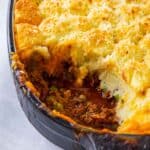 Cottage Pie
---
Description
Cottage pie is classic British comfort meal comprising a flavoured beef mince and vegetable filling that is topped with mashed potatoes and baked.
---
30

ml (2 tbsp) olive oil

1

kg (2.2lbs) beef mince

3

medium onions, peeled and grated

3

garlic cloves, peeled and crushed

2

large carrots, peeled and grated

3

thyme sprigs, washed

2

rosemary sprigs, washed

800g

(

2

tins) chopped tomatoes

30

ml (2 tbsp) tomato puree

375

ml (1½ cup) red wine

80

ml (⅓ cup) Worcestershire sauce

250

ml (1 cup) beef stock

200g

(

2 cups

) baby button mushrooms, cleaned and halved

130g

(

1 cup

) peas

1

kg (2.2lbs) floury potatoes, peeled and sliced

120g

(

½ cup

) butter

11g

(

2 tbsp

) Parmesan cheese, grated

1

egg yolk
---
Instructions
Heat half of the oil in a large frying pan or cast iron casserole dish.
Brown the meat, which would take approximately 5 minutes, then remove from the pan. Place the meat in a sieve to remove excess fat.
Using the same pan, add the remaining oil, then fry the onion, garlic, carrots, thyme and rosemary over a medium heat for 5-10 minutes or until the excess moisture has evaporated.
Add the browned mince back into the pan along with the tomatoes and tomato puree. Cook for 5 minutes, stirring constantly.
Add red wine and Worcestershire sauce and simmer until the liquid has been reduced by half.
Pour in stock and bring it to a slow simmer. Continue to cook for 20-25 minutes. If the meat sauce doesn't seem thick enough, continue cooking for another 5-10 minutes.
Stir in mushrooms and peas, then season to taste. Remove from heat and set aside.
Preheat the oven to 180˚C/fan 160˚C/356˚F/gas 4.
Meanwhile, add the potatoes to a pan of salted water and bring to a boil. Cook until tender, which will take about 10-15 minutes. Drain then return to the pan and leave to steam dry.
Pass the potatoes through a potato ricer then return the mash to the pan.
Stir in the butter, cheese and egg yolk, then season to taste.
Spoon the mince into a large ovenproof casserole dish and even out the layer.
Top the mince with mash and level out with a fork. Run the fork along the mash to leave a ripple effect that will help the topping become crispy.
Sprinkle over extra cheese, if you prefer, then place in the oven for 30 minutes.
Serve immediately. It goes well with cauliflower cheese and braised red cabbage. Enjoy!
Notes
If you're using Oxo cubes, you can crumble in an extra cube when pouring in the stock, if you like.
The most suitable potato varieties for mashing are Maris Piper, Kind Edwards, or Russet.
This recipe freezes well and keeps for 3 months in the freezer. Simply thaw the night before and place in the oven at 160˚C/fan 140˚C/320˚F/gas 3 for 30 minutes.
For extra indulgent mash, you can add 125ml (½ cup) of double cream.
If you don't have any rosemary, don't worry, you can always use one of these rosemary substitutes!
Prep Time:

20 minutes

Cook Time:

1 hour

Category:

Main Course

Method:

Bake

Cuisine:

British
Keywords: cottage pie, beef mince pie, traditional cottage pie recipe, British beef recipe, beef and potato recipe