A delicious rich and creamy soup that'll soothe your soul and warm your heart, avocado soup is so satisfying and super simple to make.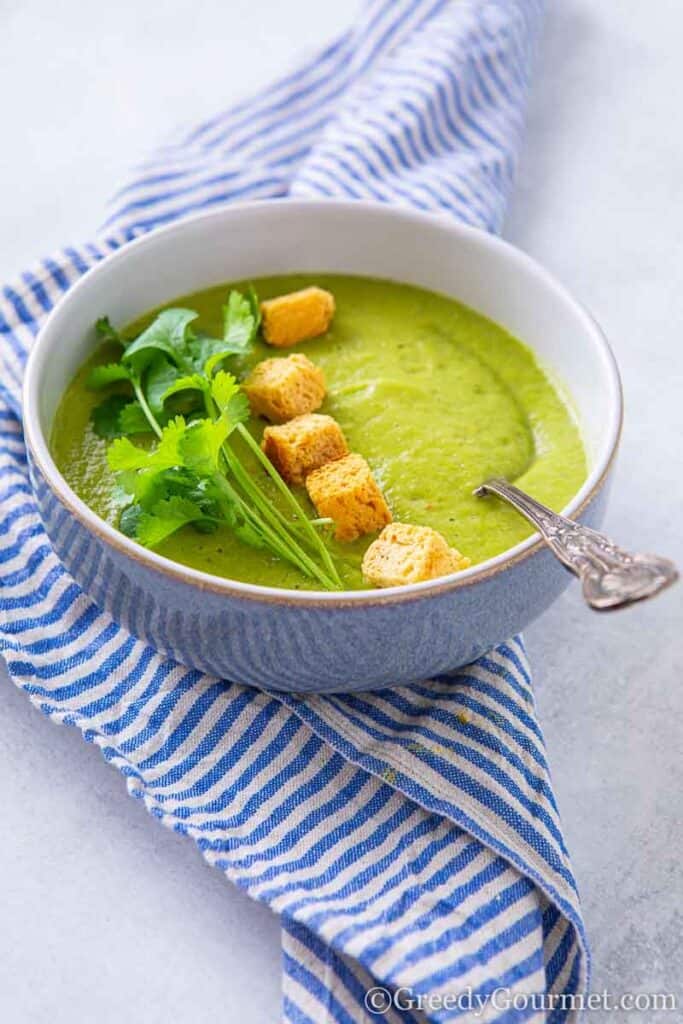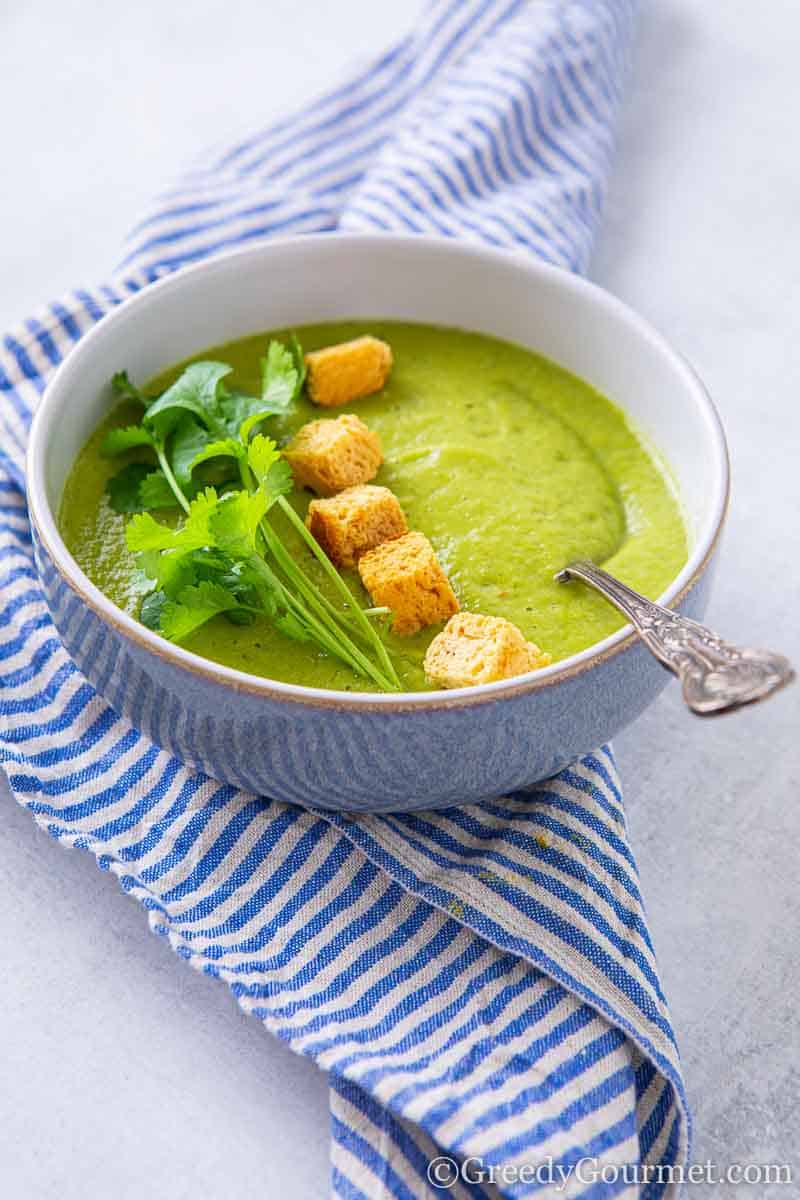 Are you ready to learn how to make your new favorite lunchtime soup? Here goes!
Products you need for this recipe
Let's take a look at some of the kitchen items and ingredients that you need to make this recipe: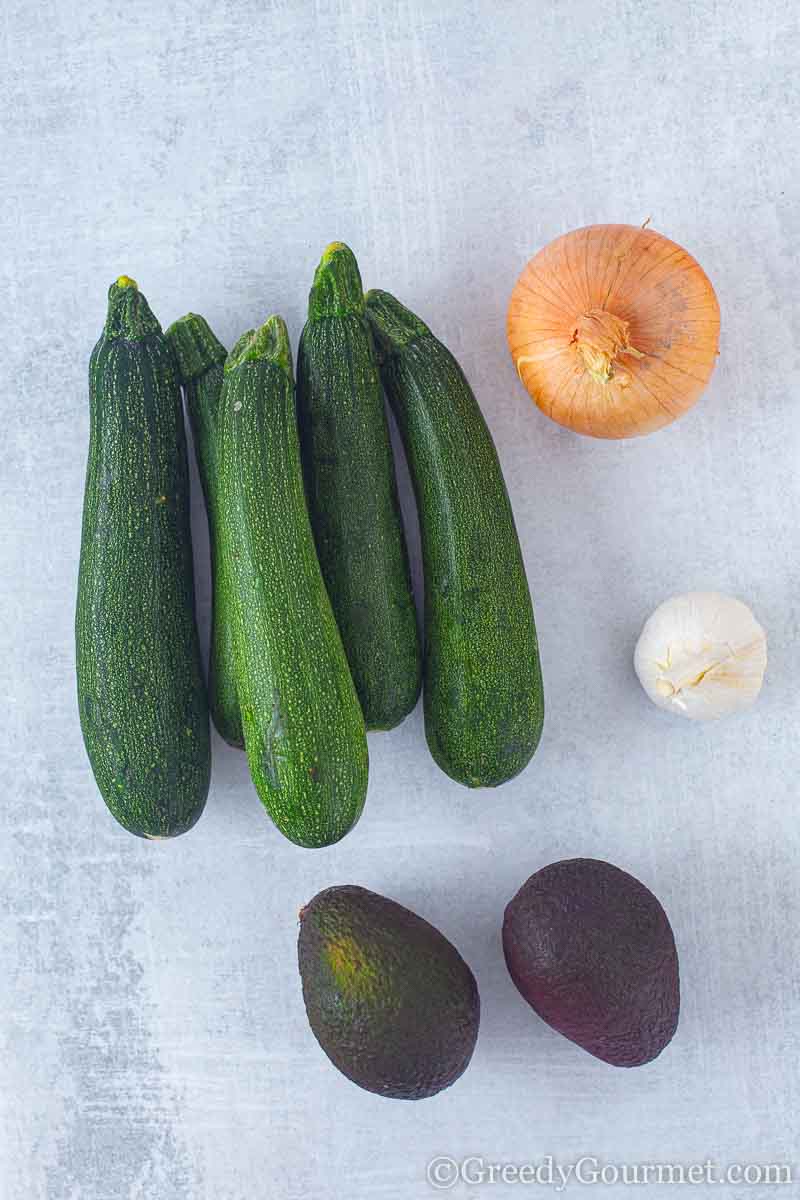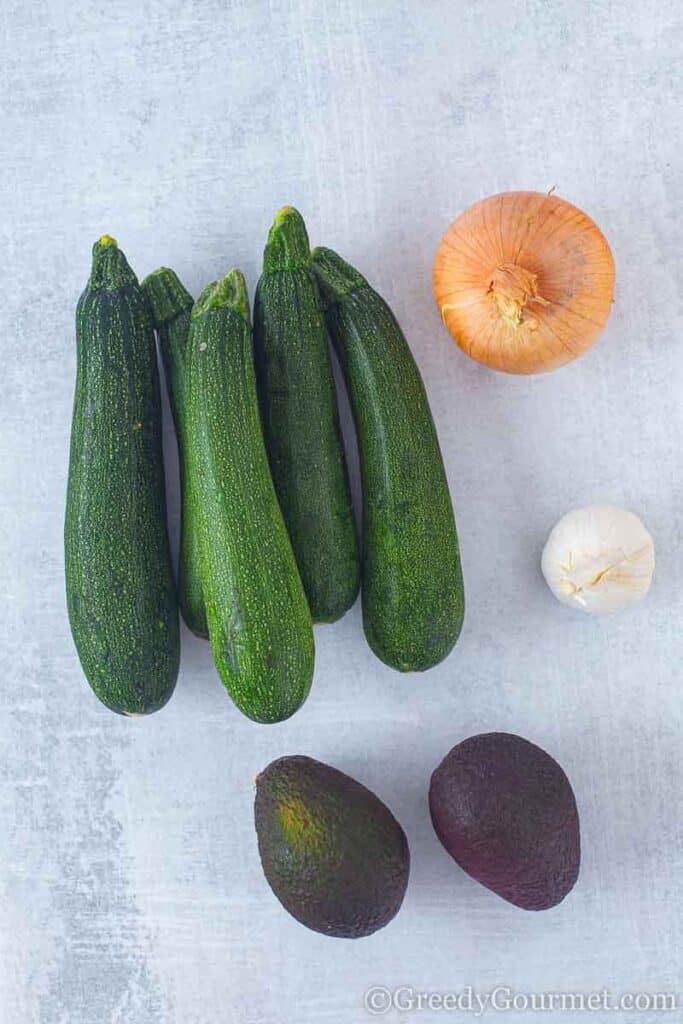 Avocado soup recipe
With its rich, creamy nutty taste and health food status, there's no wonder avocado is so popular. In the last twenty years, it's gone from fringe fruit to the out-and-out darling of the vegan revolution.
With thousands of avocado recipes online covering everything from over the top avocado-based brunches to deep fried spiced avocados, it can sometimes seem that this simple, flavorful ingredient is being ruined.
So, let's get back to basics.
When it comes to beauty from simplicity, a soothing soup is where it's at. Delicious ripe avocados, vibrant green courgettes, a deep vegetable or chicken broth and a sweet onion are the ingredients for a heavenly soup that'll make you swoon.
Best of all, there's next to none prep time and it's very easy to make.
The surprising origins of the word 'avocado'
Have you ever wondered where the word 'avocado' comes from? Well, it turns out that the origin story is… well, let's say, a lot ballsier than you would think.
Avocados come from Mexico and Central America, where they were first discovered by the Aztecs over 2,000 years ago.
When it came to naming fruit, the Aztecs weren't shy. They simply named things as they saw them. So, when they saw a pair of big slightly wrinkled fruits swinging in the breeze - avocados grow in pairs - their minds went to one place.
Yep, you guessed it. They named the newly found fruit after their word for testicles – āhuacatl.
Years later, Spanish explorers turned up and renamed them 'aguacate', which is still today the Spanish word for avocado. 'Aguacate' didn't catch on in the United States when the little green marvel made its way north. So, it was renamed 'alligator pear' and, eventually 'avocado.'
So, the next time you're at a dinner party and someone asks you for an interesting fact, you know what to tell them!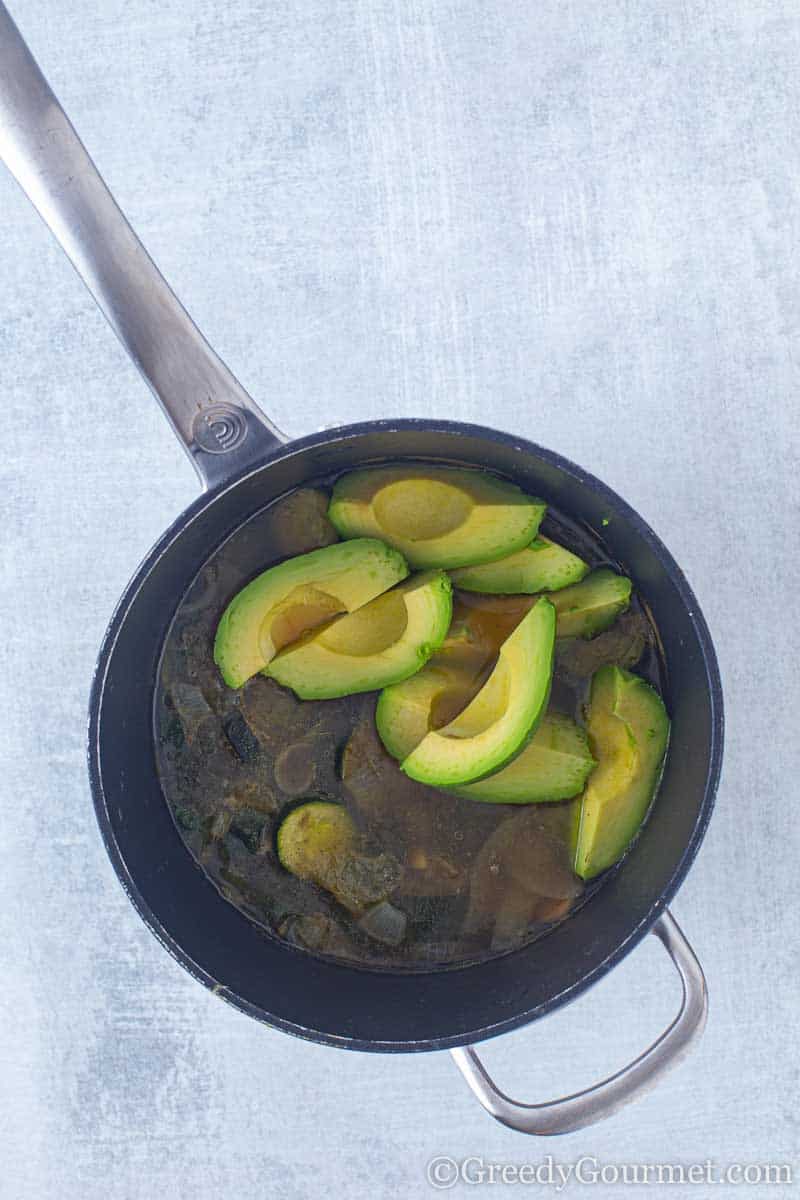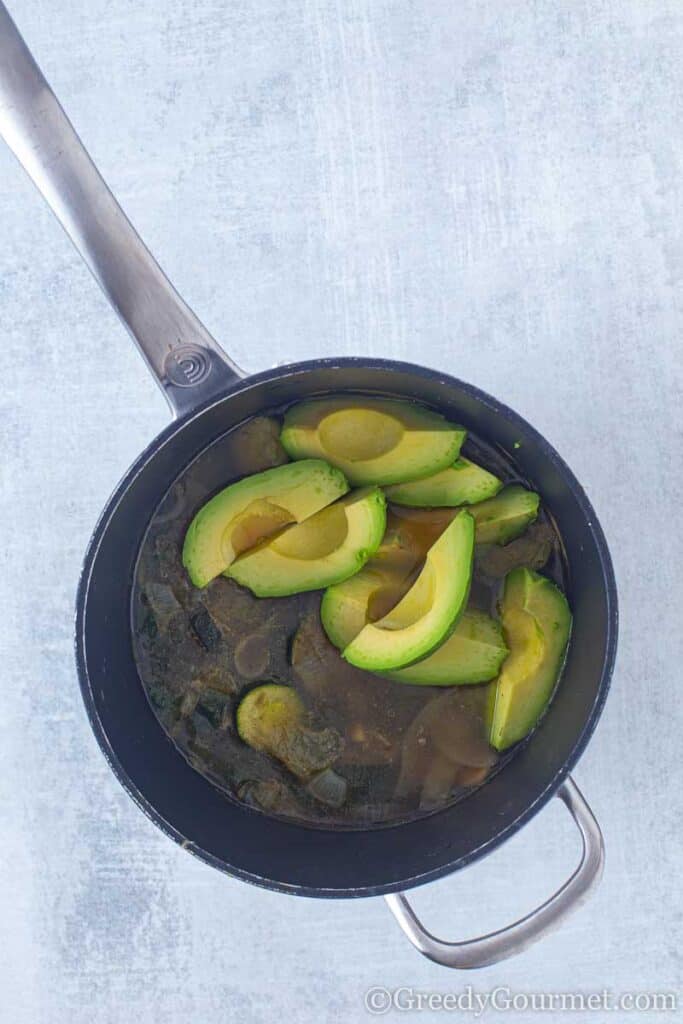 Are avocados good for you?
Avocados have amazing health benefits!
These delicious little green delights are packed full of vitamin K (just one avocado provides 26% of your daily value), folate, vitamin C, potassium, vitamin B5, vitamin B6 and vitamin E, as well as riboflavin, niacin, folate, pantothenic acid, magnesium and potassium.
They also give your lots of lutein, beta-carotene, and omega-3 fatty acids. How about that for a superfood?!
Are avocados a vegetable or a fruit?
With its green coloring and deep nutty taste, you'd be forgiven for thinking an avocado was a vegetable.
In fact, it's a fruit! Not only are avocados fruits, but there are actually berries!
It's that inbetween, slightly sweet yet nutty and savory taste that makes avocados such a versatile ingredient.
Do avocados make you gain weight?
There's no reason why eating avocado would make you gain weight. While they may be high in fat, if you eat them as part of a balanced diet, you'll be fine.
In fact, avocados might actually help you to maintain a healthy weight. This is because they make you feel full for longer and provide healthy fats, replacing other ingredients that might provide unhealthy fats.
That said, eat too many a day and you'll go over your daily caloric requirements...
Is avocado soup vegan?
Not only is this avocado soup delicious and nutritious, it's also 100% vegan. Yep, no cream in sight! There's no need for cream when avocados are so creamy already.
If you're a meat-eater and you want to make this soup a little meatier, you can always add 1 cup of chicken broth.
What other ingredients can I add to this avocado soup?
After you've made this avocado soup, chances are you'll want to experiment with a few variations.
Try adding a bit of zest to this recipe. A little lime juice will really give this avocado soup an extra zing! You can use fresh lime juice for a nice acidic twist.
Or, if you can't get hold of fresh lime juice, use bottled lime juice. It'll taste almost as good.
If you're not vegan, you could always add some extra cream to this recipe. Sour cream would work best in my opinion, as will add an interesting dimension of flavor.
What can I do with overgrown zucchini from my garden?
Zucchini, otherwise known as courgettes, are a key ingredient in this avocado soup recipe. If you're a keen gardener and you're left wondering what to do with overgrown courgettes from your garden, check out this roast marrow recipe. It's utterly delicious!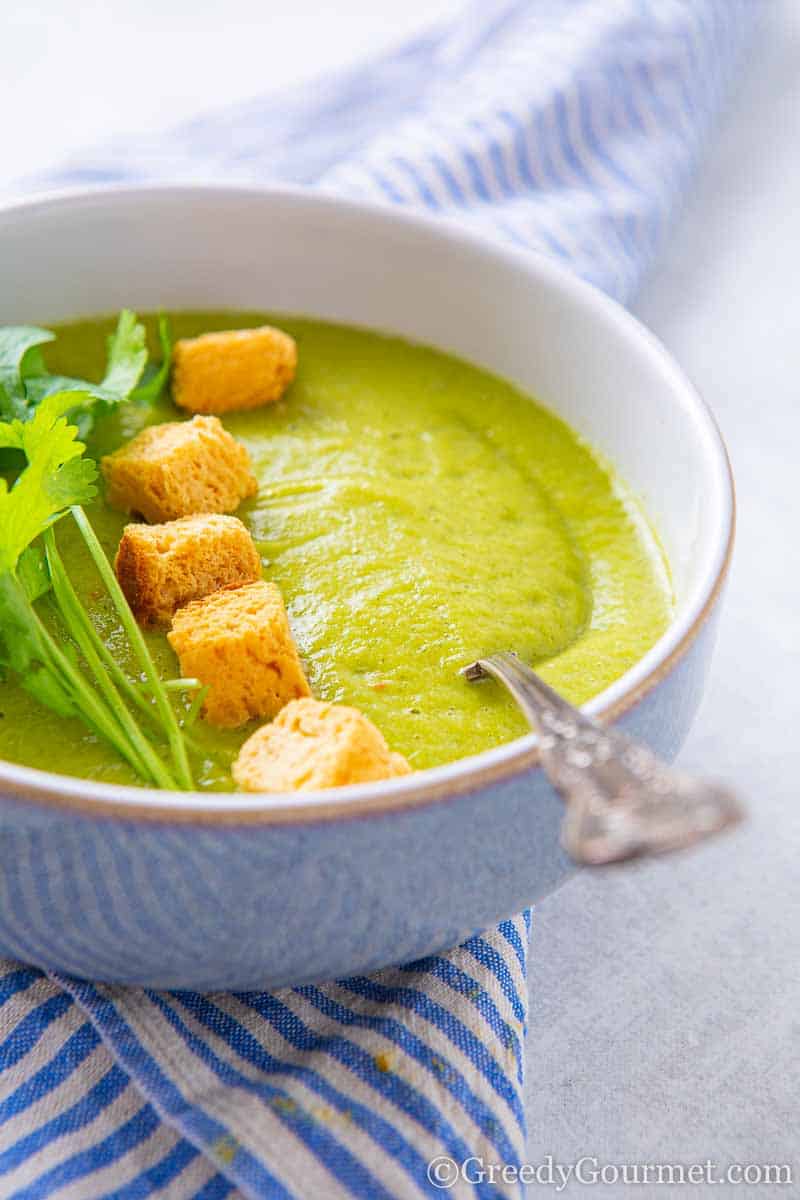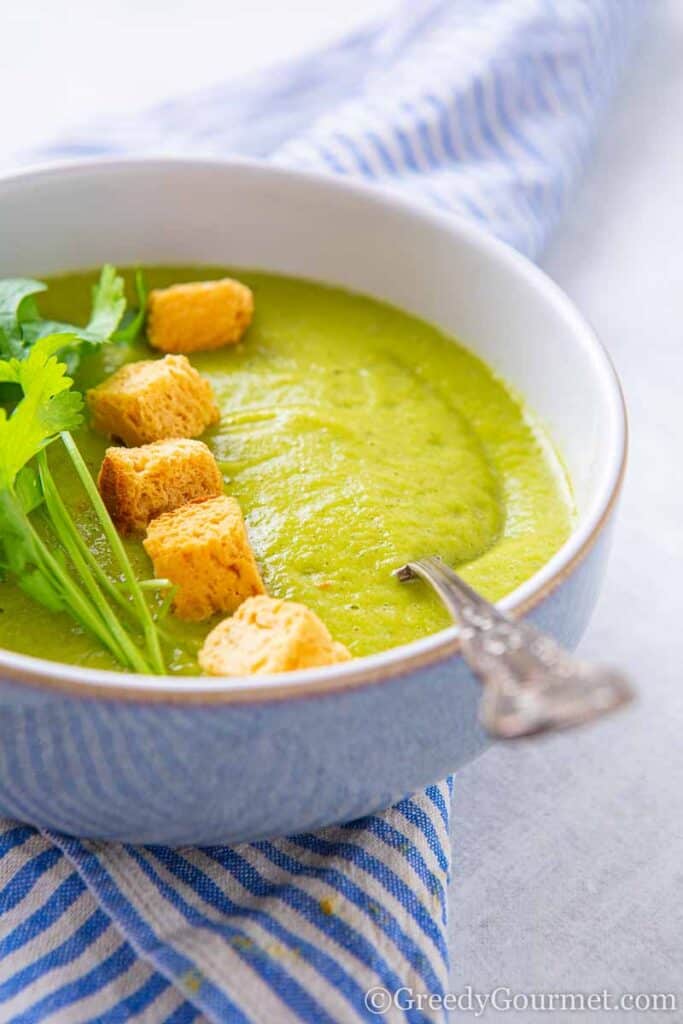 More smooth vegetable soup recipes
Need some more soothing soup for the soul? Check out this long list of divine recipes. There's a recipe in there for everyone!
Print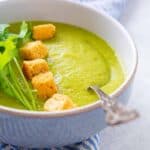 Courgette and Avocado Pear Soup
---
Description
This Avocado Soup is super healthy and completely vegan. It's bulked out with zucchini and cooked in vegetable broth. Best served with crusty bread.
---
30

ml

(2 tbsp) olive oil

1

onion, peeled and chopped

1

garlic clove, peeled and chopped

500

ml

(2 cups) vegetable broth

2

medium zucchini, thinly sliced

2.5

ml

(1/2 tsp) salt

1

medium avocado, stoned, peeled and chopped
cilantro, for garnishing
croutons, for topping
---
Instructions
Heat the oil a large saucepan over a medium hear. Add the onion and cook for 3 minutes; stir in the garlic and cook, stirring for 1 minute more.
Add the vegetable broth, zucchini and salt. Cover and cook for 10 minutes, until the zucchini are very soft. Cool slightly, then stir in the avocado.
Tip the contents into a blender whiz to a smooth purée. Alternatively, use a hand blender.
Garnish with cilantro and croutons, if desired. Serve immediately. Enjoy!
Notes
If you like your soup of a thinner consistency, add more broth.

Alternatively, if you like a chunky soup. Chop the vegetables in bite-sized pieces and serve before the blending step.

You can easily substitute the zucchini/courgettes with marrows, which is essentially the overgrown version of the former.
Prep Time:

15 minutes

Cook Time:

15 minutes

Category:

Soup

Method:

Boil

Cuisine:

American
Keywords: avocado soup, hot avocado soup recipe, vegan avocado soup, vegan soup recipe, healthy vegan recipe, how to make avocado soup