Lobster gratin is the king of all gratin recipes. Believe me, you'll want to save this one forever. It is an elegant and sophisticated recipe, not for the faint-hearted (!), as it is best made with fresh lobster.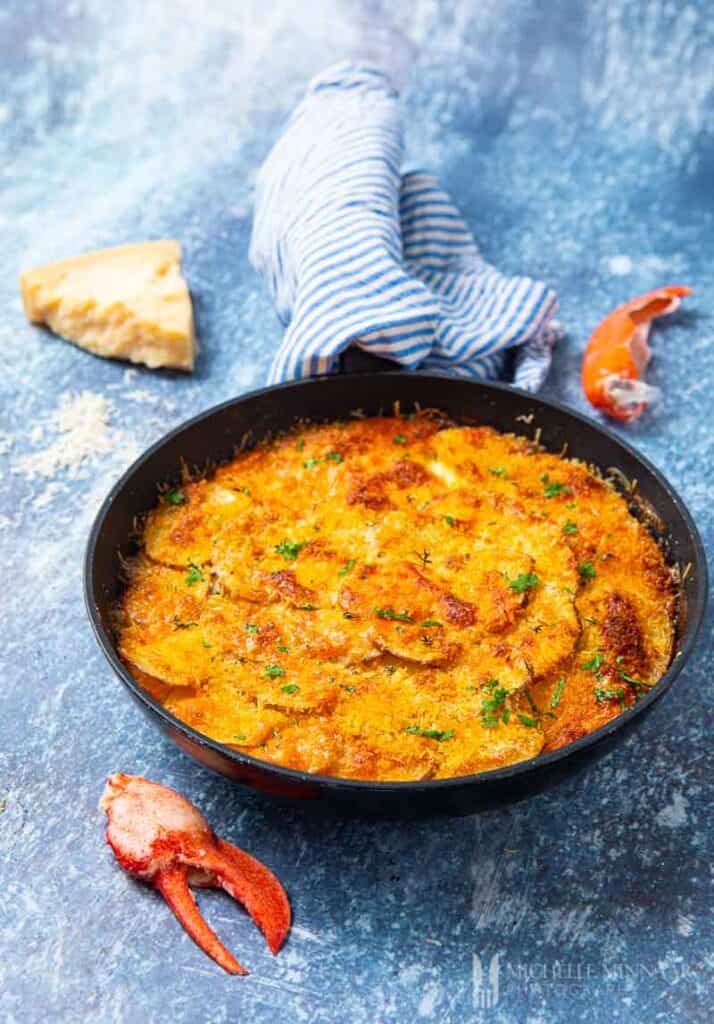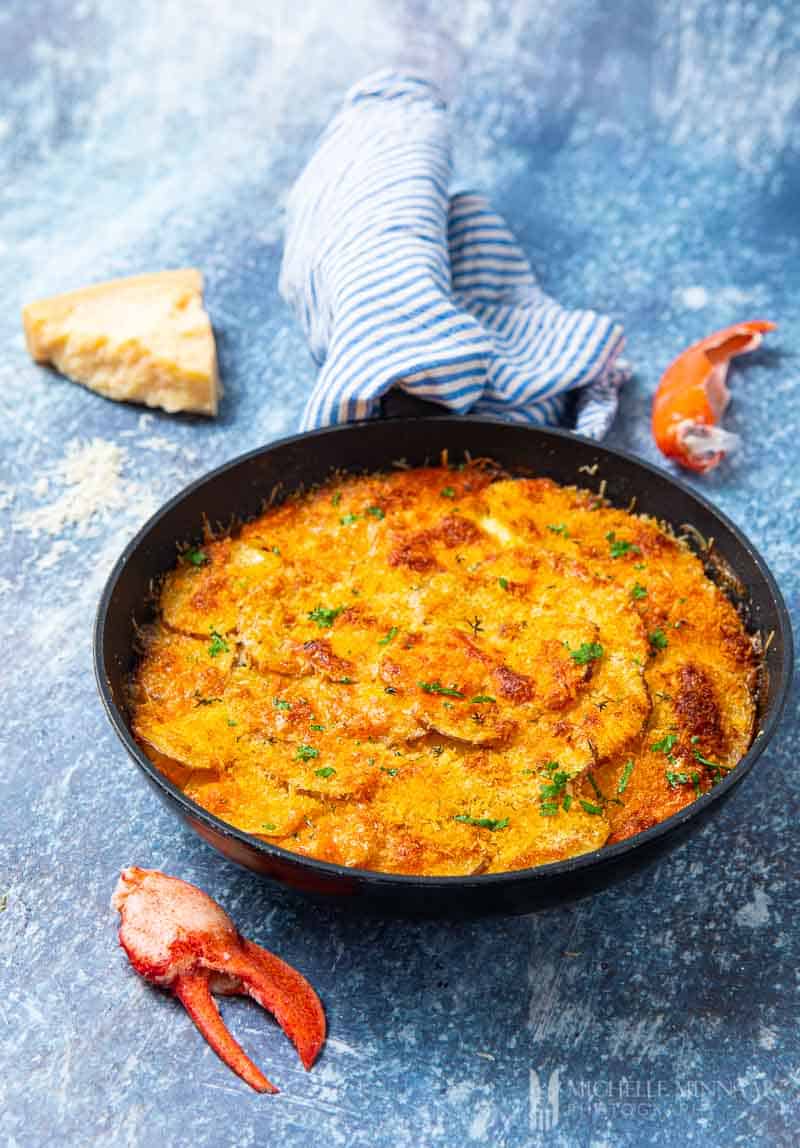 As a general rule of thumb, the fresher the lobster, the better your lobster gratin will be, as with any lobster recipe. In fact, the same principle applies to all seafood recipes.
In either case, if you decide to try this lobster gratin - believe me you won't regret it - then you are in for a treat. Even though the flavours are complex, the recipe itself is quite easy to master.
The only difficult is to cook the fresh lobster, that is, if you've never done it before.
No worries, cooking fresh lobster isn't too difficult, however, you will have to make sure to cook it correctly in order to respect this premium ingredient. Otherwise, to make like a little easier, you can use pre-cooked lobster, frozen lobster and even canned lobster!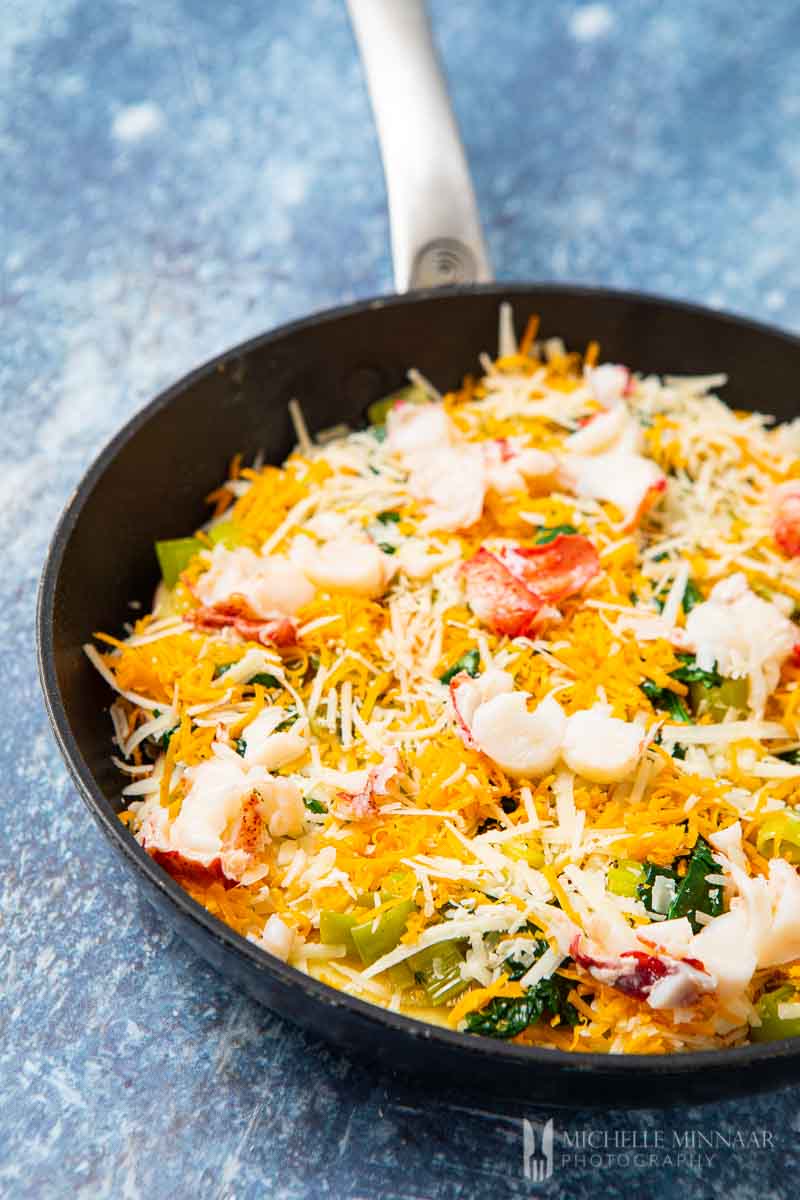 lobster gratin recipe
Dare to try this stunning and exquisite recipe and surprise your loved ones with an extravagant dish. You can serve the lobster gratin as a side dish along with other seafood recipes like this grilled wreckfish or this steamed cod recipe.
Though, trust me, this gratin is good enough to be eaten alone. Just double up on the portion size.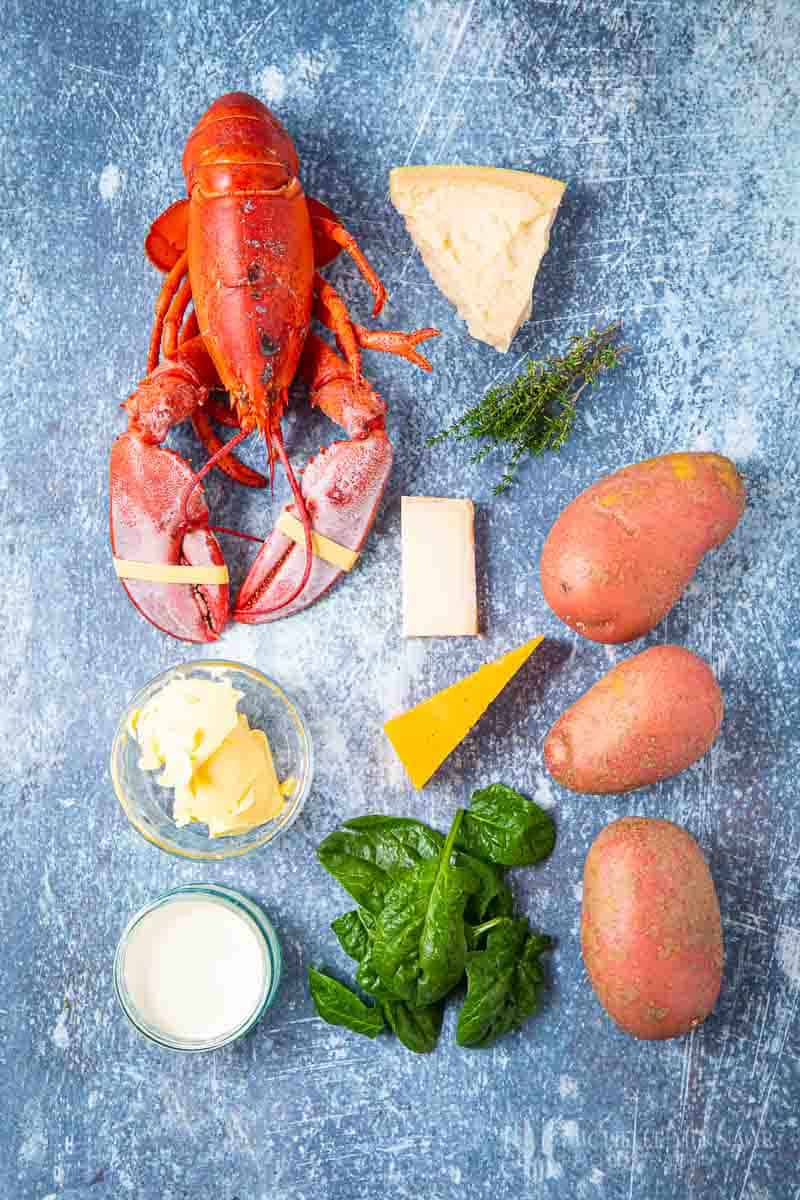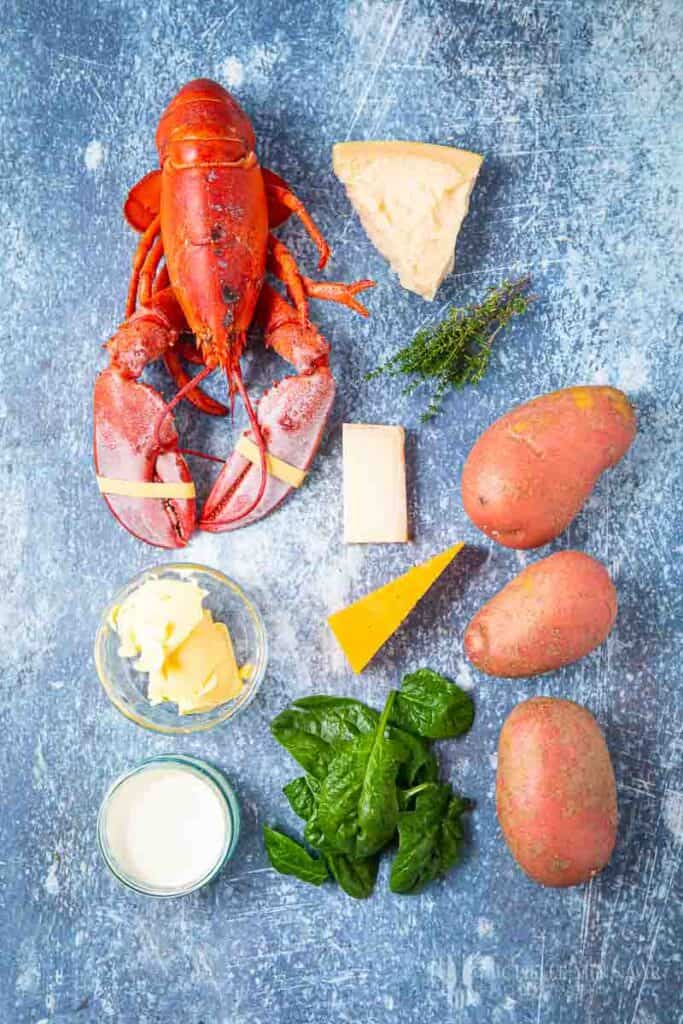 lobster gratin with Parmigiano Reggiano
This lobster gratin recipe is brought together by one key ingredient, and that is the addition of the Parmigiano Reggiano, known as the King of Cheeses.
To make sure that you purchase the correct cheese, look out for the P.D.O. stamp on the label or on the cheese's rind, which gives the Parmesan cheese protected status as per European law.
Basically, it ensures that the Parmigiano Reggiano is sourced only from a designated region: from Parma to Reggio Emilia, Modena as well as Bologna, all the way west of the Reno river to the east of the Po River.
In essence, if you get cheese labelled as Parmesan which doesn't have the P.D.O. stamp, then it's not real deal.
Moreover, it wasn't made by the standards set forth by the 'Consorzio del Formaggio Parmigiano Reggiano', a consortium which authenticates the origin and authenticity of the cheese.
Therefore, whenever I make Parmesan recipes, I make sure I always look for the P.D.O. label. You can purchase more varieties of Parmesan cheese.
I prefer my Parmesan more mature. During maturation, the cheese's consistency will become more granular structure that's irresistible. With this type of Parmesan, I've made Parmesan crisps as well as Parmesan arancini.
To learn more about Parmesan, the King of Cheeses, click right here. Always remember to look for the P.D.O. seal!
lobster recipes
Cooking with lobster is an art. The lobster should be treated with respect as it is an expensive ingredient. Therefore, using it for stellar recipes like this lobster gratin is an excellent way to showcase its flavour profile. I love lobster recipes and I've made a few before.
For example, I've made these Lobster Rolls which are loved by all. They are really easy to make, and they contain multiple servings. In essence, they are an excellent idea as a snack.
In either case, these should be on the dinner table if you are hosting a party. It's a sustainable recipe, where you can easily increase the serving size using small portions.
Another one of my favourite lobster recipes is my Lobster Benedict with fresh Hollandaise Sauce. Forget the traditional Eggs Benedict and take breakfast to a whole new level.
Think of it as a recipe you would be served in a five star hotel. With the Lobster Benedict, you will make some positive impressions, especially if you are the making it from scratch.
how to cook with lobster
There are a couple of ways you can cook with lobster in order to complete this lobster gratin recipe. First of all, you can use fresh lobster. Just drop it into a boiling pot of hot water and let the water do its job.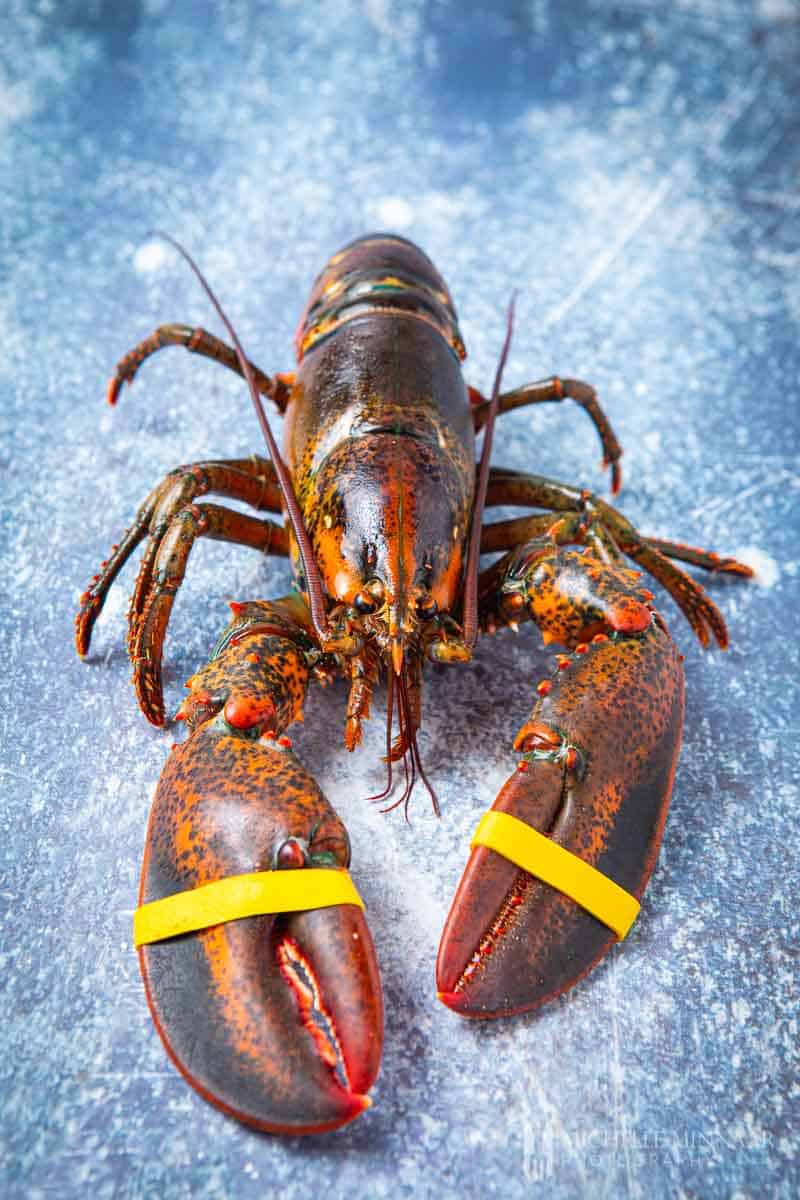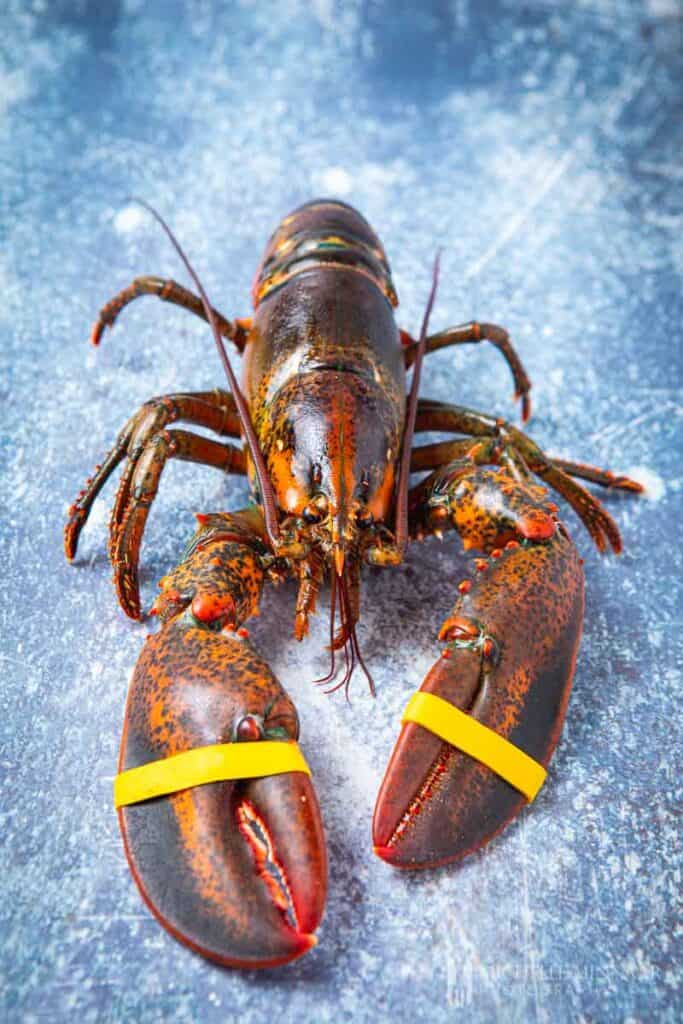 Next, you can also use frozen lobster tails if you want to speed up process of preparing this lobster gratin recipe. Besides, if you are uncomfortable with cooking lobster from its live state, then the frozen option is the best one for you.
Also, it won't cost as much as purchasing the lobster fresh. Just beware, it's at the cost of freshness. You'll need to watch out if your frozen lobster supplier has quality lobster or not. I recommend sampling it first before you attempt the lobster gratin.
Lastly, you can also use canned lobster for this lobster gratin recipe, if you want to make things quickly and as cost effectively as possible. Of course, it will not be the same as making the gratin with fresh lobster.
However, canned lobster does have its benefits. It's cheap and there's less hassle in the kitchen. Besides, adding canned lobster into a lobster gratin is perfect. You can also use it to make lobster casserole.
Just avoid using canned lobster in recipes were lobster is the ingredient you want to shine.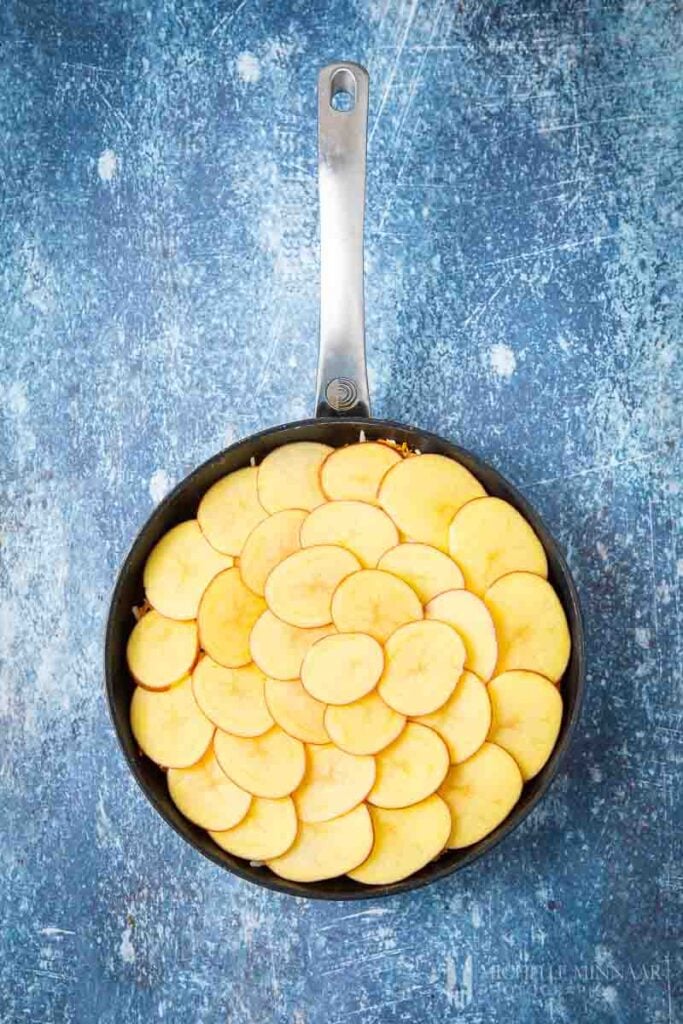 fish gratin
If you are not so confident with using lobster in this lobster gratin recipe, you can also use crab or other types of seafood. For instance, the easiest option is to use a flaky fish like cod.
For example, take inspiration from my cod au gratin recipe. If you love gratins, then check out these fantastic gratin recipes which you can make in an instant:
gratin dauphinoise - a French gratin recipe that can also inspire your lobster gratin with its creaminess
sweet potato gratin - one of my favourite side dish recipes to be served with a meaty main course
You can easily turn these two gratins into a seafood gratin or a seafood casserole dish. Just pick your fish and go for it.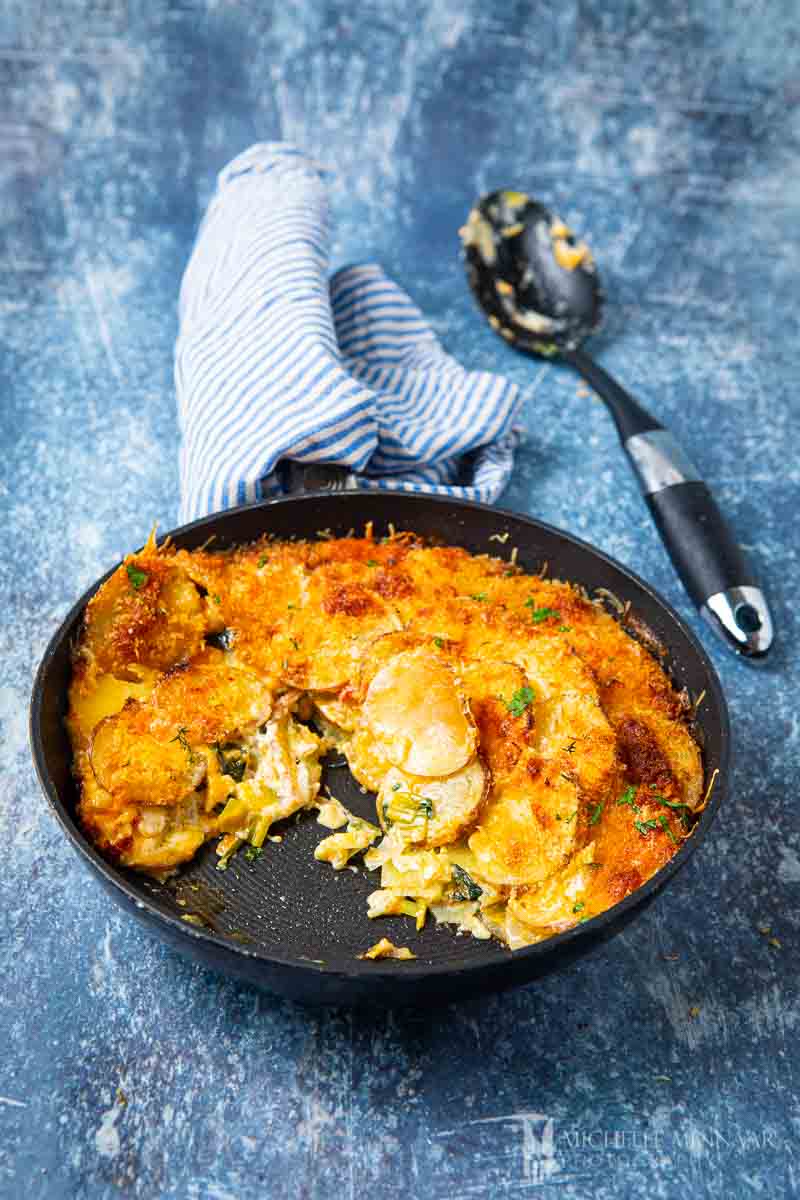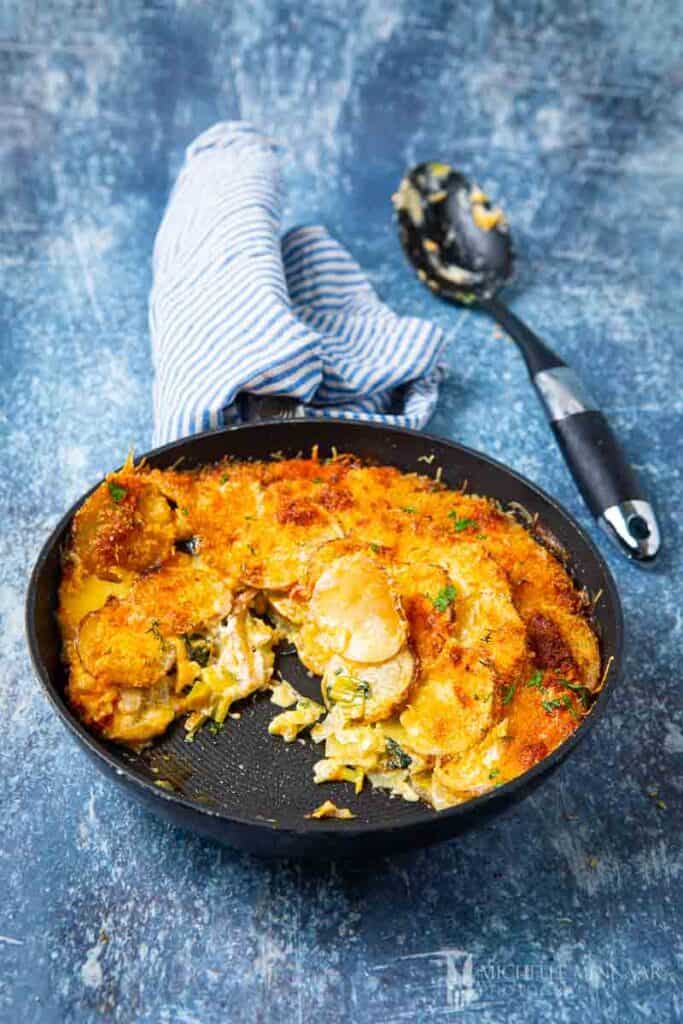 lobster mac and cheese
You can easily turn this lobster gratin into a lobster mac and cheese recipe. It's simple. All you need to do is take my avocado mac and cheese recipe and add the lobster.
The avocado adds a lovely creaminess to the recipe. However, you can add more white sauce (bechamel sauce) or bearnaise sauce to add more of that desirable creamy texture.
For more seafood inspiration, check out salmon terrine.
Love potato dishes? Take a look at these:
Have you ever made a lobster gratin recipe before? How would you serve it? Let me know in the comments section below.
Print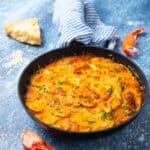 Lobster Gratin
---
Description
Learn how to make a Lobster Gratin recipe from scratch. In addition, you'll learn all about cooking with lobster & the King of Cheeses, Parmigiano Reggiano.
---
15

ml

(1 tbsp) butter

15

ml

(1 tbsp) vegetable oil

2

leeks, topped, tailed and finely sliced

60

g

(2oz) spinach, washed

4

thyme sprigs

1

kg

(2lbs) potatoes, peeled and super thinly sliced

450

g

(1lb) cooked lobster meat

80

g

(3oz) Gruyere cheese, grated

80

g

(3 oz) Red Leicester cheese, grated

80

g

(3oz) Parmigiano Reggiano, grated

5

ml

(1 tsp) Dijon mustard

125

ml

(1/2 cup) double cream

125

g

(1 cup) panko breadcrumbs
---
Instructions
Preheat oven to 200°C/fan 180°C/400°F/gas 6.
Melt the butter and oil in a large skillet and gently cook leeks until cooked, which would take around 10 minutes.
Add the spinach and thyme to the leeks and let it wilt for 2 minutes. Remove from heat and set aside.
Reserve a decent amount of potatoes and cheese for the top layer.
Butter a large oven-proof dish and place the first layer of potatoes on the bottom. 
Sprinkle a portion of the vegetable mixture on top of the potatoes.
Top with chunks of lobster and sprinkle with a portion of each of the three cheeses.
Repeat the process until you run out of the ingredients, except for the reserved potatoes and cheese.
Add the last layer of potatoes.
In a small cup, stir the mustard into the double cream and season. 
Drizzle the cream on top. 
Mix the remaining cheese with the panko and sprinkle evenly on top.
Cover the dish with tin foil and bake for 20 minutes in the oven. 
Remove the foil and bake for 15 minutes, or until potatoes are just cooked and the top golden and crispy.
Serve immediately with a fresh, green salad. Enjoy!
Notes
Alternatively, you can bake the gratin a large skillet if it's big enough. 
Layering the gratin is not an exact science. It wholly depends on the type and size of baking dish you use that will dictate the number of layers needed. Some will have more filling as others and that's okay!
Feel free to alter the quantities of ingredients used. If you can afford more lobster, add more! Want it cheesier? Go ahead!
You can divide the portions by half and serve it as a starter.
Don't worry if you can't get hold of any leeks, you can always use one of these leek substitutes.
Prep Time:

20 minutes

Cook Time:

50 minutes

Category:

Dinner

Method:

Bake

Cuisine:

French
Keywords: lobster gratin, lobster au gratin recipe, French lobster recipe, lobster appetizer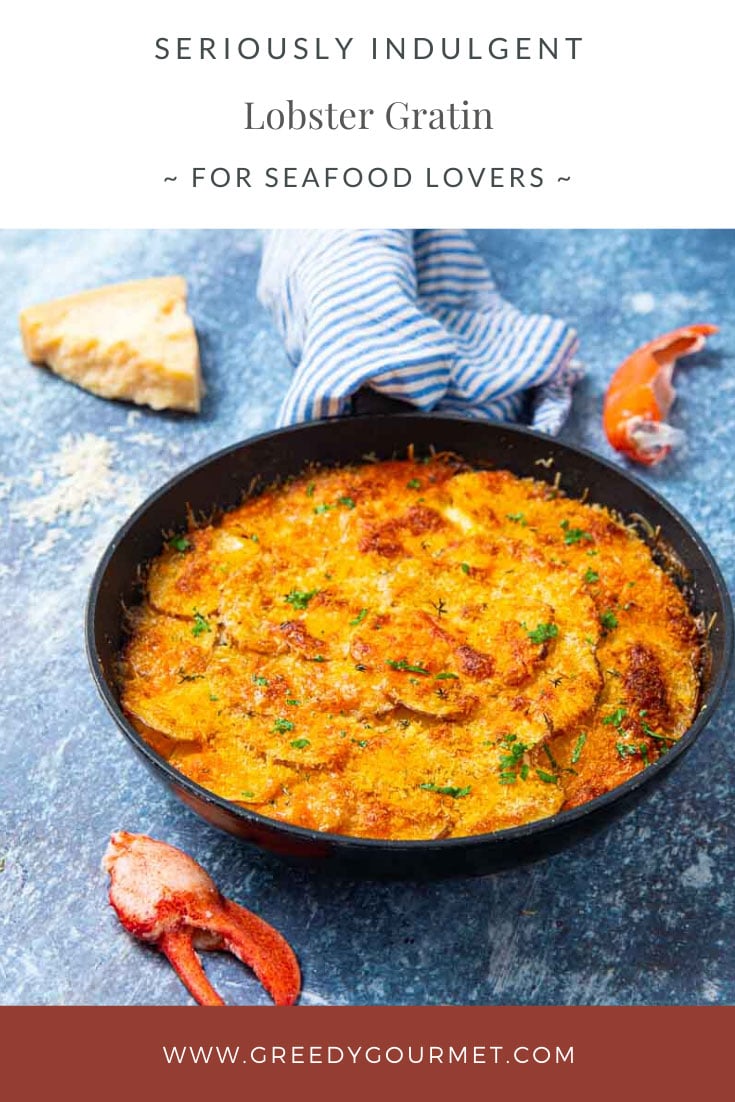 *This recipe is a sponsored post